Singapore is a well-known example of how strong leadership and innovative thinking have powered its economic growth. Through emphasizing and adopting a citizen-centric approach the Singapore government has embraced design in its efforts to improve residents' lives. Globally, as a result of urgent population concerns and emerging technologies, the opportunity for design in government has expanded. In Europe and the United States, cross-functional teams often work at the nexus of design to improve policies and deliver public commodities efficiently.
Let's look at the few sectors where Singapore emphasized its citizens and adopted a consumer-centric approach.
Moments of Life
People tend to opt for private agencies specializing in different platforms when the government agencies fall short. For example, raising a child necessitates parents interacting with several organizations in a short amount of time, such as medical service providers, banks, welfare support, and birth registration departments. In 2017, Singapore's Government Technology Agency's product development team was tasked with developing software that would aid citizens in locating and accessing crucial services during significant life changes by eliminating complexity and being more proactive in service delivery. LifeSG (previously Moments of Life) app provided its users to register their children's births, check their immunization data, browse medical and daycare alternatives that were eligible for benefits, and apply for the Baby Bonus Scheme. More than 70 government services and information have been personalised and consolidated into just one app.
LifeSG (previously Moments of Life) app
Caring for Elderly and Disabled Citizens
In a 2016 poll of people with disabilities conducted by Singapore's National Council of Social Services (NCSS), 62% reported they did not feel included in society or were allowed to realize their full potential. People with disabilities face challenges in accessing public infrastructure, housing, caretaker support, support devices, and sports facilities. As a result, NCSS, in collaboration with the DesignSingapore Council, formed a team to increase inclusion and quality of life. The team hosted co-creation meetings with more than 140 government employees, public welfare and healthcare experts, individuals with disabilities, and guardians to collectively brainstorm solutions. As a result, more than 30 ideas were created, out of which four underwent implementation. These included Box of Joy and Social Combinator, which enabled people with disabilities to acquire new skills and develop business ideas and contribute to the economic growth of the country.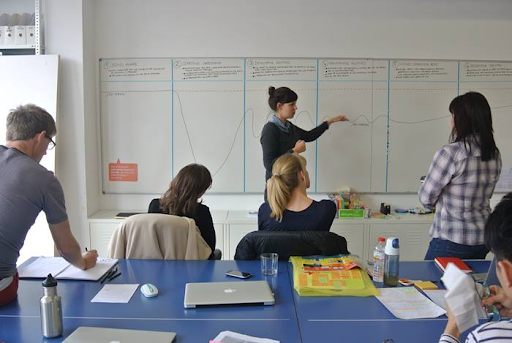 Design thinking consultants and NCSS staff discussing solutions during a design thinking workshop.
Reshaping Legal Processes
Because of the high number of stressful events that occur in court, the authorities decided to redesign the court's layout to make it more child-friendly. They designed therapy and negotiation rooms, where in-house consultants were made available for public sessions. The transformation was also considered an out-of-court settlement whenever possible. Furthermore, courts lead people to these services, and if peaceful agreements can be achieved, there will be no need for litigation.
The Supreme Court Building in Singapore, designed by Foster and Partners
Conclusion
While design thinking has gained popularity in the corporate world, it has yet to catch on in governance. The three initiatives mentioned are only a few of many that reflect a change in Singapore's public service to better their internal processes for their citizens. Design thinking emphasises conceptualising not-so-obvious solutions. Design thinking creates the ideal atmosphere for a true and much deeper perception of the customer's voice. It allows you to get beyond the barrier of studies and embraces the creativity of passionate thinkers fueled by customer centric interaction, saving time and money on speculated or conjectured design. As a result, the hype around the product has already been created and completely evaluated by real users before entering the market.
Over the past ten years, design-driven companies such as IBM, Apple, Coca-Cola, and Nike outperformed the S&P 500 by over 200%. Consequently, the demand for design thinking professionals is at an all-time. Whether you are an individual or a business, a design thinking mindset is all you need to reform yourself and the business for your customers.
.Want to get deeper and understand how design thinking works? We at Apex Global bring you a business-oriented course targeting how your company can enhance its services and counter certain unprecedented and dynamic environments.
Register now and gain insight on how to achieve an end to end customer satisfaction with iterative problem-solving skills.