Transforming an idea into a successful product can be difficult. But with the right product management process, you can ensure your team is doing the right thing at the right time and maximize your product's chances for success.
So, what is the product management process? What are its stages? Why is the product management process important?
In this article, we answer all these questions and more, so grab a beverage of your choice, find a comfy spot, and dive in!
What is product management process?
The product management process encompasses the steps needed to take a product from its initial concept to its final launch. Implementing an effective product management process is important if you want to create the optimal product with features that meet the needs of your customer.
The process begins by understanding what the customer needs are and how your product can be a solution. Through a combination of tasks, meetings, and decision-making frameworks, the product management process ensures a smooth transition throughout the product's lifecycle.
For example, let's imagine that a company is trying to build an app. While the engineering teams work on developing the app, and the marketing & sales teams focus on its launch, the product management team would work collaboratively with all these departments to ensure that what they're doing is in line with the overarching vision and plan they've developed for the product.
Product managers oversee the entire discovery, development, marketing, launch, and maintenance of the product in order to ensure that it is successful.
They focus on the bigger picture, ensuring everyone is on the same page and working towards the same goal. To do this, they follow the product management process, a sequence of seven stages that we'll discuss later.
Why is the product management process so important?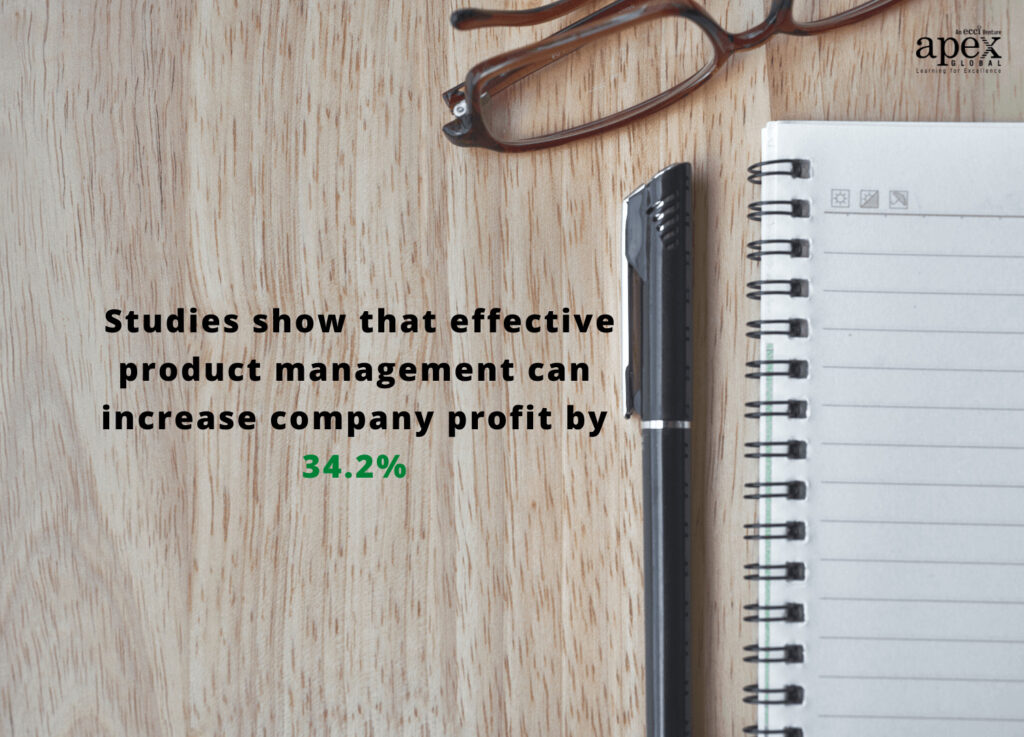 Implementing an effective product management process is significant and leads to a number of benefits:
Maximizes the chances for success.
Shapes the target audience.
Helps in framing the future product and validating different solutions.
Includes opportunities for product improvement and evaluation.
Makes the delivery of products in the market much faster.
Streamlines collaboration across various departments in the organization and improves team productivity.
Aligns the effort of each team member with the company's mission.
Improves customer satisfaction as the product caters to their needs.
Minimizes confusion surrounding requirements.
Promotes business efficiency, growth, and profitability.
Most importantly, the 7 stages of the product management process ensure you::
Prioritize your resources, and use them more efficiently.
Don't skip any crucial part of the product management process.
Make sure you do the right things at the right time.
Seven stages of the product management process
Whether it's a new product in the startup phase or a product that's successfully launched but in need of fine-tuning, the following 7 stages of product management can guide you toward a successful product or feature launch.
A. Idea management
Ideas can come from a variety of sources, be it through dedicated workshops, brainstorming sessions, product suggestions from internal or external stakeholders, or customer feedback.
Managing this continuous flow of ideas is an important part of the product management process. This includes capturing them in a central location (product backlog), organizing them, and evaluating whether they're worth acting on.
Idea management is essential if you want to avoid being overwhelmed by your product backlog. You can prioritize the most feasible features through team voting and discussions.
While maintaining the product backlog, product managers must provide transparency and clarity for stakeholders with regard to how ideas are managed.
This way, everyone outside of the product management team can see the status of their ideas and requests and get an overview of what else is currently in the product backlog.
Idea management tips:
Maintain a backlog to capture ideas.
Merge duplicate ideas on a regular basis.
Assess new ideas against current goals.
Promote feasible ideas to the product roadmap.
Communicate the status to the ideator.
B. Product specifications
The next step in the product management process is to flesh out the ideas you've captured and figure out some of the finer details. At this stage, the product manager works together with a product owner and the project manager to create what's known in the industry as 'product specifications'.
Product specifications (or specs) are brief technical documents that answer three important questions:
What are you building, and why?
What should this product/feature achieve?
What metrics will be used to measure the success of your product?
Teams should answer these questions collaboratively with input from a range of stakeholders to consider all angles and ensure that there's agreement going forward on what exactly everyone has in mind. This removes uncertainties and makes it clear what's under consideration when you prioritize and implement things later on.
This phase is essential because it makes sure that everyone agrees on the direction the concept should go before moving forward with it.
It also enables the product management team to make an educated guess as to how much time, effort, and resources will be needed. From there, they can factor it into the product roadmap in a way that's both realistic and feasible.
Product specification tips:
Open the discussion to your entire organization.
Decide which specifications are necessary to include.
Keep it short and make it realistic
Relate to the big picture
Get feedback from your team, stakeholders, and customers
Revise, revise, and revise.
C. Roadmapping
The next step is roadmapping i.e., creating a product roadmap. A product roadmap is a strategic plan of action for the product you're developing, usually represented in a graphical overview. It defines the steps you plan to take to meet your product vision over time.
This product roadmap should include:
Business goals and objectives
Product areas
Product features
Key Performance Indicators (KPIs) 
Order of priorities
When building a roadmap, avoid making it too detailed.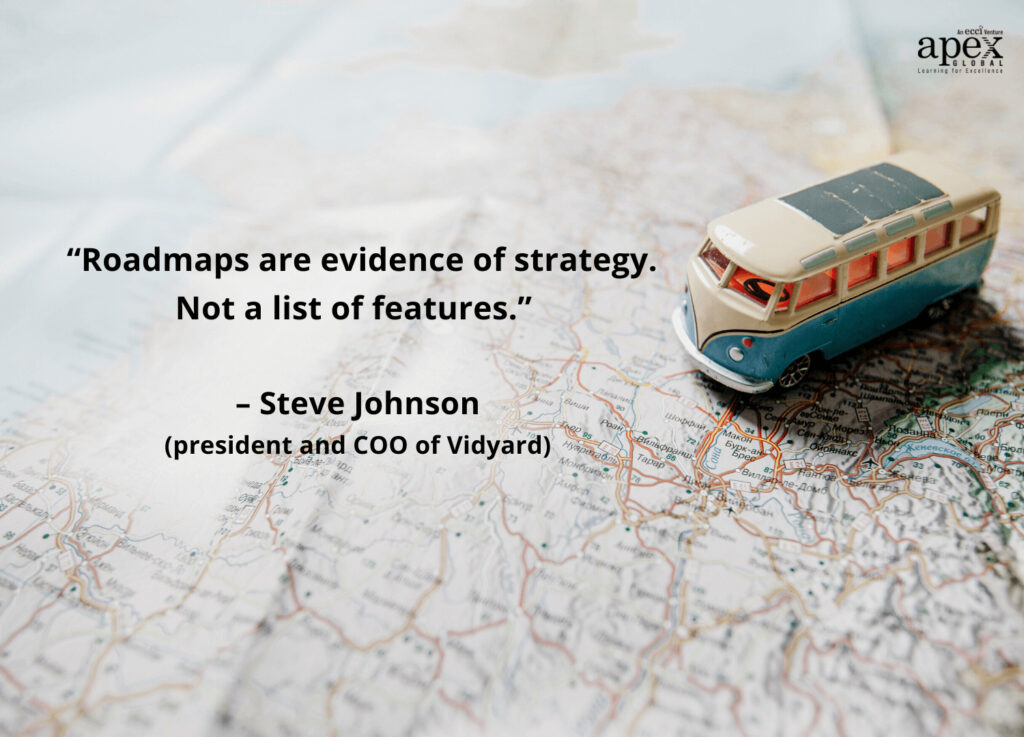 Instead of focusing on specific features, you can explain the product vision and describe your business objectives in order to have more flexibility in the future.
The purpose of the roadmap is to map out the overarching goals and milestones for the product, keeping the focus on strategic objectives and outcomes. These need to be established before you start prioritizing elements.
The product roadmap is not just for product managers. It's an important tool for the entire organization, giving everybody a clear overview of where the product is headed, how it will get there, and the reasons behind the product strategy.
Roadmapping tips:
Validate product strategy before creating the roadmap
Involve all key stakeholders
Have the courage to say no
Include measurable goals
Determine cost top-down instead of bottom-up
Regularly review and adjust the roadmap
Make your roadmap flexible
D. Prioritization
The fourth stage in the product management process is prioritization. As the name implies, this is when product managers should start examining the ideas backlog closely and choose which items should be prioritized.
During this stage, product managers must prioritize ideas that will best contribute to the overall product strategy and help in reaching the business goals and KPIs. At the same time, they must also include broad stakeholder participation, taking multiple perspectives and opinions into account.
When it comes to prioritization, product managers often use what's known as prioritization frameworks. Prioritization frameworks contain consistent criteria for product teams to use when ranking the ideas according to business value.
Some of the most popular prioritization frameworks include the RICE scoring model (which stands for Reach, Impact, Confidence, and Effort), the MoSCoW prioritization technique, and the product tree framework.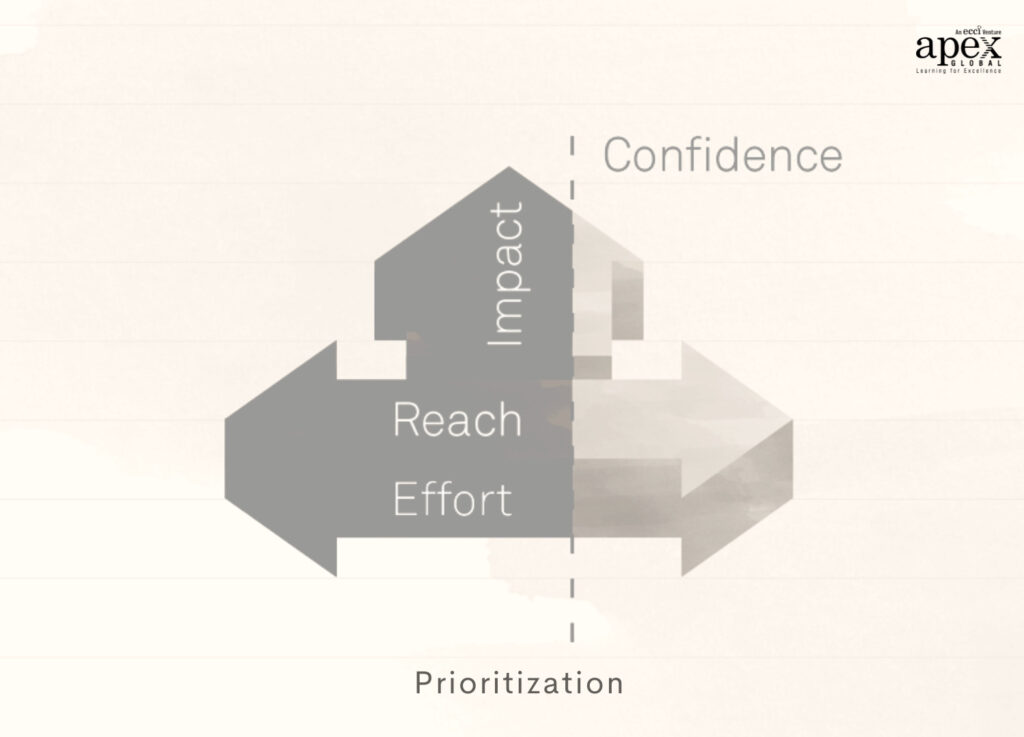 At this stage, you may have to say "no" to certain ideas from stakeholders or customers. It's therefore crucial that you are able to explain the reasoning behind the prioritization and share how decisions are made.
Tip: Keep in mind that you won't be able to make everyone happy. So, in addition to knowledge about prioritization techniques, you will also need soft skills like empathy and listening skills, as well as the ability to influence and win over people.
E. Product creation and delivery
With a roadmap and set of prioritized ideas, it's time to actually start developing the product.
This is where product management usually takes a step back, taking a more advisory or consulting role as engineers and project managers take the reigns.
But they still continue to oversee the product's delivery and collaborate closely with the engineers to ensure that everything is headed in the right direction.
After the features are created, they are delivered to the end user based on the development framework used by the organization.
The product development phase can vary greatly from company to company, depending on the approach used:
Startups usually take an agile approach, building and shipping the product iteratively in short cycles.
Larger corporations take the waterfall approach, which is a more linear, sequential method.
Some companies take this even further with continuous delivery, where new functionality, bug fixes, and other changes ship as soon as they're completed and tested.
Tip: If possible, consider releasing a beta version. This will help you improve the overall quality of the software and develop bug-free features.
Regardless of the particular delivery approach, product management's role is to ensure what's being built meets the expectations of the market and stakeholders. They must be available to define, clarify, and confirm that the work being done will accomplish the planned goals for the project.
F. Analytics and experiments
Once the product is released into the wild, you can now focus on leveraging the available user data to evaluate the product's success and make improvements.
With the help of product analytics tools, product managers can capture data to see how users interact with the product and, in particular, to identify user behaviors that are related to product success metrics.
For example, if conversion is the main goal for the company, they can observe what most users do before they make a purchase. Or if adoption and frequent usage are considered more important, they can also look for what those users have in common.
Based on these insights, they can then make changes to the product to optimize the user experience further and increase the likelihood of users going through with a purchase.
Product managers can also conduct experiments to test different scenarios or feature versions on different user groups. Again, the data gathered from these experiments can be used by the product team to improve the product and increase its chances of success.
Tip: When carrying out experiments on customers, focus on individuals (instead of groups) and think short-term.
G. Customer feedback
The seventh and final step in the product management process is gathering feedback from customers. This data is invaluable as it gives you direct insights and suggestions that can help you understand if the product is meeting your target users' needs and where it is falling short.
At this stage, the product manager should define a process for collecting and organizing this feedback that closes the loop with customers who share their thoughts and suggestions.
There are many ways to capture user feedback. You can prompt users to rate their experience while using the product, send out customer surveys, conduct user interviews, and run focus groups. Capturing this user data will help you better address user needs, making it easier for you to achieve product-market fit.
And don't forget about ex-customer feedback. Analyzing what's causing users to stop using your product might be even more useful than finding out why people stick around.
After gathering all the information required from the users, the product manager must organize, analyze and use it to modify the product roadmap and improve the product.
As you can see, this stage again brings us back to the beginning of the product management process, i.e., gathering and managing ideas.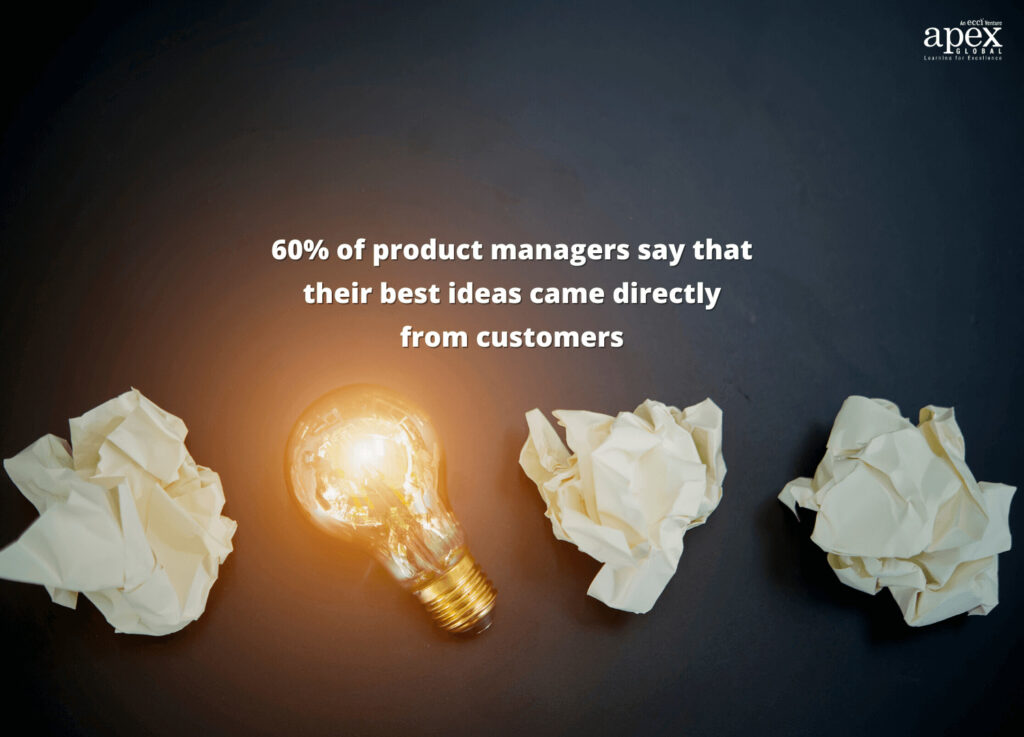 Tip: Before collecting customer feedback, define your goals. Take some time to answer questions like: What kind of information would you like to gather? What are you planning to do with the gathered information? With defined objectives, you can optimize the process of gathering feedback.
And so the product management process continues. Product managers are responsible for the product throughout its life cycle, going through each of these seven stages to make sure that the product is meeting the overall strategic objectives.
After completing all the steps in the product management process, you will not only have actionable feedback from your customers about your product but also fresh ideas about desirable features that will enhance your product further.
On a final note
The process of product management involves constant experimentation, learning, and application of what you've learned to the creation of new products.
Though the stages mentioned here in this article are not an exhaustive list, they are a great place to start from.
Even if you choose to complete these steps in a different order, each stage must be given its due. They're all important ingredients to bringing products to market that both delight customers and help you achieve business goals.
If you're interested in learning more about product management, APEX Global's Product Management Practitioner course will give you a hands-on introduction and equip you with everything you need to know about product management.
You'll not only learn how to create a product but also how to remain profitable and meet your customers' needs. Enroll today to get started!
Have any questions or thoughts about product management? Feel free to reach out and share them with us. We'd love to hear from you!