Product Manager and Project Manager are two of the most important roles in organizations today. These two distinct yet intertwined roles play a pivotal part in shaping the success of organizations and their products.
As you might have noticed, Product Manager and Project Manager sound similar and even have the same abbreviation – PM. Because of this, they are often interchangeably confused by all levels of business executives. But these are actually completely different professions and require different skill sets and knowledge. Understanding the difference between these two can help determine which is the best fit for you.
So, how do these two roles actually differ? Are there any similarities between them? Which one is better?
If you've been having these questions in mind, you have come to the right place. In this blog post, we'll explore the differences between a product and a project, the roles and responsibilities of a Product Manager and a Project Manager, discuss the differences and similarities between them, and finally, look at which role is better. Ready to dive in? Let's go!
What's the difference between a product and a project?
In order to fully understand the differences between these roles, you must first understand the difference between a product and a project.
A product is anything that is created to fulfill a need or want in the market. Products can be physical, like clothing or furniture, or digital, like an application or even a service like consulting. Each product has a cycle that consists of different stages. First, the product idea is conceived, then it is developed, then it is introduced in the market, then it undergoes enhancements, and finally, it's retired when the need for it diminishes.
A project, on the other hand, is a collection of tasks that are carried out to achieve a particular outcome. Each project has a certain goal and timeline. The goal of a project could be anything like constructing a new building or rolling out a new tool for a team to use.
It's important to note that a product can only be created within the context of a project, and multiple projects can happen within a product's life cycle.
A project is a temporary endeavor, so once a project is completed and its goals are achieved, it is typically disbanded. However, products have a longer lifecycle as they are designed to deliver ongoing value to customers. So, a product undergoes various enhancements based on the evolving customer needs until the need for it diminishes and it is retired.
What is a Product Manager?
A Product Manager is a professional who is responsible for overseeing the development of products within an organization. They are in charge of a product from the beginning of its lifecycle to its end. This means they set the vision of a product, direct any updates, and make sure the product is satisfying customer needs until the product is retired.
Because the role of Product Manager can change from organization to organization, specific tasks can vary widely. But the common responsibilities of a Product Manager include:
Defining key metrics for product success
Understanding customer needs and communicating them to the product team
Working with cross-functional teams to develop and pursue product strategy
Finding ways to improve a product through market analysis and other research
Keeping an eye on product performance
Testing and monitoring new product features
Monitoring competitors
What is a Project Manager?
A Project Manager is a professional who organizes, plans and executes projects while working within constraints like scope, time, budget, and resources. Project managers are in charge of a project from start to finish. They define project goals, communicate with stakeholders, and see a project through to its closure. Whether running a marketing campaign, developing a website, or releasing a new product, the Project Manager helps drive the success of the project.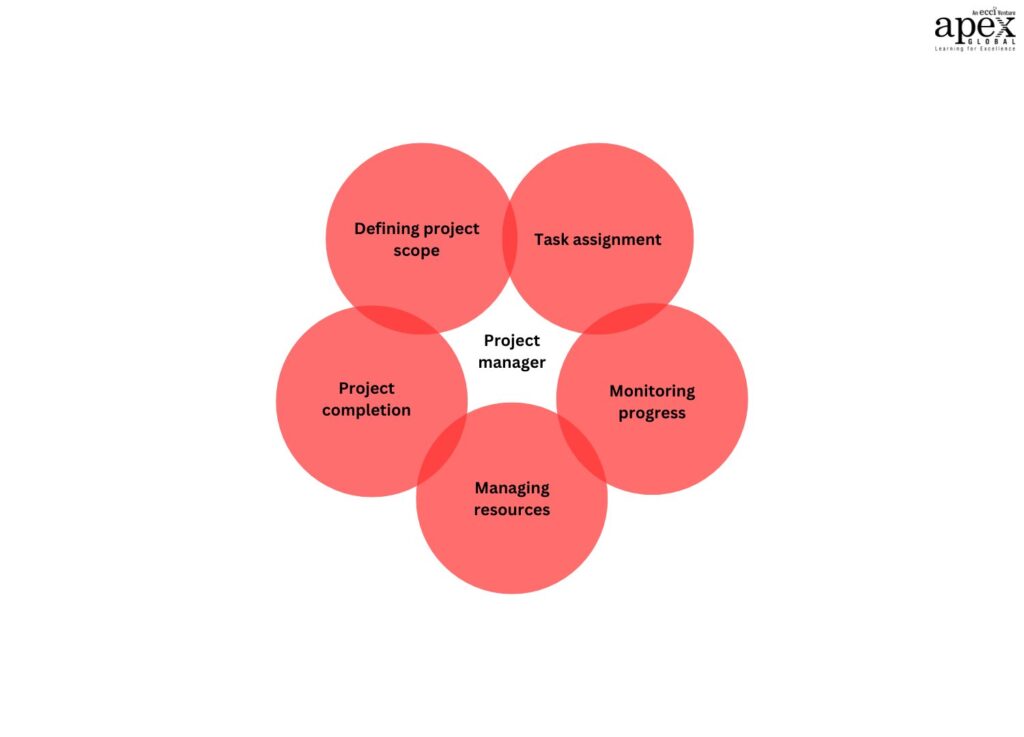 Project managers perform the following tasks:
Determining key aspects of a project like project scope, timeline, and budget estimates
Collaborating and communicating extensively with stakeholders
Managing project resources
Documenting the progress of the project
Assessing risks
Keeping track of tasks and schedules
Making sure teams are collaborating well and staying motivated
Product Manager vs Project Manager: Similarities and differences
The roles of product managers and project managers are similar in some aspects, even though they are different roles with distinct sets of responsibilities. First, let's look at the similarities between them.
– Similarities
So, in what ways are these two roles similar?
First, effective collaboration and communication are pivotal in both roles. Product managers and project managers interact closely with various teams, stakeholders, and executives, ensuring that everyone is on the same page regarding goals, progress, and any potential challenges.
Second, both roles are driven by goals defined by the organization. Product managers work toward realizing the product's vision, aligning its features with user needs and market demands. Similarly, Project managers guide their teams in accomplishing project-specific objectives within predefined timelines and resources.
Finally, both product managers and project managers need to have strong management skills and be result-oriented. Whether managing the development of a product or the execution of a project, success hinges on efficient resource allocation, risk management, and timely delivery of outcomes.
– Differences
Alright, now let's move on to the differences. So, how do the two roles differ?
Product managers focus on the overall scope of a product, such as defining the product's vision and ensuring that it meets customers' needs. A Project Manager focuses more on the logistical elements of a project, like budgeting, scheduling, and managing resources.
Product managers are responsible for doing market research, gathering customer feedback, and determining product features. They work closely with cross-functional teams, including development, design, and marketing for product development and launch. Project managers, on the other hand, are responsible for defining project scope, allocating tasks, and scheduling. They work closely only with project-related teams to execute tasks and meet the goals of the project.
In other words, a Product Manager is responsible for the 'what' and the 'why' of a product, while a Project Manager is responsible for the "how" and "when" of a project.
Another important difference between them is the scope of their work. While project managers work on time-bound projects with a clear start date and a deadline, product managers are responsible for a product throughout its lifetime, i.e., during development, launch, and stages of updates and improvements after getting user feedback.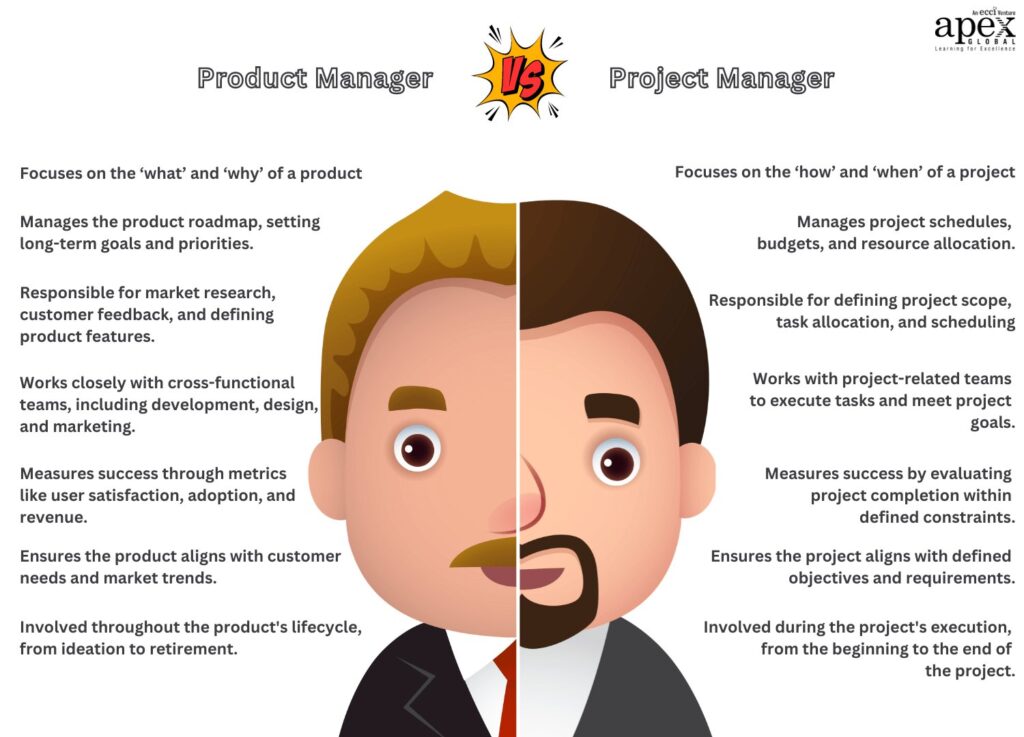 – Example
To better understand the differences between them, let's consider an example. Let's say a company wants to develop and launch a task management app aimed at helping users organize their daily activities and increase productivity.
The Product Manager of the company will be in charge of the app's development. They will define the objectives of the app, determine what features should be in it, orchestrate a team of product developers, and monitor any challenges as they arise. They will conduct market research, gather user feedback, and create a product roadmap.
At this stage, a Project Manager will step in to turn the goals of the app (as defined by the product manager) into reality. They will translate the Product Manager's vision into actionable tasks, timelines, and resource allocations. This involves defining the project scope, creating a detailed project plan, and assigning tasks to the development team. Throughout the development process, they will monitor progress, resolve issues, and ensure that the app is being built according to the established plan. Check out our top 7 tips for drafting a project plan here.
The Project Manager's overall responsibility for this project is to ensure that the app is developed and delivered within the deadline, meeting quality standards and stakeholder expectations. They work in close coordination with the Product Manager to align the development process with the product's vision and goals.
Product Manager vs Project Manager: Career path, skills, and certifications
– Career path
The path to becoming a Product Manager is different from the path to becoming a Project Manager. While both positions may require a bachelor's degree or other formal education, product managers can enter this role without other professional experience. Since product managers require a good sense of business and customer needs, you might find some with backgrounds in marketing or business operations.
Product Managers often have career paths that lead from Associate Product Manager to Senior Product Manager and potentially to roles like Director of Product Management or Chief Product Officer. As they gain experience, they may specialize in particular industries or types of products, such as software, hardware, or consumer goods.
Project managers, on the other hand, often start their careers in the same industry. For example, a Project Manager working in the SaaS industry might have worked for a few years as a software developer. They might also work first as an Associate Project Manager or Project Coordinator and then can go on to become product managers, senior project managers, and directors of project management. Project managers might choose to specialize in industries such as construction, technology, healthcare, or marketing, depending on their interests and expertise.
– Skills
While both product managers and project managers require communication, leadership, and management skills, they both have their own skill sets.
Product Manager skills:
Data analysis
Market research
Basic user experience (UX) knowledge
Basic business knowledge
Strategic thinking ability
Customer empathy
Project Manager skills:
Project planning
Knowledge of project management approaches like agile & waterfall
Risk management
Basic budgeting
Stakeholder communication
Task coordination
Sometimes, product managers and project managers might also need some specialized technical knowledge, depending on the industry. Learn more about the essential skills required for project management here.
– Certifications
Certifications aren't always required to become a Project Manager or a Product Manager. They do give you an advantage while applying for jobs; sometimes, they can be required.
Common Project Manager certifications include:
Certified Associate in Project Management (CAPM)
Certified ScrumMaster (CSM)
Professional Scrum Master (PSM I)
Product Manager certifications are available as well. Some of the most popular certifications include:
Product School's Product Manager Certification
Pragmatic Institute's Certified Product Manager
AIPMM's Certified Product Manager
PDMA's New Product Development Certification
Product Manager vs Project Manager: Which is better?
Product and project managers both play a crucial role in a company and contribute to the company's success in different ways. So objectively, neither role is considered better than the other. You have to evaluate your own skills and consider your interests and career goals before deciding which path to pursue.
If you like the idea of shaping product vision, working closely with users, and focusing on strategic decisions, you might enjoy a career as a Product Manager. On the other hand, if you excel at organizing tasks, leading teams, and ensuring project success, a career as a Project Manager might be a better fit.
Consider what aspects of each role resonate with you more, whether it's creating innovative products or overseeing the execution of complex projects. You might even find that your career path involves transitioning between these roles based on your evolving interests and skills. Ultimately, the choice between being a Product Manager or a Project Manager comes down to what aligns best with your strengths and what brings you the most professional fulfillment.
Final words
And that's a wrap! We hope by this point, you have a solid understanding of the two roles and how they differ from each other.
By textbook definitions, product managers and project managers each have distinct areas of responsibility. But in real companies, the two roles inevitably overlap with each other. The extent to which they overlap largely depends on the specific company. In the end, of course, both product managers and project managers are working toward the same all-important outcome: a successful product.
At APEX Global, we understand the significance of both roles and their unique contributions to an organization's success. That's why we offer specialized training programs designed to empower aspiring professionals like you in these domains.
If you're interested in product management, you can consider enrolling in our immersive 16-hour "Product Management Practitioner" course. This training will equip you with all the skills & knowledge necessary not only to build the right product but also to build it right.
On the other hand, if you're more into project management, you can enroll in our "Project Management Professional" course. This training will ensure that you pass the PMP® exam on your first attempt, and you'll be able to gain a worldwide accredited Project Management Certification.
Enroll in the course you're interested in today and embark on a journey of professional growth with APEX Global!
Have any questions? Reach out to us today at [email protected]. We'd love to hear from you!