The Government, Academe, Industry Network (GAIN) is a professional organization established in 2017, with the purpose of ensuring the Global Competitiveness of the Philippine Graduate and the Nation's Workforce through the synergy of initiatives from the Government, Academe, and the Industry.
Last 2018, the 1st GAIN National Convention was held at the Heritage Hotel and focused on how communications skills can be key to achieving global competitiveness. A 2-year study sponsored by the non-profit organization ETS- Educational Testing Service of Princeton, New Jersey, on the Philippine Graduate's English Proficiency was also discussed, with it presenting alarming data on the gradual but steady decrease in proficiency levels due to a lack of standards, compelling attendees and media outlets to campaign for a stronger call to action.
CHED Chairman J. Prospero De Vera III attended the whole day event and spoke to highlight the need for standards and active sharing of information to improve the quality of education, and the need to collaborate and synchronize to bridge skills gaps experienced in the workforce.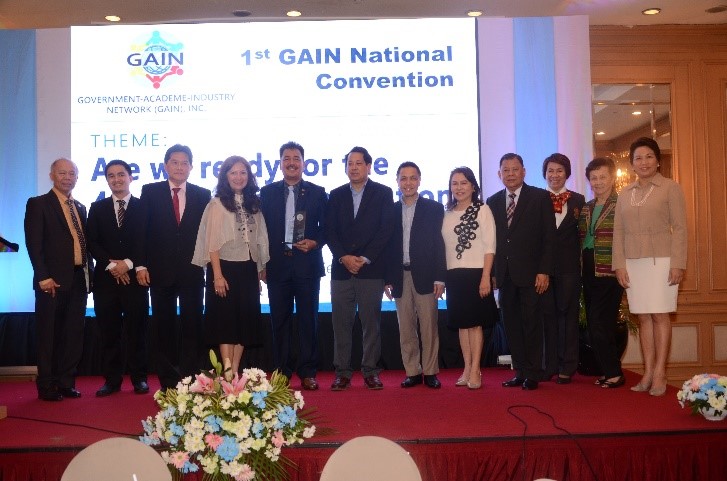 1st GAIN National Convention in 2018
This 2019, GAIN will present how Technology and Artificial Intelligence will affect the future of the Filipino workers as they continuously reshape the world of business and education. GAIN Chairman Dr. Peter P. Laurel says, "We would like to stress the fundamental importance of artificial technology, and its strong connection to language and comprehension—these are essential to upskilling and to the acquisition of new skills to stay relevant in the digital era."
With over 300 representatives being invited from the Government, Academe and Private institutions, GAIN wants to transform and prepare the next generation for an AI-filled future– where new methods can be set for Filipino workers to work harmoniously with emerging technology trends, and instead of seeing the advancement as a threat, they can be seen as a tool for collaboration and development.
The 2nd GAIN National Convention is made possible with the help of our major sponsors – Rex Bookstore & Bibo Global Opportunities, minor sponsors – C&E Publishing, Asian Association of School HRMD Practitioners, Inc. (AASHPI), Kalibrr Technology Ventures, Inc. & Hopkins International Partners, Inc., media partners – Red Cloud Interactive, Bughaw Digital, Apex Global Learning, Manilascope, Green Giant FM and Rivett Multimedia, and online media partners – WhenInManila and Inquirer.net.
To register for the February 8, 2019 event at Dusit Thani Hotel, Makati, follow this link to the GAIN 2019 National Convention. (https://www.eventbrite.com/e/gain-2019-national-convention-the-4th-industrial-revolution-preparing-the-philippines-for-the-jobs-tickets-52292398973)