Developing an all-hazards emergency response reflex is crucial for organizations to effectively handle a wide range of potential emergencies or disasters. This reflex involves a proactive approach to emergency preparedness. It also includes developing plans, conducting drills, and training employees to respond swiftly and appropriately to various hazards.
For example, a company may establish an emergency response team, assign roles and responsibilities, and regularly conduct tabletop exercises or simulations to test their response capabilities.
An all-hazards emergency refers to any event or situation that poses a threat to life, property, or the environment, such as natural disasters (e.g., hurricanes, earthquakes), technological incidents (e.g., chemical spills, power outages), or human-caused emergencies (e.g., terrorist attacks, workplace violence).
An all-hazard emergency refers to a broad range of potential emergencies. On the other hand, regular business breakdowns typically refer to internal issues or operational disruptions that are limited in scope and impact. All-hazard emergencies are unpredictable and can have widespread consequences. They can affect not only the organization but also the community or region in which it operates.
Importance of an all-hazards emergency response plan
We can't always control the emergencies that come our way, but we can control how prepared we are to face them. Consider both internal and external threats such as cyberattacks, natural disasters, and pandemics. Review case studies of similar emergencies that have affected businesses in your industry. Form an Emergency Response Team. This should include key decision-makers from various departments who are equipped to handle emergencies. Assign roles and responsibilities and make sure everyone knows what to do. Develop specific procedures for each potential emergency and clearly document them.
A well-prepared emergency response plan can minimize downtime, protect assets, and ensure the safety of your employees and customers. It also builds confidence with stakeholders that your business can handle any emergency that comes its way.
Here are 5 key reasons why every organization should prioritize the development of an all-hazards emergency response plan:
Ensuring the safety of team members and clients during emergencies is the top priority of every organization.
Emergencies can cause damage to property, and assets, and disrupt business operations. A well-prepared plan can help mitigate the impact and minimize the losses.
Inability to resume business operations promptly can lead to financial losses, loss of reputation, and customer dissatisfaction. An all-hazards emergency response plan can help ensure business continuity.
Emergency response plans can also help organizations comply with legal requirements, avoid penalties, and protect their brand reputation.
By having a comprehensive plan in place, organizations can demonstrate their commitment to the safety and well-being of their team members, clients, and the community, leading to greater trust and loyalty.
Real-life examples of emergencies and their impact
As entrepreneurs and business owners in the Philippines, we face some unique challenges. With over 100 million Filipinos, competition in every field can be fierce, let alone when you are trying to establish your growing business. As an archipelago, the Philippines is vulnerable to typhoons, earthquakes, and other natural disasters. These emergencies can further leave your business vulnerable to sudden halts, if you are not fully prepared to deal with the situation in advance.
Typhoons:
With an average of 20 typhoons per year, flooding and landslides are serious concerns.Typhoons bring intense rainfall to the affected areas. The combination of heavy rainfall and the mountainous terrain of the area can contribute to widespread flooding during typhoons.
Typhoons also generate storm surges along coastal areas, which when coinciding with high tides can lead to severe coastal flooding. The heavy rainfall saturates the soil, reducing its stability and triggering slope failures in areas with steep slopes. These Landslides can bury homes, block roads, and pose a significant threat to human lives. The Government and social organizations are constantly making efforts to improve early warning systems, disaster preparedness, and infrastructure to mitigate the impact of these natural disasters and protect the population.
Typhoon Yolanda
Back in 2013, Typhoon Yolanda hit the Philippines and many SMEs suffered major damage. But for those that were ready, like Eva Marie Arts and Crafts, quick recovery was possible. Investing in disaster preparedness may be tedious, but the payoff is immense.
Typhoons Goni and Vamco
2020 was a tough year for the Philippines, with super typhoons Goni and Vamco causing widespread damage and displacement. However, the private sector, led by the Philippine Disaster Resilience Foundation (PDRF), stepped up to the challenge and played an integral role in response and recovery efforts. Working closely with the government, UN, and other humanitarian organizations, PDRF provided much-needed assistance to affected communities and businesses.
Volcanic eruptions:
With 21 active volcanoes in the country, ashfall, and other hazards are possible. In 2020, while the world was coping with the horrors of the COVID pandemic, the people in the Philippines were dealing with a triple crisis. Apart from, the typhoons and COVID, they also faced the eruption of the Taal Volcano in the same year. Needless to say, it was quite disastrous.
Earthquakes:
Being in the Pacific Ring of Fire means the country is prone to earthquakes. In 2019, Luzon was hit with a 6.1 magnitude earthquake.
Pandemics:
The COVID-19 pandemic has had an undeniable impact on businesses in the Philippines, particularly in the tourism and hospitality industries. The pandemic caused a severe decline in business activity and employment while disrupting the supply chains and logistics.
Technological disasters:
Businesses in the Philippines also face the risk of technological disasters, such as cyberattacks and power outages. Most recently, a massive data breach shook the country's most esteemed government organizations. These disasters can disrupt business operations and cause financial losses
The Philippines may still struggle with maintaining consistent quality in products and services. Laws and regulations in the Philippines can be complex and change frequently. However, business relationships are built on trust and personal connections. Take the time to build meaningful relationships with your partners and clients to succeed.
Although managing employees can be challenging in general, it is especially so in the Philippines where labor laws can be complicated. Ensure you comply with laws and regulations and have proper HR practices in place.
Statistics on the cost and frequency of emergencies
Small and medium-sized enterprises (SMEs) in the Philippines face significant business losses during times of disaster. Emergency subsidies are often not enough to cover living costs, leading to closures and decreased capacity. MSMEs make up an impressive 99.5% of businesses in the country, employing 63% of the workforce and contributing 40% to the GDP. However, 25% of SMEs do not reopen following disasters, making it important to prioritize support for these businesses during challenging times.
Even during stable times, SMEs may struggle to find the funds to pay their employees or respond to emergencies. In fact, according to a survey by the Rizalino S. Navarro Policy Center for Competitiveness, more than 41% of SMEs applied for loans for emergencies and 83% for day-to-day operations such as wage payments in 2018.
Building resilience to natural disasters is crucial for SMEs in the Philippines. As per the recommendation of The Asia-Pacific Economic Cooperation (APEC), preparing SMEs for disasters is critical, as they play an essential role in the region's recovery. In line with this, the Philippine Institute for Development Studies conducted a study emphasizing the importance of investing in disaster risk reduction and management strategies such as insurance, contingency planning, and business continuity planning.
What is an emergency response plan?
An emergency response plan is a document that outlines the procedures and protocols for an organization to respond to unexpected events. Developing a comprehensive checklist for organizations to develop their all-hazards emergency response plan is crucial. This plan should cover what to do before, during, and after an emergency, and ensure that the well-being of employees, customers, and assets are taken care of.
As organizations in the Philippines face the reality of emergencies and crises, it is important for them to develop emergency response plans. And, great news, there's guidance available to make it easier. The Philippine government has issued guidelines for emergency response planning and, by following these ten steps, organizations can create plans specific to their needs. To further reinforce this effort, the Department of Interior and Local Government(DILG) mandates that all local government units (LGUs) implement an emergency response plan.
By following the ten steps provided, organizations in the Philippines can create their emergency response plan tailored to their needs.
Resource management 
Having adequate resources is essential for effectively managing crises, and the National Incident Management System (NIMS) recognizes five types of resources:
Personnel: Make sure to identify and train personnel who will be involved in the emergency response plan, such as first responders and emergency management personnel. This includes other staff members who will be responsible for implementing the plan.
Equipment: Organizations need to maintain and identify the equipment required to respond to an emergency. This includes communication equipment, medical equipment, and specialized equipment necessary for a particular emergency.
Teams: Ensure that your organization has identified evacuation centers, emergency shelters, and other necessary facilities needed during emergencies.
Supplies: Keep enough food, water, medical supplies, and other essential supplies required during an emergency situation.
Communication facilities: Establishing an emergency contact list is crucial. Ensure that each employee knows who to contact during an emergency. Determine the best channels to communicate information. Is it through email, text, phone, or social media? Have backup channels in case the primary one fails.
Ensure that your Emergency Operations Plans (EOPs) specify all necessary resources needed during the different phases of the emergency response program.
Crisis communications plan 
No one wants to think about crisis situations, but having a communications plan in place is essential for any business or organization. Here are some key elements to consider:
Identify Your Crisis Team: Choose a core group of individuals who will be responsible for managing communication during a crisis.
Develop Communication Protocols: Determine the processes and procedures for sharing information with stakeholders, both internally and externally.
Plan Your Messaging: Create pre-approved messaging that can be used across various channels to ensure consistency and accuracy.
Test Your Plan: Conduct simulations and drills to ensure that everyone knows their roles and the plan works effectively.
Conduct Regular Reviews: Evaluate your plan regularly and make updates as necessary to ensure it remains relevant and effective.
Anticipate Potential Scenarios: Think about the types of crises that could affect your business and plan for how to communicate in each situation.
Highlight Your Values: Make sure your messaging and actions during a crisis align with your company's values and mission.
Learn From Past Crises: Reflect on how previous crises were handled and use those lessons to improve your plan for future situations.
Business continuity plan 
It's essential for businesses to have a solid business continuity plan (BCP) in place, outlining how to continue operations during and after an emergency. A BCP includes performing a business impact analysis (covered more in details in the section below), however, in essence, it focuses on identifying the most critical aspects of your business and determining the potential impact of risks. This will help prioritize response efforts.
The next step includes developing response strategies, where you plan for each potential risk scenario, including communication strategies and mitigation efforts, to minimize impact.
It's not enough to have a plan – it needs to be tested and evaluated regularly. Run simulations or mock drills to identify areas for improvement.
Key tip: Involve key stakeholders in the planning process and communicate the plan effectively across the organization to ensure everyone knows their role during an emergency. For this step, the identification and classification of the stakeholders will be the major priority.
IT disaster recovery plan 
An up-to-date disaster recovery plan is non-negotiable for your organization. Here's what you can do to make sure it stays current. First, form a disaster recovery plan committee that includes key players from across your entire organization. Think top management, IT, finance, HR, security, and vendor management. This diverse group can ensure your plan takes into account all the different needs and perspectives of your team. Second, regularly review and update your plan – at least once per year or whenever your IT infrastructure significantly changes. Don't wait until an actual disaster strikes – take action now to keep your team and organization prepared.
Employee assistance & support 
In addition to being an important element of Occupational health and safety (OHS) programs, an EAP can help facilitate and organize actions during workplace emergencies. And with the increasing frequency of natural disasters, it's vital for employers to also provide employee assistance and support services for dealing with the emotional impacts of these events.
Employee Assistance & Support services are essential for helping workers deal with the emotional impact of disasters. Every employer should have an emergency action plan in place to facilitate and organize actions during workplace emergencies. Occupational health and safety programs must include measures for responding to major emergencies. The emergency plan should include written instructions tailored to the specific emergency response duties of staff members. Roles and responsibilities must be clearly defined, including incident commander, communication commander, and disaster recovery personnel.
By prioritizing employee assistance and support during emergencies, employers can ensure the safety and wellbeing of their workers.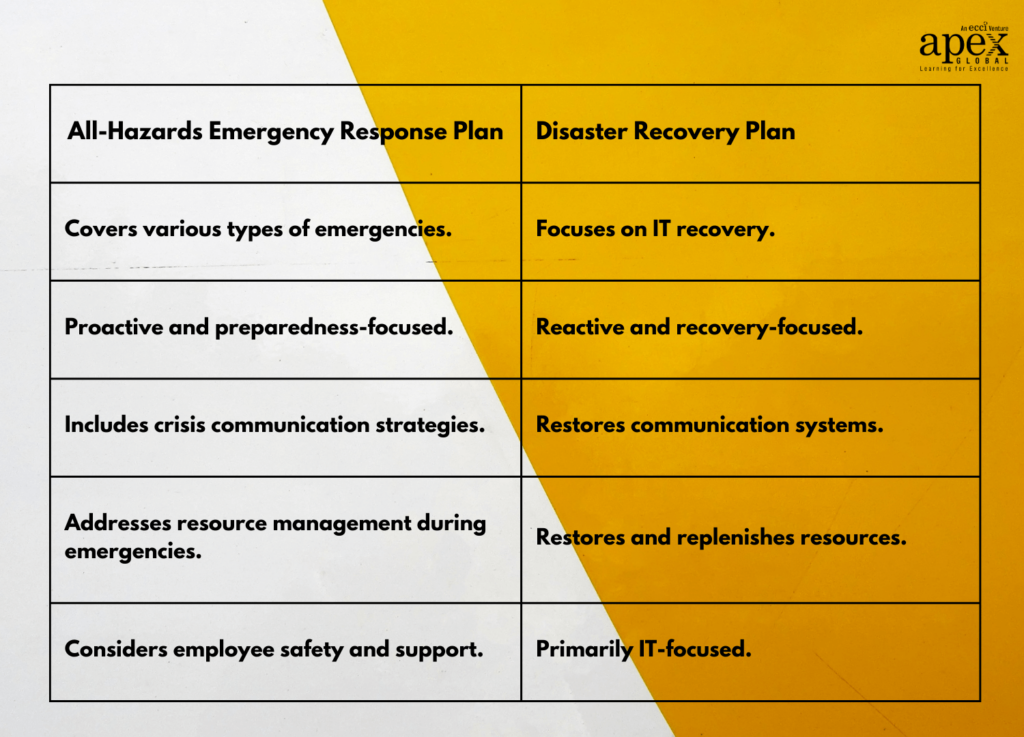 Incident management 
The purpose of the Incident aspect of an all-hazards emergency response plan is to ensure that an organization has a definite plan to deal with major emergencies, such as natural disasters, cyber-attacks, or pandemics. The Incident aspect of the plan prepares organizations for eventual threats and lays out how to ensure the safety of employees and the continued operation of the business. The plan should describe how workers will respond to different types of emergencies, taking into account specific worksite layouts, structural features, and emergency systems. The Incident aspect of the plan should cover designated actions employers and employees must take to ensure employee safety from fire and other emergencies. The plan should also include a communication plan to ensure that employees receive timely and accurate information during a crisis.
Training, testing & exercises 
In the workplace, emergencies can happen anytime. As such, it's critical that all workers understand emergency action plans – the types of potential emergencies, reporting procedures, alarm systems, evacuation plans, and shutdown procedures. Regular training and testing serve to identify any weaknesses in the response plan and ensure that employees are well equipped to handle emergency situations. The skills and knowledge acquired from such training are critical and should always be customized to fit specific scenarios. By prioritizing training and testing, businesses ensure their workforce is ready and equipped to handle emergency situations with ease.
Business impact analysis
A business impact analysis (BIA) report outlines potential risks specific to an organization, from exploring vulnerabilities to planning for strategies that can minimize risk. The process not only highlights the parts of the organization that are most critical but also assesses the consequences of any potential interruptions to its critical business functions.
Here are the key components you should expect to see in a BIA report
Executive summary: A brief overview of the report and its findings, intended for upper management.
Critical business functions: Identification of the most important business functions that must be maintained for the company to survive.
Recovery time objectives: The amount of time it should take to restore each critical business function to normal operations.
Impact assessment: An analysis of the impact of disruptions to each critical business function on the company as a whole.
Risk assessment: An evaluation of potential risks and their likelihood of occurring.
Recovery strategies: Strategies to help the company recover from disruptions to critical business functions.
Recommendations: Suggestions for improving the company's ability to withstand disruptions and recover quickly.
Hazard prevention & deterrence
Emergency preparedness is critical for any organization, and the hazard prevention and deterrence aspect is an essential component of an all-hazards emergency response plan. Here are some key points to keep in mind:
An all-hazards approach means that the plan should address any and all potential hazards, from natural disasters to cyber attacks.
The emergency response plan should outline the steps the organization will take in the event of an emergency, including who is responsible for what tasks.
A hazard assessment should be conducted to identify potential hazards and their likelihood of occurring, as well as the potential consequences.
A risk assessment should also be conducted to evaluate the potential impact of each hazard and prioritize response efforts.
An emergency action plan should be developed and communicated to all relevant personnel, outlining the specific actions that should be taken in response to each hazard.
A disaster recovery plan should also be in place to outline the steps that will be taken to recover from an emergency and resume normal operations.
Risk assessment and mitigation
Do you know what's the first step to an effective risk management strategy? It's risk assessment! And, to help prioritize identified risks, organizations can utilize a risk assessment matrix.
Some key points to consider:
A risk assessment matrix is a valuable tool for identifying and prioritizing different risks facing your organization.
By assigning each hazard a risk score based on likelihood and potential impact, you can categorize risks as high, moderate, or low.
The matrix provides a visual representation of these risks, helping you and your team to prioritize them and develop an appropriate mitigation strategy.
Collaborate with your team to ensure everyone has input on identifying and prioritizing risks, and use the matrix to guide your discussions.
Make risk assessment and mitigation an ongoing process, revisiting your matrix periodically to ensure it remains up to date.
A well-developed risk assessment matrix can help you make informed decisions, allocate resources effectively, and minimize potential negative impacts on your organization.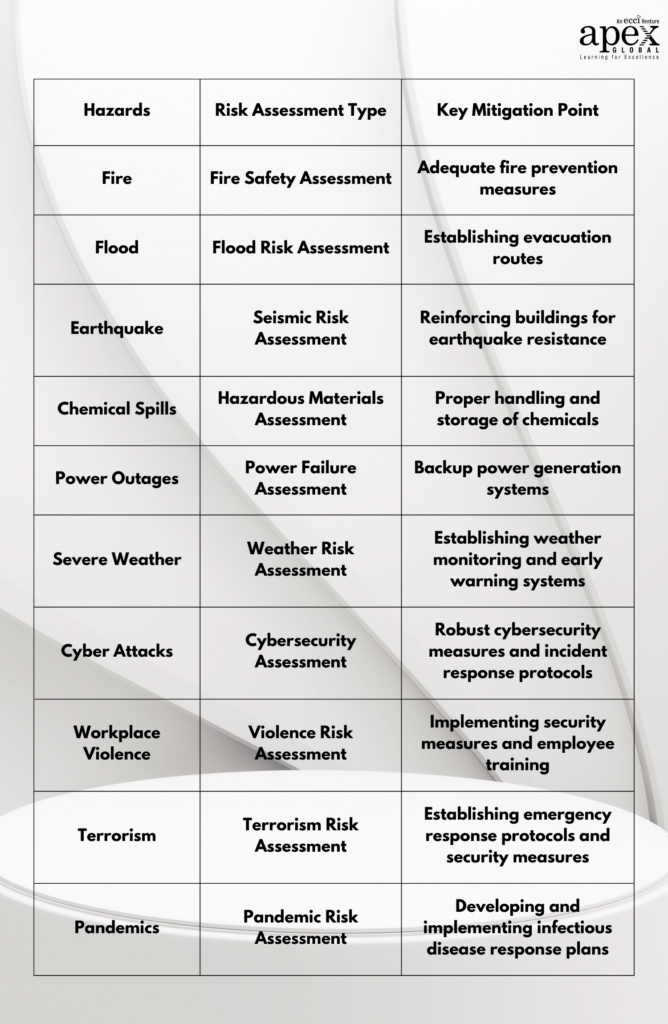 As SMEs, we may not have the same resources as larger corporations, but that shouldn't deter us from being prepared for the unexpected. Let's consider the unique risks in our region, including typhoons, earthquakes, and even political unrest, and create comprehensive plans that account for different scenarios.
It's all about taking small steps, collaborating with experts, and engaging your employees to ensure safety for all. APEX Global Learning provides a wide range of disaster management and business continuity courses that can help you address each aspect of your company's emergency preparedness in minute details. With preparation and execution, we can navigate any emergency with resilience and agility.
Final thoughts
After researching and compiling information, we've reached some final thoughts on developing an All-Hazards Emergency Response Plan for organizations and SMEs, specifically in the Philippines. It's crucial to first identify potential hazards that could affect your business, whether that's natural disasters or human-caused incidents. From there, develop specific protocols for each hazard, establish clear communication channels, and train all employees on what to do in an emergency.
Regularly test and review your plan to ensure its effectiveness and adaptability. Remember to take into account your location, potential risks, available resources, and necessary personnel for all possible scenarios. Make sure everybody is on the same page in regards to keeping our workplace and community safe in case of any emergency situation.
Taking these steps can ultimately save lives and minimize damage to your organization. Let's prioritize safety in our workplaces, no matter the size.