The global cloud computing market has experienced massive growth, increasing from $24.63 billion in 2010 to $156.4 billion in 2020, according to data from Zippia. This explosive growth signifies a shift in how we store, process, and access data, reflecting the increasing reliance on cloud technology across various sectors and industries. 
If you're considering moving to the cloud, it's not only important to know the basics of cloud computing but also how it can help you accelerate your digital transformation along with its limitations.
In this article, we will discuss what cloud computing is, its main advantages and disadvantages, and how to navigate the challenges. Ready to learn more? Let's get started.
What is cloud computing?
Before we get to the advantages and disadvantages of cloud computing, let's first look at what cloud computing is.
Cloud computing is the on-demand delivery of computing services and resources, such as storage, servers, databases, software, networking, etc., over the internet. Instead of buying, owning, and maintaining physical data centers & servers, users can access these resources from remote data centers hosted by cloud service providers.
Organizations across diverse sectors, regardless of their size or industry, are leveraging cloud technology for a range of purposes, including data backup, email services, disaster recovery, software development and testing, virtual desktops, and big data analytics.
Top 10 advantages of cloud computing
Despite the enormous growth of cloud computing over recent years, there are still business leaders who remain hesitant about committing to cloud-computing solutions for their organizations. So, let's take a few minutes and explore the top 10 business advantages of cloud computing.
#1 Scalability and flexibility
Cloud computing enables companies to flexibly adjust the resource allocation based on demand. This means that during periods of increased workload, such as seasonal peaks or sudden surges in web traffic, you can easily allocate additional computing power, storage, or network resources to handle the load. Likewise, if resources aren't being used, you can quickly scale down to avoid unnecessary costs. This flexibility ensures that you have the right resources when needed, optimizing performance and cost-efficiency.
#2 Cost savings
Cost savings is one of the biggest cloud computing benefits. Cloud services allow you to pay for resources on a pay-as-you-go basis, so you only pay for what you actually use, resulting in significant cost savings for your company. Also, the cloud eliminates the need for on-site technicians and extensive maintenance expenses since the cloud provider is responsible for hardware maintenance, software updates, and security patches.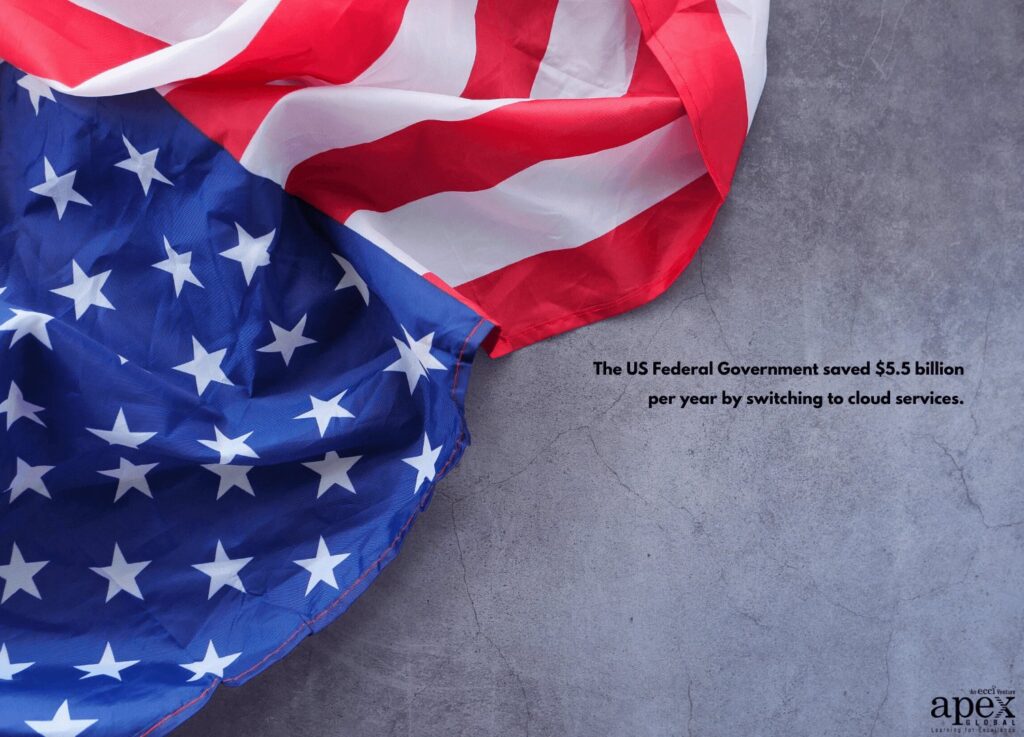 #3 Better collaboration
Cloud computing allows your team members to work simultaneously on the same document, eliminating version control issues and reducing the need for back-and-forth email exchanges. Cloud-based communication tools like email, video conferencing, and instant messaging enable real-time communication and collaboration among team members.
#4 Advanced security
Despite popular myths surrounding cloud computing, this tech can significantly strengthen your organization's security posture due to its comprehensive security features, automated maintenance, and centralized management. Renowned cloud providers also hire top security experts and employ cutting-edge solutions, delivering even more robust protection.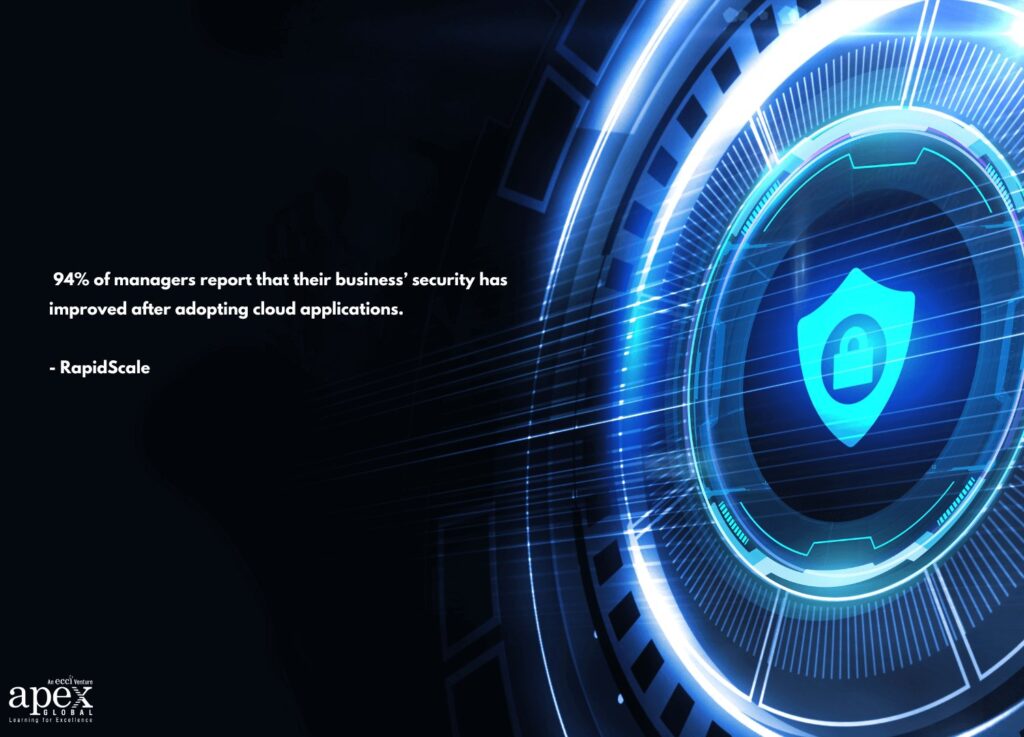 #5 Data loss prevention
Cloud computing offers backup and disaster recovery capabilities. Thus, storing data in the cloud rather than locally can help prevent data loss during unforeseen circumstances, such as hardware failure, malicious threats, or even simple user mistakes.
#6 Excellent accessibility & mobility
You can quickly and easily store, access, & manipulate data on the cloud. You can access the information you need from anywhere in the world, from any device using an internet connection. This flexibility not only promotes remote work but also accelerates decision-making processes and enhances overall efficiency.
#7 Unlimited storage capacity
The cloud offers almost limitless storage capacity. You can quickly increase your storage capacity at any time with minimal monthly fees. This allows you to store all your data, such as documents, images, audio, video, etc., in one place.
#8 Competitive edge
Cloud computing provides your company with a competitive advantage by granting access to the latest necessary applications without the need for time-consuming and costly installations. It allows you to focus on keeping up with the business competition by providing access to the most trending and in-demand applications.
#9 Automatic software updates
Cloud-based applications automatically refresh & update themselves, which frees your IT department from manually executing updates across the entire organization. This not only saves valuable time for your IT staff but also reduces the expenses associated with external IT consultation.
#10 Data insights
Many cloud-based storage solutions incorporate cloud analytics for a bird's-eye view of your data. With data stored in the cloud, you can seamlessly deploy tracking mechanisms and create tailored reports for comprehensive organizational data analysis. From those insights, you can increase efficiencies and develop actionable strategies to meet your company goals.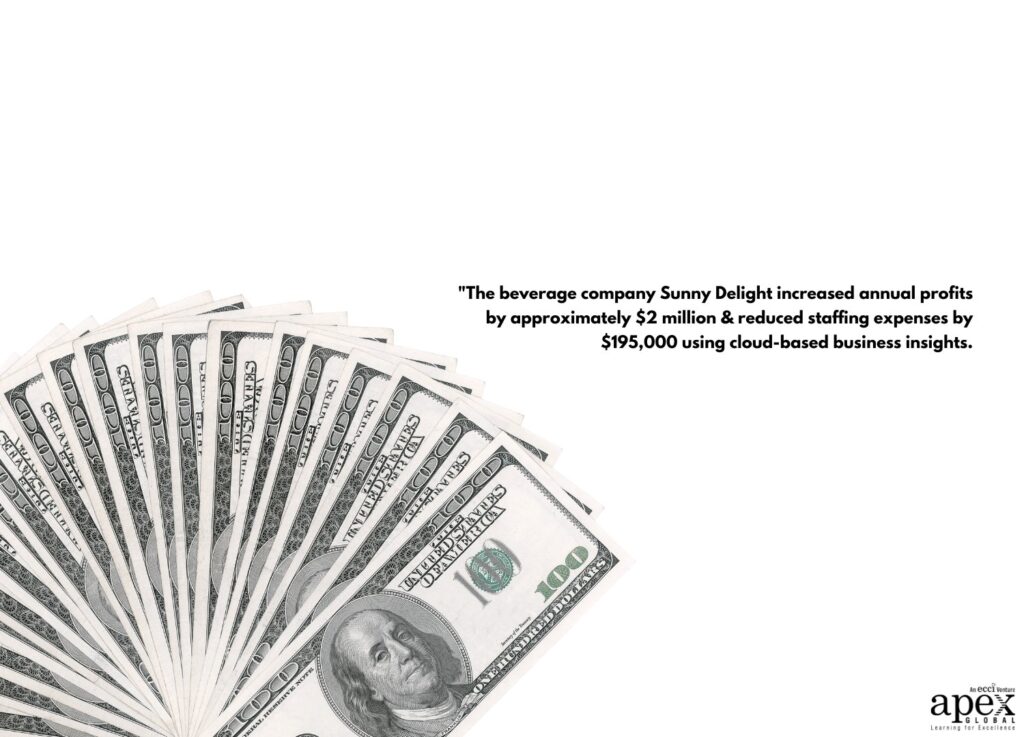 Five disadvantages of cloud computing
Like every other technology in the world, cloud computing also has its challenges. Here are the five main disadvantages of cloud computing to keep in mind as your organization considers migrating.
i) Internet connectivity
One of the most common drawbacks of cloud computing is that it is entirely dependent on the Internet. Traditional computing relies on a wired connection for data access. But, in cloud computing, an internet connection is the only way you can send or retrieve the files you want. So, something basic like a bad connection could keep you from accessing the information you need.
ii) Security and privacy
Most cloud service providers implement relevant security standards & industry certifications to ensure the safety of their cloud environment. However, storing data and business-critical files on external service providers always opens up risks such as:
Data loss or theft
Data leakage
Account or service hijacking
Insecure interfaces and APIs
Denial of service attacks
Technology vulnerabilities
It's essential for organizations to be aware of these cloud security threats and proactively implement security measures and monitoring to mitigate them effectively. 
iii) Risk of vendor lock-in
Vendor lock-in is one of the biggest disadvantages of cloud computing. Due to the variations in different platforms, a company may encounter difficulties while seeking to transition from one cloud platform to another. Transferring the current cloud platform's applications to another environment can give rise to maintenance issues, configuration complexities, and additional expenses. The migration process could also potentially expose the organization's data to security vulnerabilities due to possible breaches.
iv) Limited control and flexibility
The cloud service provider retains ownership and control over the cloud infrastructure. Customers will have minimal control over it. While customers can oversee their applications, data, and services within the cloud, key administrative tasks like firmware updates and server shell access typically remain out of their control. Additionally, the cloud provider's end-user license agreement (EULA) & management policies may impose limits on what customers can do with their deployments.
v) Downtime
Finally, in our list of disadvantages of cloud computing, we have downtime. Even leading cloud service providers can experience downtime due to a natural disaster or unexpected technical glitches that can affect connectivity. During such incidents, users cannot access the cloud services, and this can disrupt business operations.
While cloud computing disadvantages do exist, if properly addressed, these five challenges don't mean your IT roadmap has to remain anchored on-premise. The good news is that you can address most of these challenges by doing your research and carefully evaluating cloud service providers & their service models. 
If organizations manage to detect and mitigate cloud computing challenges through best practices & advanced security systems, they can harness the advantages of cloud computing to enhance every facet of their business operations. This, in turn, results in higher productivity, improved service delivery, and the generation of more revenue streams along the way.
The trick is to follow the best and most proven risk management strategies in cloud computing and make the most of the benefits that can take your company to new heights in terms of customer service and revenue growth.
With the right approach, the limitations can be overcome, which will help make cloud technology more efficient and relevant.
To make the best out of this new age of IT facilitation and effectively navigate potential challenges, you should take a strategic iterative approach when implementing your system.
Explore hybrid cloud solutions, involve business and IT teams, invest in a CIO, and choose the right partner. Compare different cloud providers and their range of services before choosing one right off the bat.
All of these measures will ensure that the benefits far outweigh the risks, making it a necessity both now and in the future.
Final thoughts
Everything is now moving into the cloud, and that seems to be the way forward for many businesses. Most organizations today aren't debating whether they should migrate to the cloud, rather, they are deliberating what they should migrate.
Also, many of the issues that arise when migrating to the cloud result from a lack of clarity regarding the services provided by cloud providers, their pricing structures, and the specific security responsibilities retained by the customer.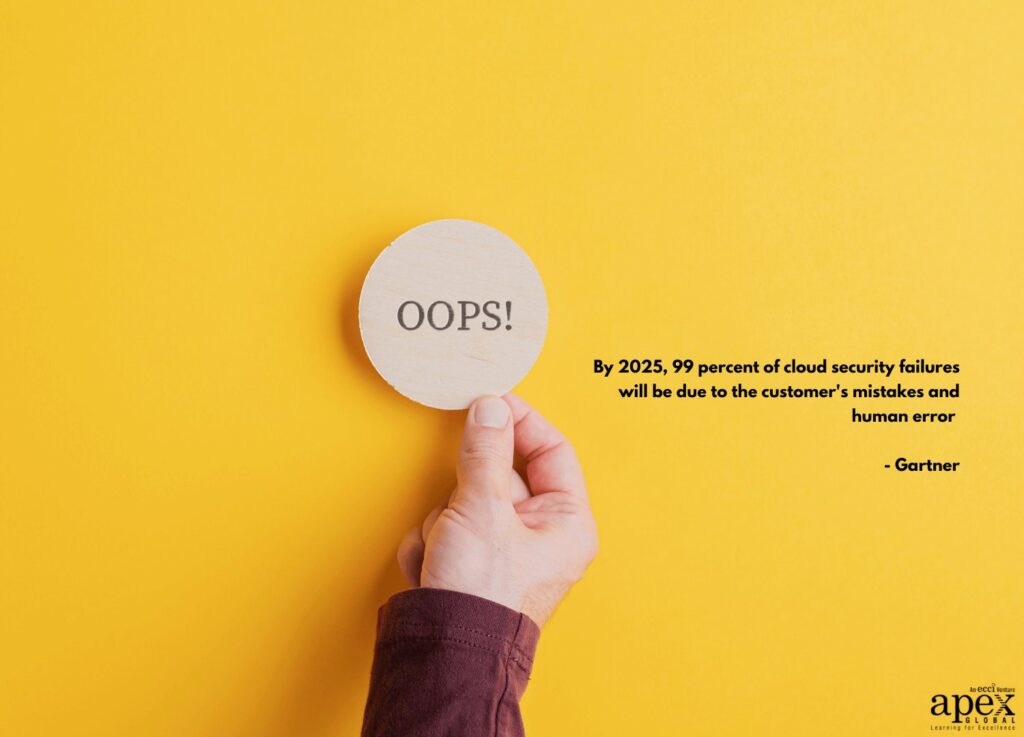 Before making any decisions, we recommend gaining a deeper understanding of how cloud computing works so you can select the right deployment and service model for your organization.
At APEX Global, we offer two exceptional cloud computing courses designed to upskill your team and equip them with the expertise needed to excel in the ever-evolving world of cloud technology.
Whether you're looking to master the deployment, optimization, and security of mission-critical applications with our CompTIA Cloud+ training or seeking a deeper understanding of cloud technologies and their business implications through our CompTIA Cloud Essentials+ course, our training solutions provide the critical cloud computing skills and knowledge required in today's cloud-centric business landscape. Enroll now and empower your team to make informed decisions, enhance operational efficiency, and remain at the forefront of industry trends!  
If you have any questions, please reach out to us today at [email protected]. We'd love to hear from you!