Cloud computing represents a significant change from how companies held an approach toward their IT resources. Although cloud computing is just a decade old, it is already being adopted by a wide range of public and private companies. Cloud computing has resulted in an organizational shift toward greater innovation, more adaptable resources, and cost savings.
What you'll find in this article
Essential Skillset for Cloud Implementation
Over the years, businesses have adopted the latest IT practices for the best development of their products, services, and organizational assets. Cloud computing represents a significant change in how companies approach their IT resources. Learn more about 5 trends in cloud computing that businesses should be aware of here.  
But what is the essential skill set required by your IT team for a successful implementation of cloud technology?
Data management
Data storage is less of an issue with cloud computing because the data is no longer hosted on a local server, however, data access and management might be crucial, especially if you're still using outdated systems while transitioning to cloud applications.
Cloud security
Security is vital in cloud computing systems, as it is in any other IT environment. Identity and Access Management is a significant cloud service that must be configured and managed correctly.  The reputational and financial consequences of a breach of personal customer data or valuable business assets can be devastating for corporations. The demand for cybersecurity talent currently far outnumbers the availability, and with the rise of cloud computing technologies, this scenario is only anticipated to grow. Learn more about the cloud security threats you need to prepare for here.
Data and application migration and deployment
It's more tedious to move software applications from a data center to a cloud environment than it is to shift files from one server to another. Since, in a drag and drop method, specific apps often have software and even hardware requirements that don't resonate easily with the cloud. A  complete analysis must be performed prior to any cloud migration. The top cloud experts approach each application on its own merits and are willing to collaborate with stakeholders involved to determine the best path ahead.It is important to examine your on-premises to cloud migration alternatives to see which one is best for your company.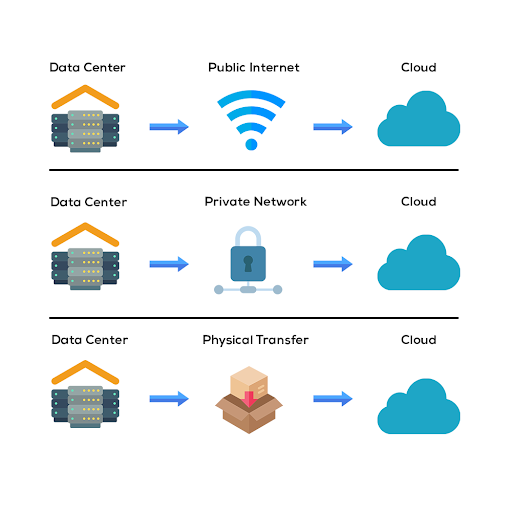 Fig 1: Methods for migrating from On-premises to Public Cloud
Automation
One of the major advantages of cloud services is automation. It is possible to boost efficiency by programs to make their own accurate decisions without the need for human participation. Because of the massive amount of data that enterprises currently manage, the ability to automate operations and processes is important in a cloud environment. To make this happen, you'll need employees who have been trained in system automation.
Autoscaling, which allows applications and services to scale up or down based on demand, is one of the most frequent forms of cloud automation. An important cloud talent is the ability to correctly deploy autoscaling configuration policies.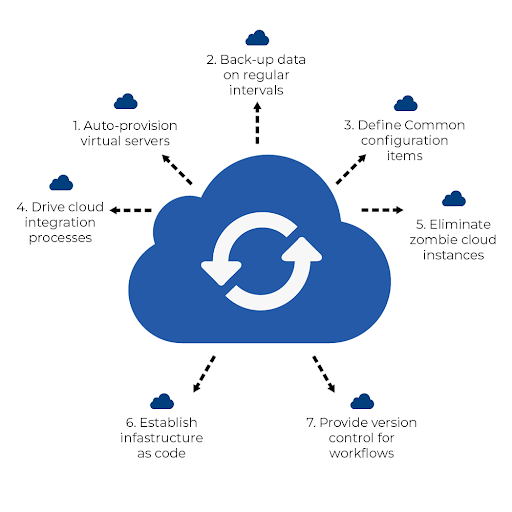 Fig 2: Typical Cloud Automation Tasks
Conclusion
Companies can save money, minimize employees, and become more creative and competitive by shifting to the cloud. Through cloud computing, they can bring new products to market faster, be more efficient, reduce operational expenses, minimize IT and IT maintenance costs, and improve teamwork. However, this transformation will necessitate changes in IT and teams. Instead of being considered an enabler or an expense in the past, IT departments can now become an intrinsic component of the business. Learn more about cloud computing and the benefits it offers for small businesses here.
CompTIA Cloud+ is the only performance-based IT certification that considers cloud-based infrastructure services as part of larger IT system operations, regardless of platform. We at Apex Global offer essential skill training for your staff as the first step toward cloud computing. Our 2-day CompTIA Cloud + Training will enable you to deploy, optimize, and protect mission-critical applications securely and effectively.  CompTIA Cloud+ is the only cloud-focused certification approved for DoD 8570.01-M, and with our program, you can successfully attempt the CV0-003 exam with all the necessary skill sets and confidence. 
Register now at Apex Global's CompTIA Cloud + prep course to gain expertise in cloud architecture and the operations associated with cloud deployment.