Need a quick way to take your resume up a notch in 2023? Well, here's an interesting fact that you may want to get in on early: Excel is expected to become the most-desired technical certification employers are looking for next year.  Now's the time to become Microsoft certified — we can guarantee that, for sure! Still, need some more convincing? No problem — check out our blog for reasons why you should consider professional Microsoft excel training to become an Excel expert ASAP. You can thank us later!
The Most Popular Spreadsheet Program- Get ready to Excel-erate
A fun fact: more than 750 million to 2 billion people worldwide use Microsoft Excel (Anne Walsh, author of "Your Excel Survival Kit: a guide to surviving and Thriving in an Excel World"). 
This makes it by far the most popular spreadsheet program in the world! From hobbyists to business owners and pretty much anyone in between, you can use Excel to get an endless variety of tasks done.
Think of it as the Swiss Army Knife of spreadsheet programs. With functions, tools, and capabilities like complex analysis, sorting & filtering data, data visualization, predictive analytics and more, you can be sure you'll be working smarter — not harder — with Excel!
So put your fingers to work and dive into the Microsoft Excel deep end.
Becoming an ExcelMaster – What defines a Microsoft excel certification?
Show of hands – who here loves a good spreadsheet? Okay, for those of you not already in an advanced Microsoft Excel certification class, let's talk about the real perks of this gem.
Achieving the highest levels of excel-eration will not only give you a major edge in the professional world but you can get seriously geeky and fancy with it. You can make eye-catching visualizations to showcase your data in the most snazzy way possible.
You need a master-level knowledge of spreadsheet terminology and a knack for crafting VLOOKUPs with one hand behind your back. Make sure you have quick mastery of complicated formulas, Pivot Tables and Macros, and that you know your INDEXes from your MATCHes. Ready to accept the challenge?
Here's the 411 on what makes up an Advanced Microsoft Excel Certification exam. To earn your certification, you must demonstrate your ability to perform certain tasks such as:
working with charts,
performing calculations,
analyzing data sets.
able to use specific Excel features such as functions, formatting cells, conditional formatting, managing worksheets and data models.
All of this is examined in detail by the Certification Board which issue certifications upon successful completion of the exam. In addition, the Board evaluates proficiency in keyboard shortcuts and navigating various dialog boxes.
Why the certification is a good idea – taking Excel seriously!
With more and more companies relying on data analysis to make business decisions, Excel skills are becoming increasingly in demand. Not only does being certified show employers and colleagues your expertise, but it also adds more value to your skill set. Plus, with Excel constantly evolving and introducing new features, staying certified shows that you're up-to-date and adaptable. And let's not forget the potential for a higher salary or better job opportunities!
Are you still on the fence about getting Microsoft Excel certified? Well, 2023 might just be the perfect year to finally do it! Don't believe us? Here are some great reasons why:
Increased demand for data analysis in various industries – Choose the data life
Did you know that by 2023, the demand for data analysis is projected to increase by 15% across various industries? That's according to the Bureau of Labor Statistics. So, why should you get your Excel Certification? Well, Excel is one of the most widely used tools for data analysis, and having this certification on your resume can give you a competitive edge in the job market. Plus, it's a valuable skill to have regardless of your industry.
Streamlined communication through visualizing data
Visualizing data will be a key skill, and Excel is one of the best tools to achieve this. In fact, according to Forbes, 65% of senior marketing executives believe that visual assets are core to how their brand story is communicated. So, get ahead of the game and invest in an Excel Certification to master data visualization!
Heightened competition in the job market – Job hunting feeling like a Hunger Games arena?
According to the Bureau of Labor Statistics, there will be heightened competition in the job market, with over 10 million job openings projected. But here's the thing, many of these job openings will require advanced proficiency in Microsoft Excel. So, if you want to stay ahead of the competition and boost your employability, it's time to consider getting certified!
Keeping up with industry trends – Don't be a dinosaur in your industry!
By 2023, more than 90% of jobs will require digital skills. (Source: The European Commission) That's why being certified in Excel will be more important than ever to keep up with industry trends! According to a recent report by Burning Glass Technologies, the demand for advanced Excel skills has increased by 56% over the past 10 years. So, if you want to stay ahead of the curve and land that dream job, it's time to invest in professional Microsoft Excel training and an Excel certification. 
Upgrading your existing Excel knowledge – Think you're an Excel pro? Think again!
Let's talk about one issue that many of us share – outdated Excel skills. You may have been using Excel for years, but haven't kept up with all the new features and functions that have been added. That's why you have to upgrade your Excel knowledge and get certified. Not only will it improve your skills, but it will also give you a competitive edge in the job market. But it can be a pain to find the time to upgrade your knowledge while juggling work and life responsibilities. That's why we recommend investing in an Excel certification program that not only provides the latest updates but also allows you to learn at your own pace.
OK, it may seem like a lot of work but the return on your investment will be fast. Excel certification will expand your professional opportunities, boost your knowledge of the program, and provide the necessary tools to increase efficiency in your everyday workflow.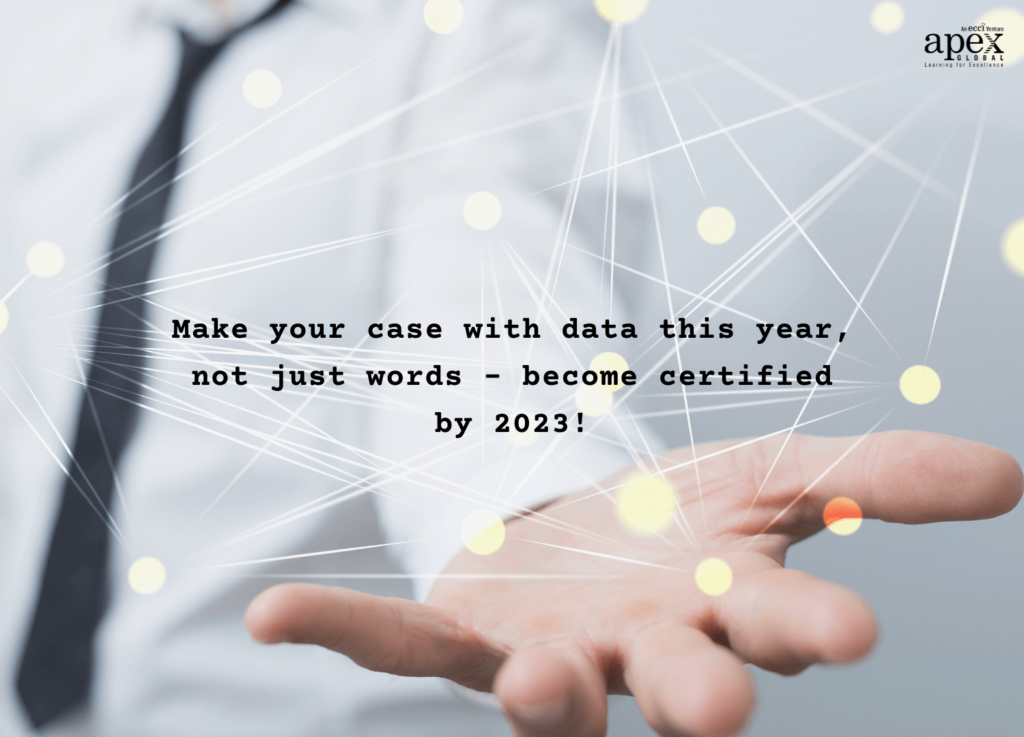 Now Excel at getting paid! – With Excel certification, you can command a higher salary
Do you want to prove to your boss that you're an asset they need to hang onto? Getting certified in Microsoft Excel could help you do just that — and score you a pay raise. Employers often look for employees with these types of certifications because it shows mastery of specific skills. 92 percent of enterprises use data and analytics for acute insights into marketing.(Forbes) The average salary of a data analyst with Microsoft Excel skills ranges from $1296- $22,752. (Glassdoor). Once you can add 'Microsoft Excel Certified Professional' to your CV, you'll be able to command higher salaries. Make the move, increase your knowledge, and start your way up the ladder today!
Excel in the workplace – Being certified in Excel can help you outshine the competition
Certified professionals stand out in the job market and make for a more attractive hire for recruiters and employers. Plus, certifications can give you an edge in areas of the workforce where specialized knowledge or qualifications are needed. Being certified in Microsoft Excel can show employers that you know your stuff. It'll help you prove that you have advanced skills with professional Microsoft Excel training and can handle complex tasks. You'll have more expertise in what you do while gaining valuable industry experience that looks good on a resume. And in a tough job market, anything that will help make you more employable is well worth looking into!
Show the world you mean business- Excel certification shows your career commitment
Time to take a major step up in your career. Adding Excel certification to your profile will let the world know you're serious about the future. With this credential, you can show that you are a cut above the rest and capable of handling data-heavy tasks with skill. From manipulating data to analyzing information, you can take advantage of in-depth Microsoft Excel training program to prove your proficiency and gain recognition. Get started on building your future today!
Lesser known Excel hacks-tips you can try right away
Made up your mind to delve deeper into Excel? Knowing some lesser-known Excel tricks can save you so much time and make your work so much easier! Plus, learning these hacks is a great way to get interested in getting an Excel certification. So, why not take the time to learn a few new tricks and see how it improves your productivity?
Concatenate formula to join text from different cells
Do you find yourself constantly copy-pasting text from one cell to another? Here's a handy tip: try using the concatenate formula instead! This will join text from different cells into one. Super easy and saves a ton of time. Just select the cell where you want the combined text to appear, type =CONCATENATE, and then select the cells you want to join together, separating each with a comma and a space within the parentheses. Boom, you've just combined text from multiple cells into one!
Left, right and mid formulas to extract text from specific parts of a cell
These little tools can be used to extract specific parts of a cell, making your data analysis so much easier. Use the LEFT, RIGHT, and MID formulas! These handy formulas can help you grab only the relevant data from long strings of text. For example, if you have a cell with a full name, but only want to extract the first name, you can use the LEFT formula to do just that. If you need to grab text from the end of a cell, the RIGHT formula has got your back. And for everything in between, the MID formula can be your go-to. It's amazing how much time this can save.
Countif and sumif formulas to count and sum values that meet a specific criteria
If you're working with a ton of data, Countif and Sumif formulas can be a lifesaver.
Say you have a large dataset and you want to find out how many entries match a certain condition. You can use Countif formula to do that! For example, let's say you have a spreadsheet of sales data and you want to know how many products sold above a certain amount. Simply use the Countif formula to count the number of sales above that threshold. Or if you want to add up the values that meet a specific criteria, use Sumif formula. Like, if you need to sum the total sales of a particular product? Use the Sumif formula to do just that! It's a super handy tool for organizing and analyzing data. Plus, it saves you from manually going through all that data!
Iferror formula to replace errors with custom text or value
Want to replace those pesky errors in your spreadsheet with custom text or values? The Iferror formula has got you covered. It's a handy little function that can save you loads of time and frustration. Simply nest it inside another formula to catch errors and display a message or value of your choosing. Here's an example: =IFERROR(A1/B1, Sorry, can't divide by zero) This formula will return the result of A1 divided by B1, but if there's an error (such as trying to divide by zero), it will display the custom message Sorry, can't divide by zero. Pretty neat, huh?
Index and match formula to lookup data from a table
The Index and Match formula can help you look up data from a table quickly and easily. Here's a simple example: Let's say you have a table of employee names, salaries, and departments. You want to find out the salary of an employee in the Sales department named John. You can use the Index and Match formula to do this. Start by selecting the cell where you want the answer to appear. Then type =INDEX and select the entire table. Next, add the MATCH function and enter the criteria you want to match (in this case, John and Sales). Voila! You've just used the Index and Match formula to lookup data from a table.
Fuzzy Lookup
This one is our personal favorite. The Fuzzy Lookup helps you compare and match data even if it's not an exact match. Here's an example: let's say you have a list of customer names and addresses that you want to match with another list. But, the addresses in one list have abbreviations and the other doesn't. By using Fuzzy Lookup, you can compare and match those addresses even if they aren't exactly the same.
Here's a quick breakdown of how it works:
Install the Fuzzy Lookup add-in in Excel (don't worry, it's free!)
Create two tables that you want to compare for similar data.
Open the Fuzzy Lookup add-in and select your two tables.
Choose which columns you want to compare and adjust the matching parameters (like similarity threshold and max matches).
Let Fuzzy Lookup work its magic! It'll create a new table with all the matched data from your original tables.
Boom! Now you have a clean and organized dataset!
Career Scope of Microsoft Excel Training – Your ticket to success!
Excel skills are important in a wide range of jobs and industries! Whether you're crunching numbers, preparing reports or keeping tabs on data sets, employers appreciate the extra assurance that you have the expertise and knowledge to get the job done.
But what type of jobs might benefit from an Excel certification? Business and accounting-related roles, of course! But also marketing analytics and data scientists are now part of this ever-expanding list!
Jobs Where Microsoft Excel Certification can make a difference
Looking for a job where having Microsoft Excel certification matters? Then look no further. There's an entire range of roles out there that value the credentialing power of a Microsoft Excel Certification. All these professionals are increasingly using Excel as a tool to analyze and process large volumes of data.
Financial analysts (Median Pay- $85,660 annually, Job Outlook for 2018-28- 6%)
Accounting specialists (Median Pay- $70,500 annually, Job Outlook for 2018-28- 6%)
Educators (Median Pay- $58,600 annually, Job Outlook for 2018-28- 3%)
Data analysts(Median Pay- $64,040 annually, Job Outlook for 2018-28- 9%)
Market Research Analysts (Median Pay- $63,120 annually, Job Outlook for 2018-28- 20%)
Sales and administrative analysts (Median Pay- $96,180 annually, Job Outlook for 2018-28- 7%)
Operations and project managers(Median Pay- $93,370 annually, Job Outlook for 2018-28- 10%)
Microsoft Excel for Artists- Unleash the creative in you!
Feeling a little uninspired lately? Here's a new way to jumpstart your creativity – by turning data into art! That's right, Microsoft Excel is being used to create masterpieces. Tatsuo Horiuchi is a 77-year-old artist who produces art using Excel spreadsheet software. 
Using the program's built-in tools and functions, Horiuchi creates beautiful landscapes and scenes that are both intricate and breathtaking. And the process behind his art is just as fascinating. He meticulously selects and arranges colors, and uses custom-created Excel macros to help him draw with precision.
Here's what his process looks like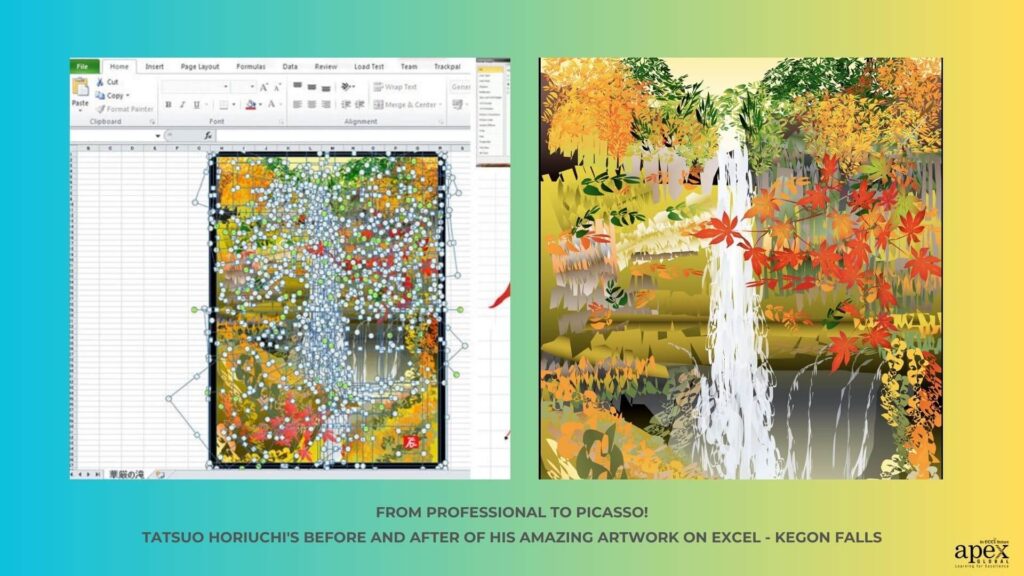 Believe it or not, these surprisingly stunning works are created with simple cell formats. And yes, you too can unleash the hidden Picasso in you – just by opening up a simple spreadsheet and creating something truly unique.
Do your career a favour and take your proficiency to the next level with a Microsoft Excel Certification. Who knows, it just might be the spark you need to level up your career.
Unlock your Excel potential- Why do you need advanced Microsft Excel Training?
If you want to stay ahead of the curve and stay competitive, Excel skills are key. Microsoft Excel is used by business owners and entrepreneurs to analyze, manage, and visualize their data – a necessity in today's tech-focused world. And if you want to master these powerful tools, advanced training is a must! Professional Microsoft Excel training and getting certified in Excel is a way to invest in yourself. It will make you more confident in your Excel skills. Knowing how to crunch the numbers is the difference between success and failure, so why not get ahead of the competition by investing in some advanced Excel training? 
Enroll now for the Apex Global Learning Advanced Excel Certification Course and fast track your skills. Over 2 days, get in-depth live virtual training covering formulas, data analysis & charts to propel your performance. Leave the course with a digital certificate – the industry benchmark to validate your Excel knowledge and expertise.
Conclusion
In 2023, Microsoft Excel certifications will be hotter than ever! Certification can give you an edge over the competition by proving that you know your stuff — which may lead to bigger salaries and better job offers. Excel certification shows your boss and colleagues that you don't mess around with data, that you've mastered spreadsheet acrobatics, and can hold your own in a sea of 1's and 0's. The bottom line? Getting Microsoft Excel certified is the way to go! You won't just be working with a piece of software — you'll be using Excel with the confidence of a magician pulling a rabbit out of a hat. Now that's magical!