Digital transformation is revolutionizing industries at a rapid pace, and the ITIL framework helps organizations adapt and move with the times.
Specially designed for the digital era that powers the Fourth Industrial Revolution, ITIL 4 brings together IT and digital capabilities to enable organizations to use technology to deliver value to customers.
As more organizations adopt the ITIL process, they are able to provide more professional services and deliver greater customer satisfaction. In addition to improved ROI, organizations can get a clearer picture of IT costs and assets, which provides the opportunity for better asset utilization and fewer hidden expenses.
However, in this article, we will not only discuss why ITIL is important but also how any IT professional can benefit from learning ITIL best practices and getting an ITIL v4 Certification.
What is ITIL?
Information Technology Infrastructure Library or ITIL is a set of best practices that ensure IT services are well-aligned with business needs. This globally recognized framework involves the identification or assessment, planning, and delivery of supporting IT services to a business' core functions through a set of procedures, tasks, and checklists.
Although it has always been associated with the IT sector, it also covers Service Management, which means that it can be implemented in a wide range of industries. Some big-name companies that have adopted the ITIL framework include VISA, Shell Oil, Microsoft, Disney, Sony, Honda, and Procter & Gamble. By implementing ITIL, VISA managed to reduce their incident resolution time by 75%, and Shell Oil was able to save 6,000 employee work days and $5 million.
How does getting an ITIL certification benefit you?
The ITIL framework offers a business view and the bigger picture of how IT functions within an organization. While any IT personnel can benefit from getting an ITIL Certification, it is more suitable for IT professionals at the mid to senior level. It is also ideal for IT consultants, project managers, and those who have worked in the business sector and are transitioning to a technology-centric or IT-oriented organization.
As an IT professional, getting an ITIL v4 Certification can boost career growth. It validates your knowledge of ITIL best practices and your ability to implement them effectively in your organization.
Below are some of the reasons why ITIL is one of the most sought-after certifications by IT professionals.
a. Better job opportunities
As more businesses adopt ITIL methodologies and cloud and Big Data strategies gain popularity, this has led to an increase in demand for ITIL-certified professionals in the job market. Recruiters nowadays prefer those with ITIL certification compared to their non-certified counterparts.
In a nutshell, ITIL certification can improve your career prospects, open you up for more job opportunities, and hike your salary.
b. Bring greater value to the table
A certified professional can implement ITIL best practices and help organizations keep up with innovations to stay ahead of their competitors. ITIL can improve the collaboration of the whole IT department to perform a single, unified approach and use a common set of tools.
By having a holistic view of business processes, you will be able to look beyond your job role and determine where your work fits in the organization. This will help you bring more value to the table and help with your organization's growth.
c. Enhance your skills
ITIL certification helps you acquire all the skills you need to deliver quality solutions that lead to high customer satisfaction. By gaining a deep understanding of the ITIL process, concepts, tools, and techniques, you will also be able to improve user experience, productivity, and transparency.
d. Sets you on par with global IT Service Management (ITSM) standards
ITIL is refined to meet global ITSM standards, including ISO/IEC 20000. This means ITIL-certified practitioners can use the right ITSM strategy to identify technical data and understand how it affects the goals of the organization. Learn more about the value of an ITIL certification here.
APEX Global's ITIL Foundation program
There are various ITIL certifications that cover diverse aspects of service management and can benefit different types of professionals. APEX Global, the learning solutions arm of ECCI that provides training, learning on demand, custom eLearning development, and managed learning services, offers a comprehensive ITIL Foundation program.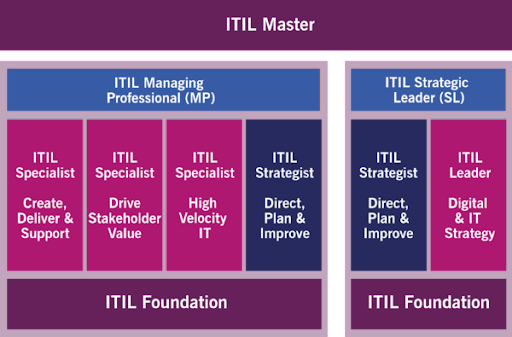 Our ITIL 4 Foundation program is designed for IT practitioners who require a basic understanding of this framework and how it can be implemented to improve the quality of your functions. Through this program, we will acquaint you with standardized methodologies and equip you with the fundamental knowledge you need for ITIL Services Support and Service Delivery.
If you're ready to take the first step to a more lucrative IT career, sign up for our ITIL 4 Foundation program today!