IT Governance establishes a framework for integrating IT and business strategies. Organizations can achieve concrete results toward attaining their plans and goals by adopting a defined framework. A formal program also addresses the demands of personnel, as well as the interests of stakeholders. In the grand scheme of things, IT Governance is an essential component of total enterprise governance.
How does IT Governance add value to your Organization?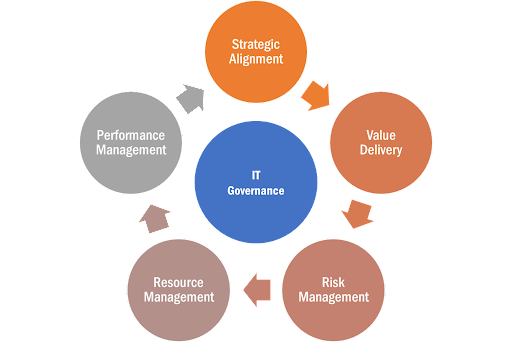 IT Governance Frameworks and Models
Companies store various confidential information such as financial accountability, disaster recovery, personal and client profits. Both public & private organizations are subjected to privacy and data theft, to ensure protection a formal IT Governance program governs the aspects of any firm in any industry that needs to comply with financial and technological accountability rules.
Which framework suits best for your services? 
ITILⓇ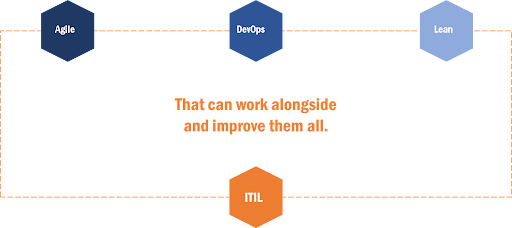 ITIL with Agile, DevOps, and Lean
From strategy development to continuous service improvement, the Information Technology Infrastructure Library (ITIL) provides the best methodologies in IT Service Management. The current version ITIL V4 has its focus on customer experience and digital transformation. It syncs with the realities of modern IT Governance, such as cloud-based applications and machine learning. ITIL 4 gives you the skills and information you need to react to and manage risk as digital technology evolves.
To support a holistic approach to service management, ITIL also defines four dimensions that collectively are critical to the effective and efficient facilitation of value for customers and other stakeholders in the form of products and services. ITIL comprises four dimensions representing perspectives that are relevant to the whole service value system.
COBIT
COBIT an acronym for Control Objectives for Information and Related Technologies is an IT Governance framework designed to help firms implement, monitor, and improve IT management best practices. It is more than just a set of technical guidelines for IT management.
Through the combined application of IT, linked sources, and processes, the framework meets business requirements. Control and IT control objectives are the two main parameters that collectively handle IT management and operation.
COSO
COSO model is defined as an operation done by an entity's board of directors, management, and other staff meant to offer reasonable assurance of the attainment of objectives. COSO incorporates 5 main components, through directed leadership, shared values, and a culture that prioritizes accountability for control, these components strive to lay the groundwork for strong internal control within the firm. Control operations and other strategies are planned ahead of time to handle and threats are mitigated.
CMMI
The Capability Maturity Model Integration (CMMI) is a process and behavioral model for software, product, and service development that helps businesses simplify productivity improvements and actions that mitigate errors. The CMMI model categorizes organizations into five degrees of maturity.
The aim for firms who use CMMI is to get to Level 5, which is the "optimizing" maturity level. After an organization reaches level 5, they no longer use CMMI and instead focus on improvements and maintenance. 
FAIR
Factor Analysis of Information Risk (FAIR), allows organizations to analyze and understand risk. The FAIR model assesses the elements that contribute to IT risk and how they interact, while also identifying and defining the risk model.
FAIR is most commonly used to calculate the probability for data loss frequency and magnitude. FAIR presents operational risk strategies for enhanced analysis and probability if cybersecurity is being compromised. 
Conclusion
The above listed are some of the common frameworks used by multiple industries for governance and operations management. However, if we look at the combination of service management and governance then ITIL stands out! The ITIL framework is a natural fit for any organization as it considers the corporate culture and resonates perfectly with the stakeholders. ITIL enables strategic decision-making with the essential tools and expertise that an IT team needs to sustain innovation and drive seamless transformation. This internationally recognized standard is at the heart of everything you do now and everything to come! 
Don't let anything stop you from taking a giant leap in your career. Click here to learn more about our ITIL 4 Certification Training that helps you gain the necessary skills to become future-builders in the world of IT. If you're already a certified ITIL V3 Expert or have some experience with ITIL V3, we also cater more advanced classes in our ITIL suite: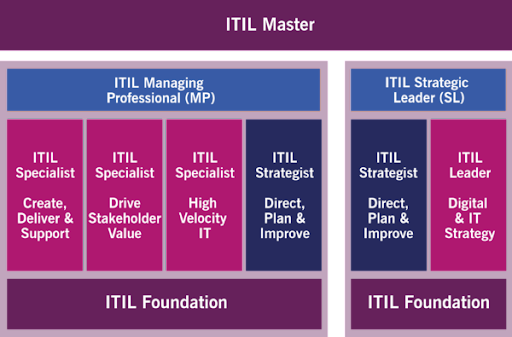 So let's get started, click here to register yourself today for the ITIL 4 Certification course provided by Apex Global. For more details, contact us @ [email protected].