Are you in a flow or have you hit a roadblock? You've been warned – agile vs waterfall is one of those great debates, like Marvel vs DC. That said, projects require different approaches so let's try to be less of superhero fans and more business-minded professionals.
Agile or Waterfall: We're getting deep into it! Both are useful methodologies but the decision comes down to which one fits best. Are you looking for rapid delivery? Or a collaborative approach?
Do you love predictability, structure, and flowcharts? Waterfall may be the way to go! Does the idea of an ever-evolving approach, rapid iteration, and rapid prototyping spark your inner adrenaline? Then let's chat Agile. One's no better than the other… but both can get the job done. Do you want to hear more about which project is best for which methodology?
Let's dive in!
What is agile methodology?
If you're a pro looking to make the switch to Agile methodology, you might have some questions. What is agile, and how does it work?
In a nutshell, agile methodology is an umbrella term used to describe iterative project management with frequent delivery of working solutions, all the while keeping the focus on customer requirements.
Just think of it as juggling 10 oranges and trying to not let any drop! The goal is to be efficient and responsive to ever-changing customer demands.
At its core, it's a way of quickly building products and services that are taking over the workplace. It keeps up with a world where demand for goods and services moves faster than ever. With it comes an emphasis on small cross-functional teams of employees that focus on customer feedback over plans from the top down. That kind of transparency and efficiency makes agile methodology the perfect choice for so many companies.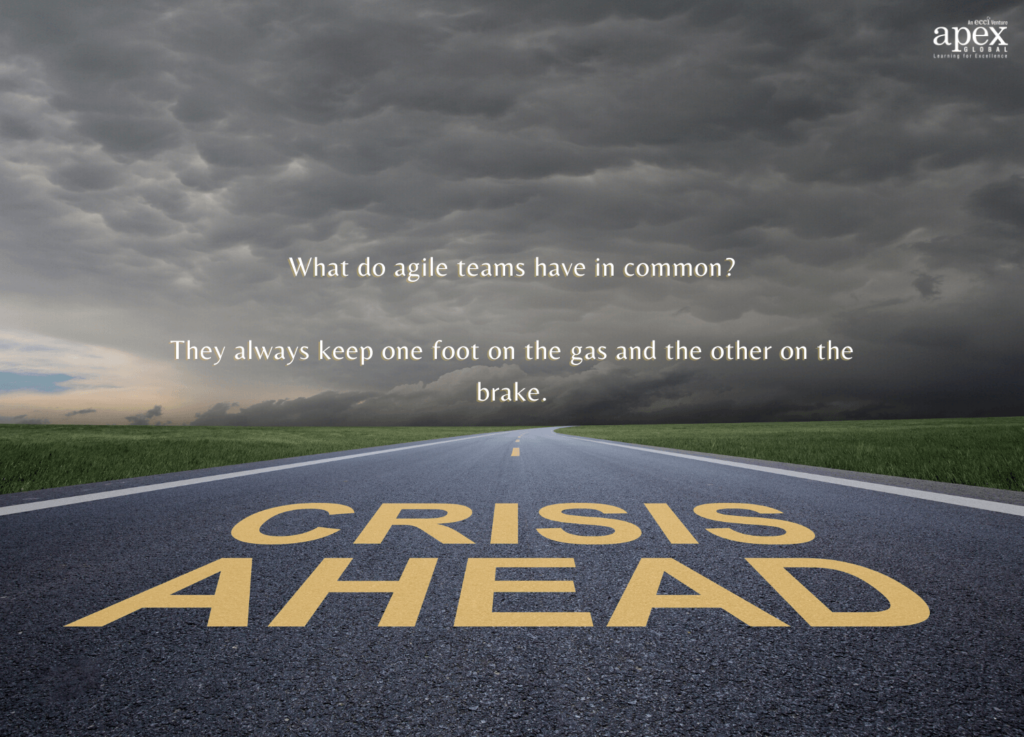 Think Agile Methodology is hard to grasp?
Agility isn't just a buzzword, it's a way of life! Looking for an agile edge in the business world? Learn what defines agile methodology.
Flexibility – adapting to new situations and customer requirements.
Focus – helps teams stay on target despite external disturbances.
Fun – keeps everyone engaged and motivated throughout the development process.
Feedback – key to evaluating performance in order to better optimize delivery for the next time.
Agile project management allows you to move faster and reduce waste. The aim is to produce quicker results and make sure that everyone involved has their voice heard.
What is the waterfall methodology?
If you think working with a tight deadline is stressful, wait until you've experienced the raging torrent of the Waterfall Methodology! Kidding aside, the Waterfall Methodology has been a tried and true approach for many successful software development teams over the years.
It emphasizes disciplined and sequenced phases that enable an organized delivery process and produce better outcomes.
It is simply a series of steps for problem-solving that cascade from one stage to the next, like water over a cliff.
So, picture this: you start from the top of the mountain, pour some water, and watch it crash down, one level after another — until it finally flows out into a body of water at the bottom.
Kind of like your team tackling a project – setting out tasks one by one until the desired outcome is achieved. Funny analogy right? However, it does come with a warning! Most people know that once the Waterfall Methodology has been initiated, there's no going back. You either do or do not solve the problem!
Waterfall Methodology – Going with the flow has never been easier!
At its core, it's all about how to manage tasks in sequential order, so nothing gets forgotten and goals are reached with ease. Here are a few tips that help us use the waterfall approach.
Determine what needs to be accomplished.
Map out the steps required to reach each goal, using processes like design and implementation as necessary.
Check in on progress throughout each stage, while tracking milestones.
And finally, celebrate the small victories along the way — all those minor successes add up!
Agile Vs Waterfall – Who will reign supreme?
Are you trying to figure out whether you should be using the Agile or Waterfall method in your business? It's no easy task – both offer great benefits, but work in different ways. We've put together a comparison of each methodology to help make your decision easier.
Every business has its own specific needs, and no single development methodology works best for everyone. In the debate between Agile Vs Waterfall, although one isn't necessarily better than the other, they each have advantages in certain projects/situations!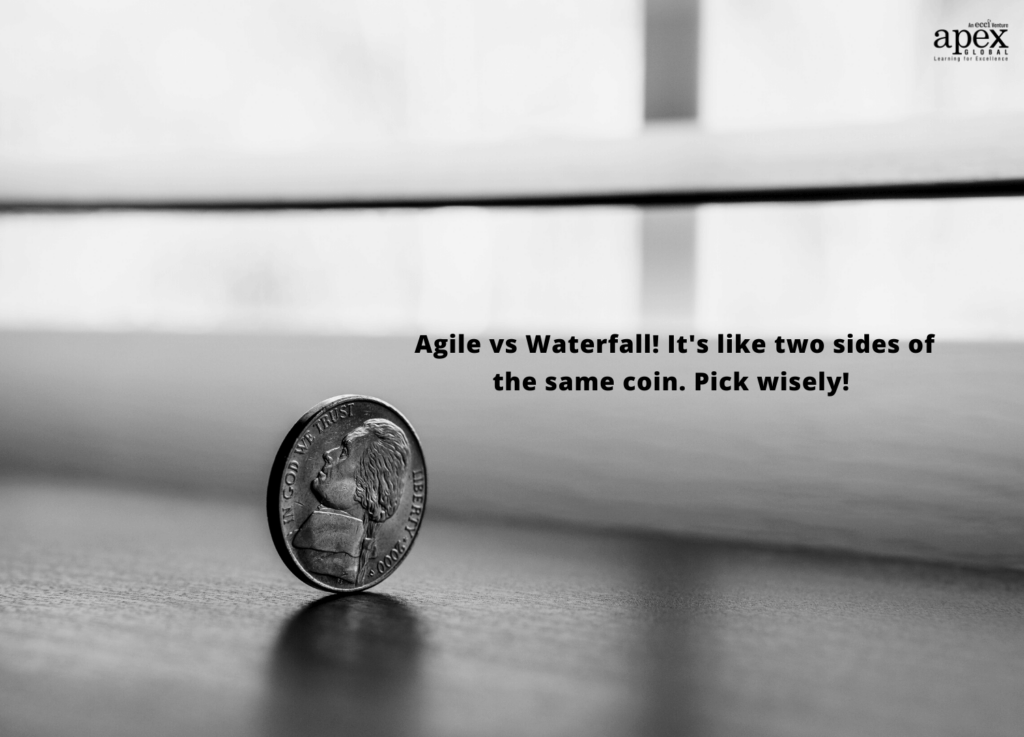 Which projects are the best fit for agile?
When trying to decide if an agile approach is right for you, ask yourself two simple questions.
1. Is this project prone to changes?
2. Are timelines tight?
If you answer yes to either of these questions, agile may be the way to go! Trust us, you don't want to get stuck in a mess of change requests with tight deadlines.
If it feels like a cross between a roller coaster ride and being strapped in with the bomb squad, it's definitely an agile situation!
It may sound intimidating, but trust us- agile can be one of the most rewarding business strategies you'll ever experience. And we have the stories to prove it.
Agile Project Success Stories – Not just another statistic!
Many leading companies saw tremendous success when they embraced an Agile approach. They completed multiple projects simultaneously and drastically improved efficiency in the process. Even better, it encouraged team collaboration and accelerated project timelines – all the while producing more polished results than they ever imagined! Not sure if your organization is ready for Agile? Don't worry! Check out these real-life examples of successful Agile projects, and learn how you can take the leap into a more dynamic workspace.
Agile Methodlogy Case Study #1: Boa Vista's 2019 mantra – need to pivot your projects
The Brazillian financial solutions giant, Boa Vista made the switch to agile methodology in 2019 through a company-wide digital transformation drive. What triggered this? They were struggling with typical project management pain points.
Overlapping work
Competing priorities
Overdrawn delivery cycles
Dependencies
One of their major challenges was the lack of shared goals and vision across the company. If all members aren't pulling in the same direction it is easy to find yourself in trouble when introducing a radical new way of working. Going agile was the only solution.
That's why Boa Vista implemented Kanban – an agile workflow methodology, based on Japanese practices. This enabled teams to monitor tasks easily, see bottlenecks faster, reduce WIP inventory, and obtain quick customer feedback. The Boa Vista teams increased efficiency and got quicker responses from stakeholders using an automated Kanban board that includes design modules, re-estimation models, and project analytics.
Agile Methodlogy Case Study #2: Phillips – Scrum to the rescue!
According to Sundaresan Jagadeesan, Director at Philips India Limited, lack of clarity in requirements in development was creating immense overhead. So, multiple revisits were needed to clarify things, which lead to immense delays. They faced the need for fast experimentation. This highlighted the need for a comprehensive new software engineering process.
Phillips found success after deploying scrum coaches to adapt the Agile Scrum methodology within the company. With their help, Phillips was able to create a detailed road map to increase visibility and self-organizing. They could reduce the number of customer problems and plan projects more efficiently.
Want to join the ranks of businesses leveraging the Agile methodology? Here's a 4 step approach, recommended by Phillips, that can get you there:
1. Create an environment where agility and innovation are both valued and prioritized.
2. Develop organizational structures that foster adaptability and cross-functional collaboration.
3. Invest in digital technologies to support remote workflows and break down silos between departments.
4. Train employees to think outside the box and strive for continual improvement within teams and individual processes.
It might seem daunting, but following this approach will ensure you are able to make a successful transition to Agile!
Agile Methodlogy Case Study #3: JP Morgan Chase – Moving your staff around like chess pieces?
Tired of high overhead costs? JP Morgan Chase's recent implementation of the Agile Method might just have the solution. They put the agile methodology to use to optimize their location strategy for staff, especially in their low-cost sites. Their efforts paid off! Thanks to increased flexibility, visibility & communication, the outcome saw more money in their pockets.
The agile method worked great for the finance giant to identify issues, problem-solve and optimize strategy. Their approach helped to maximize the team's remote capabilities by executing an Agile Location Strategy that allowed the company to move certain teams closer together for increased collaboration. This was especially critical since the finance sector was rapidly moving to remote and hybrid working culture. The result of the implementation? Well, they were able to optimize the agility of their remote staff members and improve team productivity by 26 to 40 percent (Mike Cavanagh, division heads at JP Morgan Chase)!
Which projects are the best fit for a waterfall?
Waterfall has been around forever. This traditional methodology of sequential planning has been around since the 1950s and was popularised by The Rational Unified Process (RUP).
It is best suited to projects with very well-defined scopes and limited uncertainty. So if your organization likes a method that allows you to understand what you need and complete the tasks sequentially, then yes – waterfalls might just be the ticket.
Waterfall project management sure has come a long way since it first surfaced back in the day. Project success doesn't have to be complicated. There are plenty of examples where traditional waterfall project development models worked – often with positive outcomes.
Waterfall Methodology Case Study #1: London's Crossrail
The iconic London's Crossrail – a 118-km rail line running through England's capital is a classic example of Waterfall project development. Completed on time and under budget despite numerous unexpected challenges, Crossrail showcases the benefits of rigorous planning. It utilized an ironclad contract structure, well-defined processes, and reporting methods in order to keep the project running smoothly.
Waterfall Methodology Case Study #2: Apollo 11 – the first moon mission
One of the most iconic and successful project developments to use the Waterfall approach is that of the Apollo 11 mission, the first-ever moon landing! It involved carefully defining requirements at the start of the project and completing testing prior to deployment. It's hard to comprehend how so much planning and data tracking must have been put into practice for this venture – for example, engineers tracked performance via slide rules, tables of numbers, and graphics as well as paper calculations. Without it, no doubt there wouldn't have been a smooth mission on its way to the moon.
Waterfall Methodology Case Study #3: US Department of Defense Software Systems
The US Department of Defense Software Systems applied the DOD-STD-2167A, for the first 10 years and then modified it to the MIL-STD-498. The integration and maintenance of large software systems designed to provide real-time support to the armed forces have relied on the Waterfall methodology to ensure tight deadlines and cost controls, so projects were completed in the required timeframe.
Waterfall Methodology Case Study #4: Oracle's cloud update
Need a final example of the good old Waterfall Model in action? Check out Oracle's cloud update, a project that successfully used this traditional approach. How'd it go? Their flagship ERP Cloud suite got all its apps – like Supply Chain Management and Human Capital Management – moved to Oracle Cloud Infrastructure in record time. Guess the key was an iterative strategy that ticked off individual goals one at a time – nothing fancy!
Quick takeaway
Looking to try something similar at your organization? Maybe start with your least risky apps and grow from there.
Agile vs Waterfall-Which methodology should you choose?
Still trying to decide between Agile and Waterfall project methodologies? It all comes down to understanding which process works best for the specific needs of your project.
Agile works great when projects require quick development times and require adjustments during the process due to external factors, but it's more suited for shorter-term projects.
On the other hand, the Waterfall methodology works best for longer-term projects, providing a consistent path that goes from one step to another without deviation.
To make the final call, you'll need to evaluate
Your needs
The timeline of your project
Budget
Team structure
Are you looking to add more Agile skills to your resume? It's time to learn how to better manage project management methodologies! Our two-day Agile Scrum Practitioner+ course at Apex Global Learning gives professionals the perfect overview of agile practices. Learn how different methods fit into an overall agile project management model, and the differences between Agile and Waterfall project approaches. Start making an impact with agile – enroll in our course now!
Conclusion
So, Agile or Waterfall? Well, here's the thing — while there's no one-size-fits-all solution when it comes to project management methodology, there are some guidelines.
It really depends on the type of project, and what results you are aiming to achieve.
If you're looking for a high degree of structure, plan flexibility, and a set schedule, Waterfall could be the best choice.
For projects where quick pivots, multiple revisions, or even pauses may be necessary, Agile can be great.
Take some time to think about which strategy best aligns with your team's skillset and goals to ensure success!