Why learn from theoretical business intelligence examples when you could learn from REAL-WORLD ones? It's time to step away from your textbooks and see what the business world is doing with the same topics!
Let's face it — if you're not leveraging business intelligence in 2023, you may as well be using a rotary phone. With data analysis and BI quickly becoming necessary skills in the current professional world, the time is now to take advantage of what the future has to offer! By staying ahead of the curve, you can uncover actionable insights that will not only give you an edge in the job market but also set you up for long-term success as a savvy businessperson. No matter how old-school your game may be, let's be real: these days you need business intelligence to make the grade.
Why do you need Business Intelligence?
In the past, making key decisions without enough data was like making bets in a casino. You never knew how it would end. Even if you guessed correctly, you could never really understand the reasons behind it. But thanks to BI, the future is clear!
BI systems collect data and turn it into insights about what's going on in your business. That helps executives identify trends and come up with solutions more quickly and efficiently than ever before.
Here are four benefits of using a business intelligence system:
1. Increased operational efficiency
2. Improved visibility
3. Improved forecasting capabilities
4. A competitive advantage.
Trust us, BI is like the Gandalf of business strategies – an expert guide you can rely on to see further down the road and make better choices in uncertain times.
How to Get Started With Business Intelligence?
Wondering how to get started with Business Intelligence? Great question! To get up to speed fast, here are five key considerations:
1. Align BI and organizational objectives to get on the same page.
2. Analyze your existing infrastructure to ensure it's ready for BI integration.
3. Establish data governance and create processes and policies to drive successful BI adoption.
4. Consider creating a business intelligence center of excellence or BI governance body to steer data projects.
5. Learn how to work with data discovery and visualization tools for analysis.
Not sure where to start? it's time to learn from those who got it right! By studying some real business intelligence examples, you can get a better grasp on the world of BI and have your strategy up and running in no time.
In any case, our pro tip? A healthy mix of data visualization and forecasting can work wonders. Or if you don't feel like being that smart, you could always take the same approach we do — watching re-runs of The Office, Friends, and Silicon Valley…which also provides you with plenty of business insights.
25 Real-World Business Intelligence Examples
In this blog post, we'll examine 25 real-world Business Intelligence Examples to show how organizations are leveraging this technology to maximize their performance. We'll also provide actionable takeaways so you can implement similar strategies in your own organization.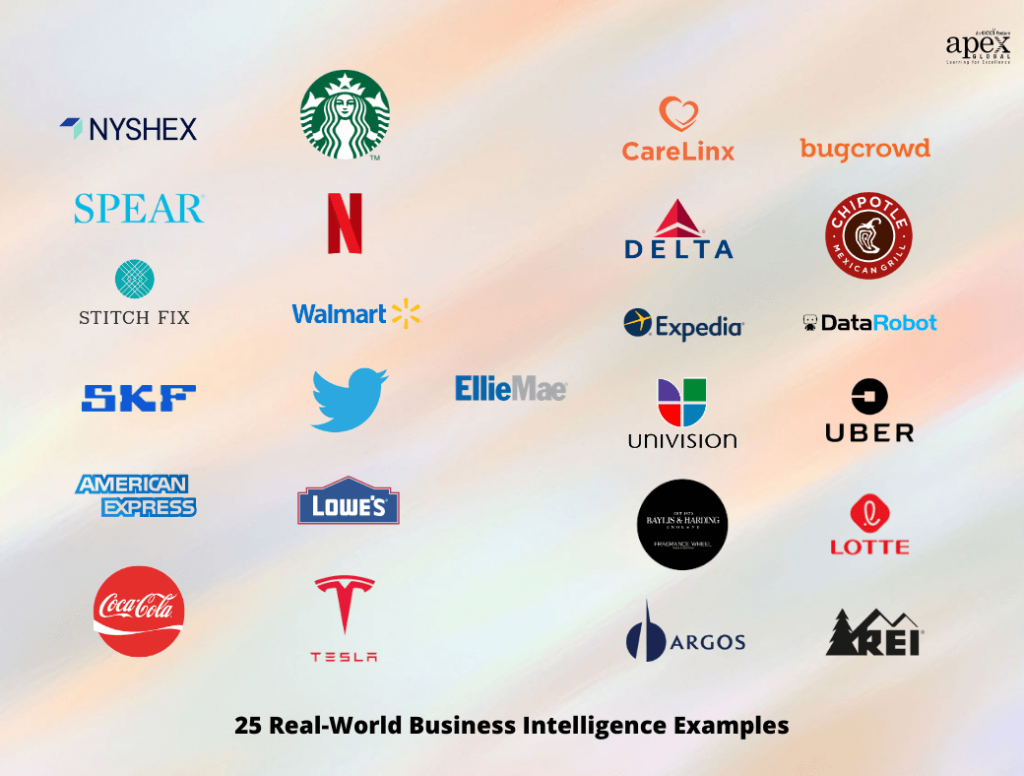 1) NYSHEX- New York Shipping Exchange- Don't miss your boat!
New York Shipping Exchange, has used the BI tool Chartio's capabilities to enhance its existing strategy. NYSHEX wanted to track and manage real-time transactions from the massive surge of customers coming in. By leveraging the drag-and-drop dashboard builder feature, they were able to spot bottlenecks faster and manage them better than ever before. 
Through their integration of Chartio, the New York Shipping Exchange is utilizing powerful visualizations and analytics to drive important insights into their data. This transformation has allowed NYSHEX
to increase accuracy and transparency in reporting,
simplify process visibility for their operations team,
and ultimately move the entire organization to better utilize data in decisions.
Actionable Takeaway
Implement a low-code or No code BI tool in your business process. This will allow your employees to directly work with the data in real-time, even if they do not have a technical background.
2) Spear Education- Learn a thing or two!
Business intelligence can be your best friend in problem-solving, as it was for Spear Education! They had an outdated phone system that couldn't support the increasing needs of their sales & customer service departments. Thanks to BI, they were able to develop an automated phone solution that brought their wait times from 15-20 minutes down to 5-6 seconds!
Their new system allowed their call center agents to quickly prioritize and manage incoming leads in real time, using a combination of sales dashboards and data analysis. They quickly noticed a significant boost in sales due to increased agent efficiency. In fact, they estimated they achieved an extra 8%-10% in net income per year!
Actionable Takeaway
Pinpoint a specific challenge to create a clear business intelligence solution. A good rule of thumb is to locate issues that might be preventing you from automating key business processes.
3) Stitch Fix – Level up your game!
Take a look at how Stitch Fix used an AI-powered BI solution to identify customer preferences and improve their retail sales process. Not only did it provide deep insights into individual customers, but it enabled a 5x increase in prediction accuracy compared to their existing approach!
The retail giant used the latest advances in business intelligence and data analytics to predict their customer profiles using sophisticated algorithms – a process that has become popular in areas of study such as astrophysics. It sounds complicated, but it all comes down to this: the better Stitch Fix can anticipate a customer's desires, the better its personalized offerings can be tailored for them. So how successful has this process been? Over a two-year period, the use of these algorithms resulted in an 18% increase in total orders from new customers! Impressive, isn't it?
Actionable Takeaway
If you think out of the box when designing a business intelligence tool, it can double up to generate word-of-mouth interest in your business. The overall impact of a BI solution does not have to remain specific to the initial way that it is used within the business.
4) SKF- Need an example to wow the team?
SKF recently went through a huge business intelligence transition. They moved away from the laborious job of sifting through Excel sheets and opted instead for simple, insightful dashboards that can help streamline operations.
The result? Skf experienced 20% fewer staff costs and a 40% faster process execution
Not only was data made readily available but their manual effort dropped from up to 16 hours per day to less than 10 minutes per day. This improved efficiency freed up their time and allowed them to stay focused on key priorities!
Actionable Takeaway
Are you making the most of the data your business collects? Consider designing solutions to use business intelligence as a bridge to drive more from your data.
5) American Express- Less paperwork and more time for martinis!
The power of business intelligence isn't just something people are talking about — one of the key business intelligence examples, American Express proved it in Australia. They were able to retain more customers with a business intelligence solution that was both cost-effective and reliable. Through enhanced data analytics and visualizations, they gained real insights into the consumer base which ultimately allowed them to build long-term relationships with customers. AMEX took its customer data to the next level and tailored it into comprehensive analytics reports that identified both risks and opportunities. Through this, they implemented various strategies and saved an incredible number of Australian customers from canceling their cards.
The outcome? American Express had not only seen an increase in customer satisfaction but also higher spending from loyal cardholders. Amazing what business intelligence can do!
Actionable Takeaway
Sometimes the answer you need is closer than you think. We learned from this example that AMEX was able to successfully optimize its cost structures by developing and utilizing an AI-driven predictive model built in-house rather than engaging with a costly third-party service.
6) Coca-Cola- Bringing back the 90s vibe!
Business intelligence isn't a new concept but Coca-Cola has definitely nailed it in creating hyper targetted ad campaigns! After implementing its business intelligence solution, the brand used data collected from social media analytics to create ads with a click-through rate that was 11x more effective than previous campaigns. They are also estimated to save at least 1,000 man-hours from marketing & advertising.
To achieve this, Coca-Cola used a Business Intelligence (BI) solution that allows them to create dashboards to analyze the collected data from Twitter, Reddit, and Facebook in real-time. Their BI dashboards provided granular data points on topics, words, and comments in different languages with high efficiency – enabling them to craft unique messages for specific user types that improved their CTR and overall ROI.
Actionable Takeaway
Sometimes getting a message across means tapping into an audience's nostalgia. That's what Coca-Cola discovered after implementing their BI solution for targeted ad campaigns. Turns out that when people get a taste of something they love, they listen!
7) Ellie Mae- Busy bee-ing in the mortgage lending hive!
Ellie Mae used a business intelligence solution to create a hosted warehouse model and the results were amazing! Improved visibility meant better decision-making and faster loan processing with higher compliance.
What can a hosted warehouse do for you? At Ellie Mae, it has enabled smoother and more efficient loan processing – with benefits for both clients and mortgage lenders.
How? For starters, the hosted warehouse model allows organizations to securely host a view of their transactional data in a managed cloud platform – giving teams access to data quickly and easily. It also uses dynamic mapping to allow changes to the data as conditions evolve over time – resulting in timely and accurate reports and better decisions making.
Actionable Takeaway
Feeling like you have too many balls in the air? Leave the data managing to a concept-driven BI solution and head to happy hour early – cause you'll have the data portion of your workload under control!
8) NetFlix- Find that extra drive you need!
Ever wonder how Netflix managed to build a robust recommendation system for their streaming service? It all comes down to business intelligence. Netflix integrated a BI solution that allowed them to personalize each user's viewing experience. This BI integration resulted in improved customer experience and consequently a surge in streaming, thereby ensuring increased ROI.
In their efforts to bring together massive datasets, Netflix turned to machine learning, AI, and big data analytics, ultimately implementing an automated solution powered by business intelligence that did all the hard work for them.
Actionable Takeaway
Could such a system help your business reach its full potential? Start with a simple analysis to get an idea of the possibilities. The potential is out there!
9) Starbucks- Ready for the power-up?
Starbucks is a major coffee chain with loyal customers and an expansive menu. What some of us don't know, is that their success also owes much to their investment in business intelligence (BI). Starbucks' mobile app and loyalty card program enabled the company to gain valuable insights about their customers- such as beverage preference, product preference, and usage patterns. Using this information, Starbucks was able to develop targeted promotions and special offers- so they were more likely to reach their target audience and increase sales.
Actionable Takeaway
Business intelligence can help organizations create a better user experience and tap into the wants & needs of their customers. By leveraging analytics & technology, companies like Starbucks can use this insight to design tailored services & develop profitable relationships with customers.
10) Twitter- Got news for you!
Twitter successfully used business intelligence with AI algorithms to find and suspend accounts linked to terrorism.
The process involves scanning billions of tweets and data sets to detect, analyze, and block terrorist-linked accounts. Through real-time analytics, Twitter has been able to spot questionable activity before it could be sent out, making the internet a much safer place for its users. Twitter does this through its analysis of users' biographical information and other elements from the public view of profiles that appear suspicious or clearly related to known terror groups. Their predictive capabilities allow for patterns to be recognized, and trends and anomalies to be identified, so suspicious activity is addressed before it is carried out.
What's amazing is that the process has a false-positive rate of almost zero – and that the accuracy only improves over time as the AI learns more about what it should be looking for.
Actionable Takeaway
One of the most inspiring business intelligence examples of how BI, when applied with powerful AI algorithms, can help achieve truly groundbreaking results.
11) Walmart- Customer Management Solved!
Walmart took their analytics one step further and used machine learning to generate trends of customer purchases, website navigation, promotions, loyalty points, and even geolocation data. By connecting the data with metrics of success — sales — Walmart was able to uncover insights about their customers and use those insights to personalize their content for the most impact.
Their data-driven approach paid off big time with improved processes and impressive final results, including higher customer satisfaction scores. Thus making Walmart an ace amongst the recent business intelligence examples.
Actionable Takeaway
Now businesses of all sizes can utilize AI & Machine Learning-driven technology to increase their bottom line. Check for particular functions that will help build relationships with customers — an absolute must in this digital era.
12) Lowe- Put the pedal to the metal!
Lowe's used a BI solution with predictive analytics to better understand how to load their trucks for different zip codes, reducing transportation costs. With their predictive analytics and powerful BI software, Lowe managed to plan the optimal loading order, choose efficient route combinations and assign specific items to be loaded on the trucks, enabling significant time and cost savings.
They successfully identified and adjusted stocking trends across their regional truckloads, avoiding trips with unmet consumer demand. This boosted productivity, drove sales, and saved Lowe's around 2.7 million miles of transportation. When you factor in cost savings from things like fuel, personnel time, emissions, and other factors it is truly amazing.
Actionable Takeaway
Time is money! Look for BI solutions to save you valuable time. Pinpoint an optimal function pattern every time you set out for a job. The final technology should automatically organize and optimize the repeated work pattern so you can use your precious time to enjoy your other hobbies.
13) REI- A page from the playbook of the outdoor retailer
REI implemented a business intelligence (BI) solution for customer segmentation analysis to tailor their content for specific segments and personalize user experiences. As a result, their website display and overall customer engagement saw major increases – displaying how investing in BI solutions can lead to very positive outcomes.
Thanks to their business intelligence solution, they were able to segment their customer data and deliver relevant, personalized content – giving customers an experience that left them wanting more!
Actionable Takeaway
Looking to increase customer engagement on your website? It can be done with a bit of business intelligence know-how!
14) TESLA- Staying on the cutting edge!
Tesla put a Business Intelligence solution in place to gather, store and analyze data from their cars that allowed them to better anticipate maintenance needs and receive timely notifications. That connection was established by sensors in the car and the data received went directly to corporate offices where it could be properly analyzed and turned into useful insights. Results included reduced maintenance costs and fewer unexpected issues while driving. Talk about success!
Actionable Takeaway
BI provides insights into consumer behaviors, industry trends, and data analysis capabilities that can enable organizations to identify areas of growth. Allowing organizations to better capitalize on these opportunities. What type of solutions have you been exploring to upgrade your data management strategy?
15) CareLinx- Say goodbye to manual spreadsheet struggles!
We all know the importance of HIPPA compliance when it comes to handling sensitive healthcare information, but ensuring you're in compliance can be a real challenge. That's why CareLinx recently deployed a comprehensive business intelligence (BI) solution. We know it's the only surefire way to deal with these complex data privacy issues while giving us insight into the vast trove of patient health records. So what did they get? Improved analytics capabilities and the ability to achieve greater HIPPA compliance.
To address the issue of handling PHI, CareLinx set up several systems – a job completion & audit platform, fraud & waste identification, and optimization, as well as data gathering & storage processes. They've become masters of tracking every stage in the PHI handling process.
Actionable Takeaway
CareLinx has given us the scoop on how their BI tool solves problems associated with handling sensitive data and optimizing healthcare. The best part? It doesn't require any skill whatsoever (for real)! As long as you know what you want from your BI solution, you can customize readily available options to fit your needs.
16) Delta Airlines- Say hello to customer support powered by BI!
Delta Airlines recently used Business Intelligence to get ahead in their customer support service. They integrated a solution that captured individual customers' records and purchasing preferences. Delta Airlines was then able to access data from its ticket sales system and other data sources. This helped the company to reward customers, thank them personally, and add a little extra to make sure they felt valued. This is one of the great business intelligence examples of how BI solutions can be used by businesses to understand customers, their preferences, and their needs on a more personal level.
Using insights from customer data, the customer support team at Delta was able to increase their customer satisfaction and engagement levels significantly, providing more tailored service which boosted sales and loyalty across the board.
Actionable Takeaway
Use business intelligence to bring a measurable improvement in your business. Just because you implemented your BI solution for a specific problem should not limit its function within the scope of your company. The same solution can work for your data optimization while powering up your customer loyalty programs. Look at the bigger picture!
17) Expedia- Your best friend in problem-solving!
Expedia was facing certain problems, especially around its Key Performance Indicators (KPIs). To address this issue, they integrated a business intelligence (BI) solution and achieved better outcomes than what had previously been projected. By implementing predictive analytics and deeper data analysis, Expedia took corrective steps to optimize performance across multiple fronts.
After crunching the numbers using a BI solution, they quickly realized that certain destinations had less utilization and cost savings by scaling back ticket orders. Talk about strategic savings! It's an impressive example of data analysis in action and demonstrates the value that BI solutions can have for a company – both from an analytics and bottom-line perspective.
Actionable Takeaway
Wouldn't it be amazing if your business intelligence could predict when you should be rethinking expenses? That's exactly what happened with Expedia and their unused ticket expenses.
18) Univision- Modern day Merlin-s!
Check out Univision's story – one of the most tangible business intelligence examples at work! Their goal? More visibility and data insights so they could better target their ad campaigns. To do that, they integrated a powerful BI solution with their data. Immediately, they were able to achieve faster ad creation and more effective reporting – it saved them so much time and energy!
As a result, they saw revenue per ad increasing 8X while customer satisfaction rates went up 17%.
Actionable Takeaway
Is your data making you dizzy? Look for BI solutions that can be scaled with the growth of your business to optimize data management right from the start.
19) Baylis & Harding – How to be a Business Intelligence superhero
Baylis & Harding recently leveraged a BI solution that allowed them to create actionable insights that have delivered improved results across all levels. They've achieved a whole range of business improvements. Whether it's increased cost efficiencies, shorter times to market, or a more proactive approach to analytics – investing in the right business intelligence can bring positive results for your organization.
By implementing a comprehensive BI solution, the business was able to create tailored, ad hoc reports and access vital insights into market dynamics in real-time, which has helped them build long-term success.
Actionable Takeaway
It's all too easy to get stuck in a cycle of reacting to market trends and chasing short-term goals. That's why more and more businesses are leveraging business intelligence (BI) solutions to support their decision-making processes and help drive future strategies.
20) Cementos Argos- Lessons to be learned and potentials to be realized!
Cementos Argos, a leading cement company, sought to leverage data analytics for greater operational efficiency. After selecting the right business intelligence (BI) solution, they immediately began to notice the financial benefits that they were hoping for. Not only were they able to accurately forecast their financials and quickly make well-informed decisions based on market data, but they were also able to optimize their business processes and ensure more effective allocation of resources – resulting in substantial cost savings for their bottom line.
With the help of a business intelligence solution, they were able to not only spot errors and trends but also measure their results more efficiently and increase financial efficiency!
Actionable Takeaway
Ready to bring the power of business intelligence to your company? It all starts with understanding the different elements that contribute to success and finding the right platform for your needs!
21) Lotte- Reaping the rewards
Through an online behavioral analysis of their website, Lotte was able to build the consumer profile of their customers to better cater to them. What's more impressive is that the results of the transformation are crystal clear. They achieved improved performance in customer satisfaction, total customer acquisition, and site conversion rate. And saw growth from a 'big data' investment that allowed for customer segmentation to strengthen brand loyalty.
Actionable Takeaway
So the next time you're considering website transformation, consider consulting the experts in business intelligence to make the most of your resources.
22) Bugcrowd- Get Your Wand Out!
When Bugcrowd implemented a BI solution to help with customer interaction, their customer retention increased by 5%, proving just how powerful data can be in the hands of those who know how to use it.
After they implemented their BI solution, data interactions between them and security researchers improved by over 40%. This improved process means time-to-resolution for their customer base decreased from several months to less than one day.
Actionable Takeaway
As business leaders, one of the biggest challenges we face is how to interact with and retain customers. Enter data analytics – one of the most powerful weapons in our toolbox!
23) Chipotle Mexican Grill- BI in place, Head to happy hour early!
By using business intelligence dashboards, the team at Chipotle was able to track important KPIs such as revenue growth and operating margin at a restaurant-level view – without the need for multiple spreadsheets and databases. This detailed analytics solution allowed them to get a clearer picture of their operational effectiveness and make better data-driven decisions quickly, resulting in increased operational efficiency.
The best part? Not only did they reduce operating costs but they were able to boost customer satisfaction in the process too! Not a bad ROI, right?
Actionable Takeaway
Are you looking to unlock new insights in order to stay ahead of the competition and make better-informed decisions? Don't limit yourself to a single solution. Chipotle Mexican Grill is a perfect example. They use a combination of BI solutions such as detailed dashboards, ad hoc reports, and drill-down analysis to help improve their operational effectiveness.
24) DataRobot- Strap on your Data Privacy goggles
At DataRobot, they improved their work process with intelligent and automated business intelligence tools to make it more accessible to everyone, creating democratized data. It improved their workflows while also increasing customer satisfaction and engagement.
The main challenge that DataRobot was dealing with was inefficient data democratization at the company. They were also looking for ways to improve how the team accesses and utilizes data. Their solution was to tackle it all at the root level. They started by leveraging business intelligence solutions to empower their team. During onboarding, each employee is taught BI concepts in order to democratize data for everyone – a big step towards streamlining their workflow and allowing the team to stay on top of the ever-changing landscape of data analysis.
Actionable Takeaway
By using a BI tool like Chartio, DataRobot has empowered its teams to democratize its processes.
25) Uber- Start Small Dream BIG
Using BI solutions to fine-tune its surge pricing prediction process, Uber improved its operations & user experience.
Here's the breakdown: using a predictive analysis approach that involved AI-backed algorithms, an adjusted time frame to capture past demand history data, & consideration of peak hour travel as drivers got back on the roads – they were able to more accurately predict price surges & subsequently reallocate driver availability during high-demand times.
The results of this strategy enabled them to make decisions quickly, anticipate customer needs and avoid customer churn.
Actionable Takeaway
Through BI they analyzed user trends, examined different routes, and monitored driver behavior in order to make decisions and deliver value to customers. Find out how to get similar success through the right combination of analytics and intelligence.
Professional business intelligence training can help!
Business intelligence may not be something you think of when you picture high-stakes training. But that's because you haven't gone pro yet. Put it this way: if a spreadsheet was a scary haunted house, would you want to go in without proper tools and guidance? Investing in professional BI training can provide you with the courage and the knowledge you need to confront data with confidence! Ready to conquer the darkness?
Apex Global Learning has your back! Our Business Intelligence and Analytics Foundation course is a 2 days intensive Live virtual training module led by expert trainers with years of industry experience. Still, wondering if you should make the jump into business intelligence training? Look, it's pretty straightforward. Invest in the skills you need today to be ready for whatever opportunities the future brings. Sign up now!
Conclusion
In essence, Business intelligence is the practice of crunching big data and wrangling confusing numbers into tangible and actionable insights. Want to become a business intelligence genius? Real-world examples are key.
And if you need a quick snapshot of where business intelligence is headed in the future? According to recent data, trends seem to be moving away from single-threaded reporting and toward self-serve analysis. In other words, people are using analytics to ask better questions, look for patterns and think outside the box more than ever before!
There's been an increasing focus on data visualization, data engineering, and AI/ML capabilities, all helping to provide richer, more complete views into business operations. Additionally, companies are also increasingly looking to hire data storytellers and scientists to gain better insights from their data.
For those with a background in BI, now is the time to brush up on those key skills for a leg up in the job market.