Feeling like you need a few more arms to juggle all those tasks on your Agile project? Maybe it's time to get yourself some scrum tools! With these tools, you can wrangle those user stories, backlog items, and sprints like a pro. Plus, you'll be able to impress your boss with how organized and on top of things you are.
Just in time for the futuristic world of 2023, we've compiled the ultimate list of 15 best scrum tools of 2023 for all your agile project management needs! From high-tech project tracking to holographic stand-up meetings, these tools will have you feeling like you're managing projects on a spaceship. Who needs old-school post-it notes and whiteboards when you can have AI-powered sprint planning and automated task management? Check out the full list now and start living in the future of project management.
Trust us, your sanity will thank you.
What is Scrum?
Scrum is a project management framework that helps teams work together more efficiently to deliver value to their clients. It emphasizes transparency, inspection, and adaptation to achieve the goal of delivering a high-quality product. The framework includes roles like the Product Owner, Scrum Master, and Development Team, and also includes specific events like Sprint Planning, Daily Scrum, Sprint Review, and Sprint Retrospective. It's a great way to organize your team and achieve your goals.
In simple terms, Scrum is like your very own fitness coach for your team. It's an agile methodology that focuses on breaking down projects into smaller, manageable sprints (think daily gym sessions), ensuring everyone is working together and getting the job done. The Scrum Master (that's you!) is the coach, pushing everyone to work their hardest and supporting them along the way. So, instead of running on a treadmill for hours, you sprint towards the finish line with a clear goal in mind.
How can the right scrum tools elevate your scrum experience?
Why settle for a mediocre scrum experience when you can level up with the right scrum tools?
Here are five ways that the right tools can make a huge difference:
Better collaboration: With the right tools, everyone on the team can work together seamlessly.
Enhanced transparency: You can keep everyone informed of project status with real-time updates.
Improved productivity: Scrum tools can streamline workflows and eliminate redundancies.
Easier reporting: Generate reports with just a few clicks.
Greater agility: Adapt to changing circumstances quickly and efficiently.
Ready to experience the power of the right tools?
As a scrum master, you deserve nothing but the best. That's why we've compiled a list of tools that'll have you saying Hallelujah and high-fiving your team in no time. From backlog management to sprint planning, these tools will have you feeling like a scrum hero in no time. Say goodbye to the days of disorganized sticky notes and hello to the world of efficient scrumming.
Let's dive in!
1) Jira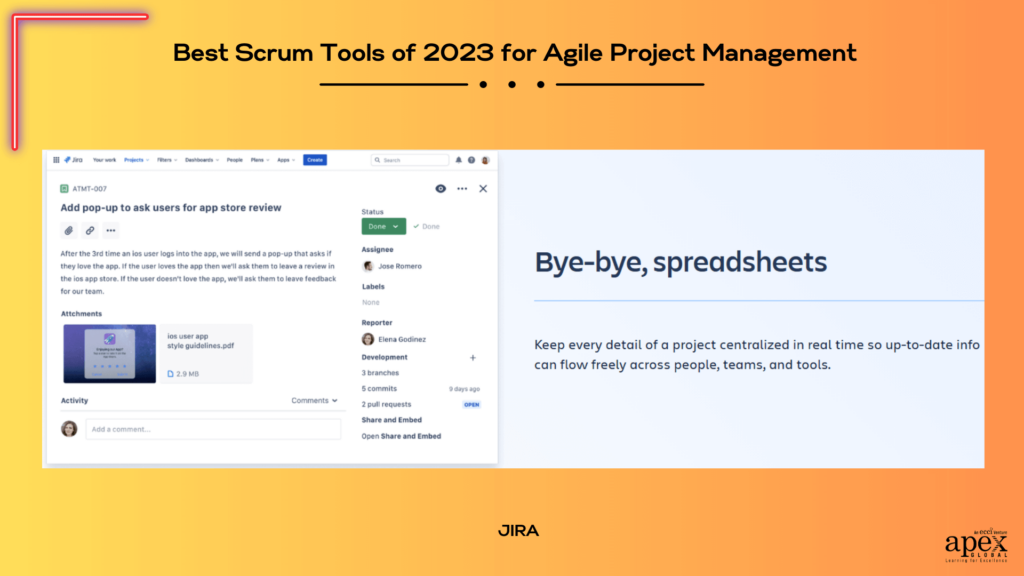 From sprint planning to retrospective, this scrum tool is constant in the never-ending quest for Agile excellence. It may not be the hero you want, but it is definitely the hero you need.
Here are some of its top features that will take your agile project management to the next level:
Real-time collaboration with your team,
Customizable workflows and boards,
Automatic burndown chart creation
Improved backlog prioritization
Sprint planning tools.
Plus, with Jira's mobile app, you can keep track of your team's progress no matter where you are.
Top feature alert
One of the most useful features of Jira is the ability to customize your workflow to fit your team's needs. Whether it's adding new stages, transitioning issues, or creating your own custom fields, there are plenty of ways to streamline your team's process.
2) Zoho Projects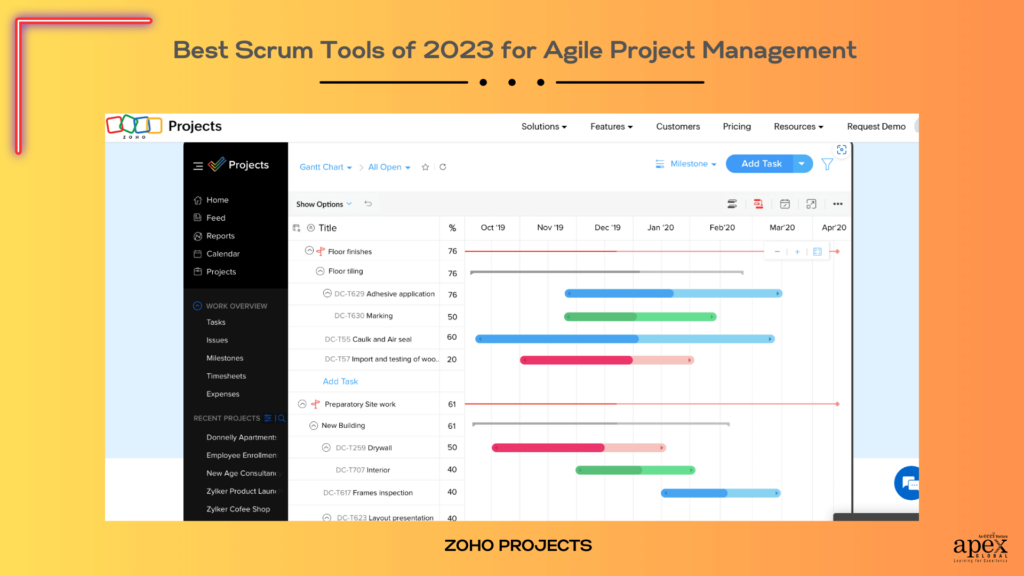 Gone are the days of chaotic, unorganized project management. Zoho Projects has made it so easy to plan and execute tasks that even your grandma could do it. Okay, maybe not your grandma, but you get the point.
The tool offers some pretty amazing features like real-time visibility into team progress, prioritized backlogs, and customizable workflows. Plus, it's super easy to use and helps to increase team efficiency and collaboration.
Top feature alert
It's called the Sprint Health Report, and it's a game changer. It helps you evaluate the health of your sprints in real time, giving you the insights you need to optimize your process and hit your goals. You can even customize it to match your team's unique needs.
3) Pivotal Tracker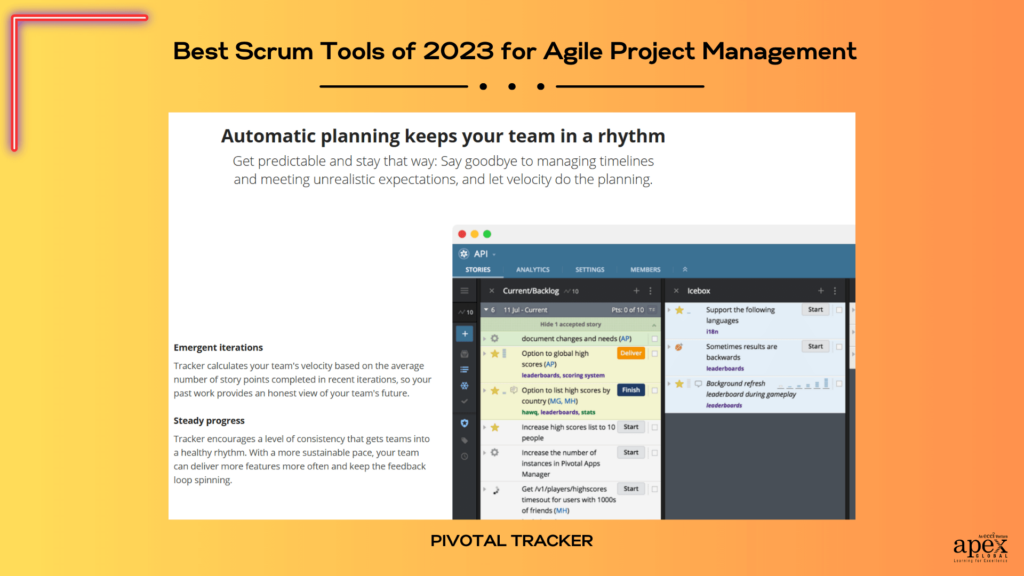 Imagine no more post-it notes cluttering up your desk and confusing your teammates. Instead, you have a centralized hub where you can track your team's progress and crush your goals. Let's just say it's the secret sauce that turns your team's chaotic backlog into a well-oiled machine.
Some of its best features include an easy-to-use interface, real-time progress tracking, and automatic project updates. Plus, it's cloud-based so you can access it from anywhere.
Top feature alert
The Icebox is where you can park stories that you're not quite ready to work on, but don't want to forget about. It's like a holding area for ideas. The Icebox makes it easy to capture new ideas and keep them organized until you're ready to move them to the backlog. So, next time you're using Pivotal Tracker, don't forget to utilize the power of the Icebox. Your team will thank you later!
4) Asana
This Scrum Tool is the real MVP when it comes to organizing your team and getting things done. You'll be so productive, your boss might even give you a gold star (no promises though). Plus, with the satisfaction of checking tasks off your list, you'll feel like a true hero.
Here are some of the best features:
Kanban boards that give you a visual overview of your project progress
The ability to assign tasks to specific team members with deadlines
The commenting system that keeps all project discussions in one place
Integrations with other tools like Slack and Google Drive for seamless collaboration
The option to customize workflows to fit your team's unique needs.
Top feature alert
The most useful feature on Asana that you can use for your scrum methodology is the custom fields. You can use these to track your progress and see the bigger picture. Create custom fields for story points, sprint duration, and even priority levels to keep everything organized. Don't forget to color-code them for easy visual reference!
5) Shortcut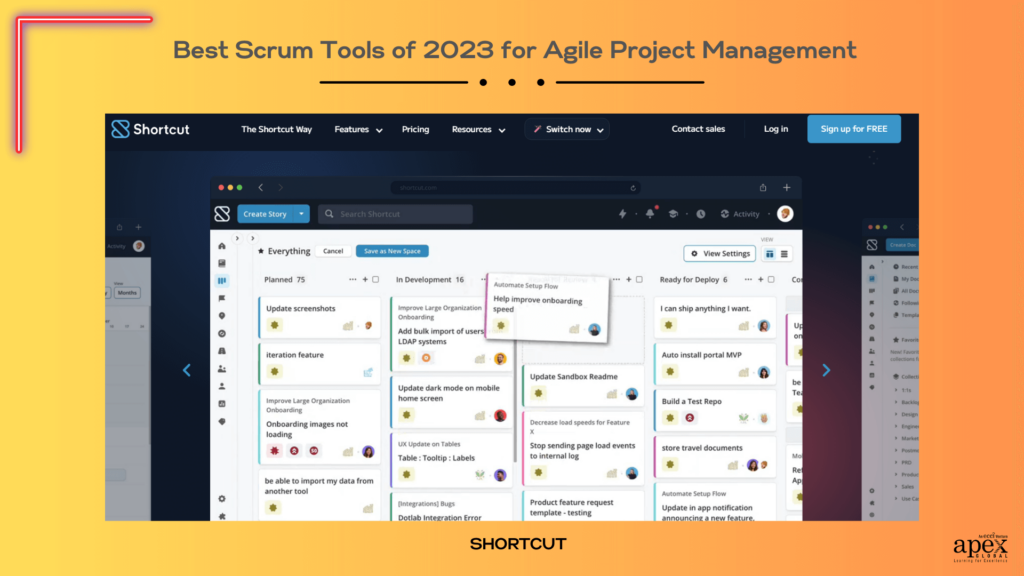 It's like the Avengers of Scrum tools, but without the spandex suits. With features like story mapping, automated workflows and real-time updates, word on the street is that it's taking the world by storm!
Here are some of the most awesome features:
Iteration planning – Easily plan and schedule sprints to stay on track with your project goals.
Burndown charts – Track progress and measure team productivity in real-time with easy-to-read charts.
Search functionality – Quickly find any task or story within your project using advanced search filters.
Integrations – Seamlessly integrate with your favorite tools, like GitHub, Slack, and Jira.
Top feature alert
The feature is called Epics and it allows you to group and organize your stories into bigger initiatives or projects. You can then prioritize and track progress for each Epic separately. It's a game-changer!
6) Taiga.io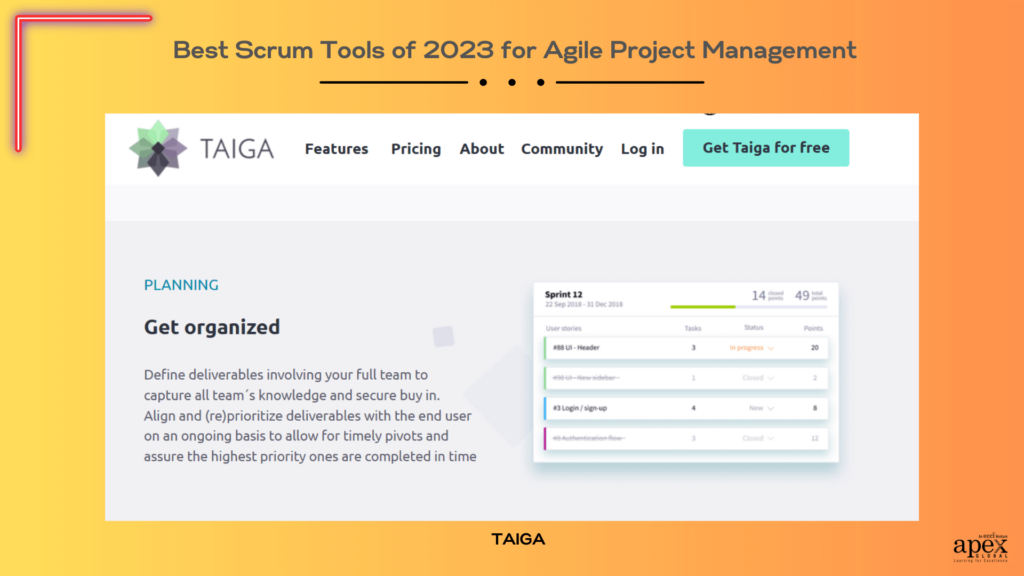 Are you tired of the chaos of scrumming without any organization? Taiga not only brings a little sanity to the chaos, but also ensures that you and your team never lose sight of your sprint goals. Plus, you get the added bonus of seeing who is slacking off and who is truly hustling With the mingle impact, you can see the improvements in your team's productivity and efficiency.
Here are some features that make Taiga a great choice for agile teams:
Customizable boards: Tailor your workflow to match your team's unique process.
Automatic updates: Changes made by team members are automatically updated in real-time.
Backlog prioritization: Drag and drop cards to prioritize backlog items for your team.
Integration with other tools: Taiga integrates seamlessly with popular tools like JIRA and GitHub.
Top feature alert
Have you heard about the Taiga power? It's one of the most useful features of the scrum tool Taiga and can help your team stay organized and on track. Here's how to implement it:
First, create a column for each team member's name on the scrum board. Next, have each person move their task card to their designated column when they start working on it. This allows the whole team to see who's working on what and prevents duplication of efforts.
7) ZenKit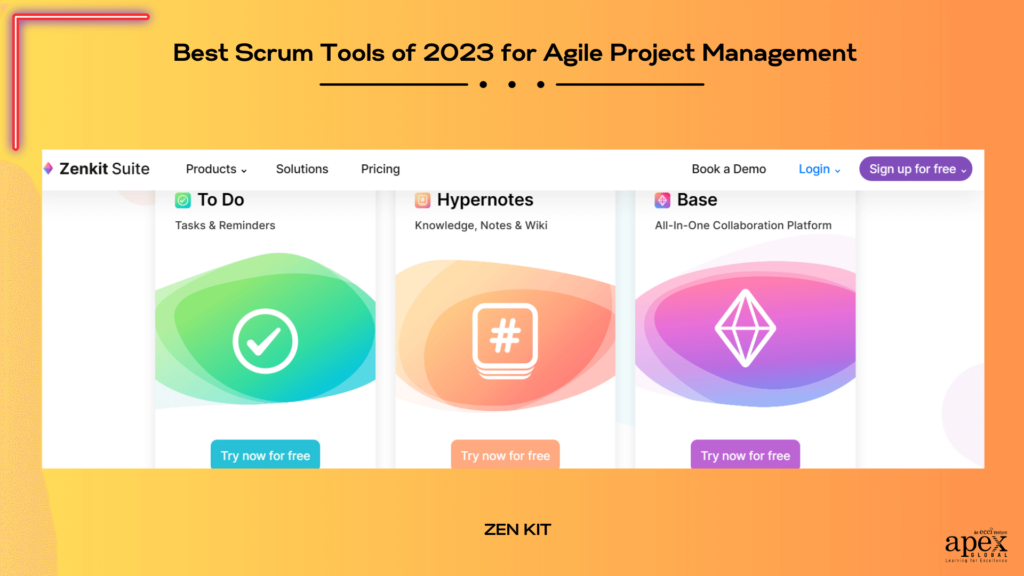 The impact is so powerful it'll make you feel like you've had 10 cups of coffee…minus the jitters.
With its top-notch features like sprint planning, backlog grooming, and team collaboration, you'll never look back to your old ways of doing things. Plus, Zenkit makes it easy to track your team's progress, prioritize tasks, and stay on top of deadlines.
Top feature alert
The real gem of Zenkit is the Kanban board feature, which helps you keep track of tasks and progress with ease. With a few simple steps, you can implement this feature into your workflow and watch as your productivity skyrockets.
8) Rally
No more chaotic sprint planning, no more endless meetings, no more excuses. With Rally, you can finally deliver quality products on time, all while maintaining your sanity. This tool is the bread and butter of agile project management.
The best features include:
Real-time dashboards to track progress,
Custom workflows that match our team's unique processes, and
The ability to collaborate with team members no matter where they are located.
Top feature alert
Have you tried out its most useful feature yet? With the Team Board, you can easily track your team's progress on user stories and backlog items. The built-in reporting and analytics, helps track your progress and adjust your approach as needed.
9) Axosoft
As a Scrum Master or Project Manager, we need all the help we can get. And Axosoft is definitely up there with the big dogs. Its user-friendly interface and team collaboration capabilities make it a standout.
There are a few standout features that we just can't get enough of. For one, the customizable dashboards make it super easy to keep track of all your project progress in one place. And the burndown chart is a game-changer when it comes to tracking your team's sprint progress. But what really sets Axosoft apart is the intuitive interface and easy collaboration tools. It includes drag-and-drop tasks, built-in messaging, and the ability to assign tasks to specific team members with just a few clicks.
Top feature alert
Have you tried out their most useful feature? The burndown chart displays progress made towards completing a project sprint. It's a great visual aid that helps you and your team stay on track and reach your goals efficiently. To implement this feature, simply create a new release, set your sprint goals, and add your work items. Axosoft takes care of the rest, updating the burndown chart in real-time.
10) Monday.com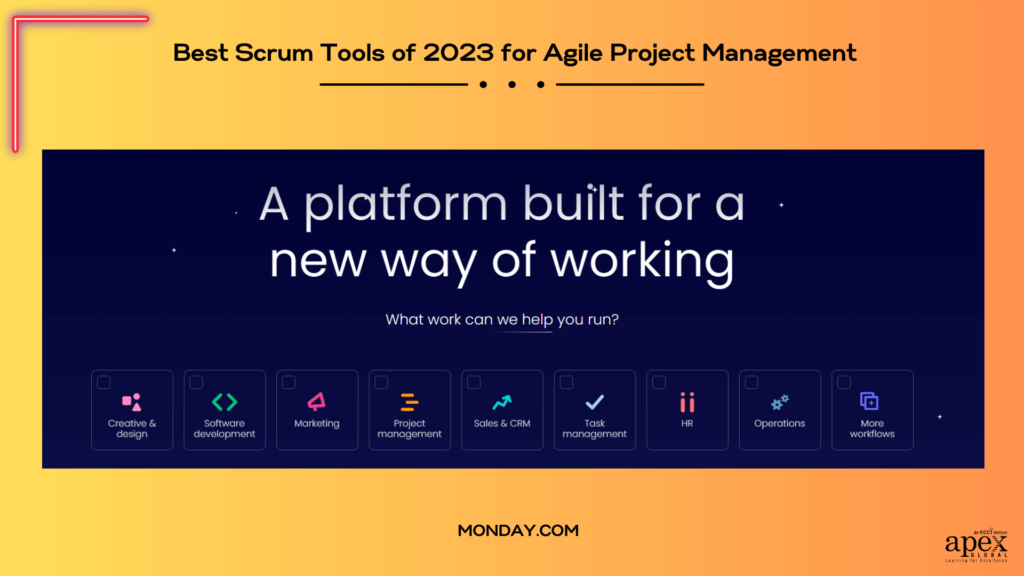 Let's be real, anything that can make work feel more like a well-oiled machine and less like a messy Monday morning is a win in our book. So here's a shoutout to Monday.com for making the impossible possible!
Here are just a few of our favorite features:
Easy drag and drop functionality to update task statuses and timelines
Clear visual display of team member responsibilities and workload
Integration with popular apps like Jira and Slack
Customizable boards to fit your team's specific needs
Top feature alert
The most useful features of this scrum tool is the ability to set dependencies. With this feature, you can easily track what tasks are dependent on each other and prioritize accordingly. No more guessing or manually adjusting timelines. Plus, it's super easy to set up. Just drag and drop your tasks into the right order and voila!
11) Sprintly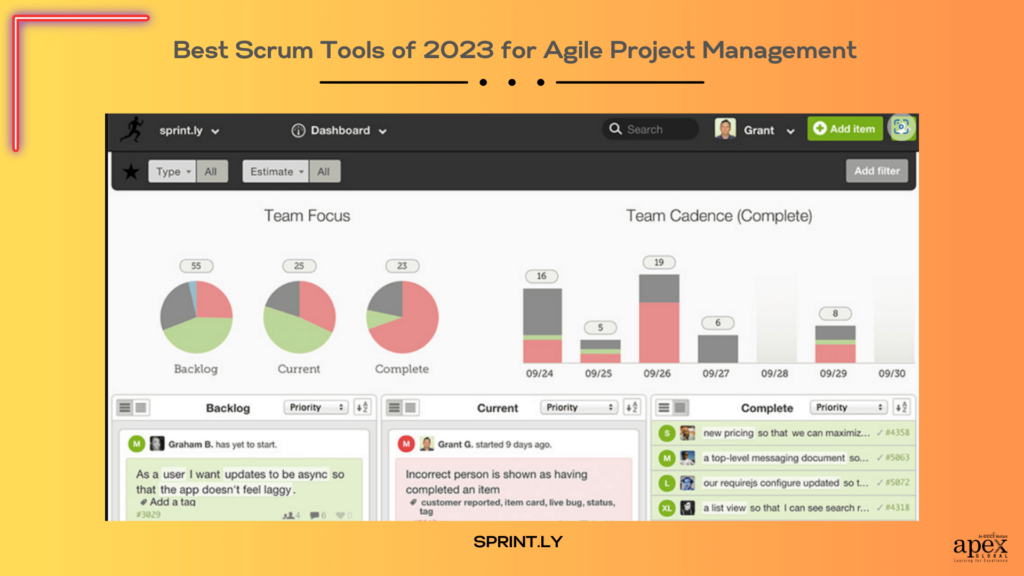 Are you tired of sprinting in the wrong direction? Let Sprintly take the reins! This scrum tool has the power to transform your project management process into a smooth and efficient ride.
It's loaded with some awesome features that will make your agile management game strong.

With its powerful project management, task tracking, and bug tracking capabilities, Sprintly helps you manage your projects with ease. You can also set up custom workflows and notifications that align with your team's workflow. Sprintly is an absolute game-changer when it comes to managing complex projects.
Top feature alert
The most useful feature of Sprintly is its task board, and here's how to make the most of it. Firstly, make sure your tasks are in the right order – the priority list should be on the top of your task board. Secondly, make sure you have assigned each task to a specific team member so they can work on it without any confusion. Lastly, use the swimlane feature to categorize your tasks by stages such as to-do, in progress, and done.
12) TargetProcess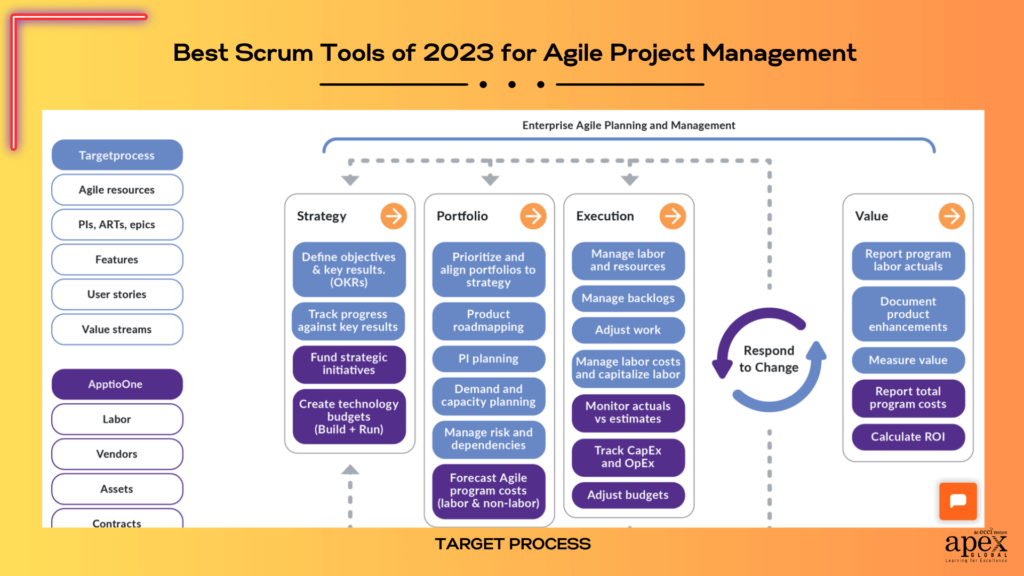 Who knew a tool named after rugby could have such an impact on project workflow? Introducing Target Process, the scrum tool that has revolutionized project management. Now you can organize your tasks like a well-oiled scrum team, minus the grass stains and concussions.
Some of the top features of this tool include:
Its user-friendly interface
Customizable dashboards
Integration capabilities with other popular software like JIRA and GitHub
It also has a range of Agile methodologies built in, making it easy to implement Scrum, Kanban, and more.
Top feature alert
All you need to do is take advantage of TargetProcess' most useful feature: the ability to customize views and workflows. Did you know that you can customize your boards to fit your team's unique needs? You can add or remove columns, change the colors of the cards, and even set up swimlanes for better organization. That means less time spent sorting through clutter and more time spent on getting things done.
13) ZenHub
Have you tried Zen Hub yet? Not only does it make project management a breeze, but it also adds a certain calmness to your workflow. Gone are the days of stressing out over deadlines and endless tasks. Now you can channel your inner Zen master and calmly tackle your to-do list, one sprint at a time.
Here are some of the top features that make it stand out from the rest:
Issue tracking directly in GitHub, no need for a separate tool
Easy-to-use boards for sprint planning and tracking progress
Advanced filtering options to quickly find what you need
Real-time collaboration and communication with your team
Insights and reports to help improve team performance
Top feature alert
The Kanban board feature is amazing when it comes to tracking progress on projects. With just a few clicks, you can see everything that's been completed, what's in progress, and what's still left to do. Plus, you can customize the board to fit your team's workflow.
14) Hygger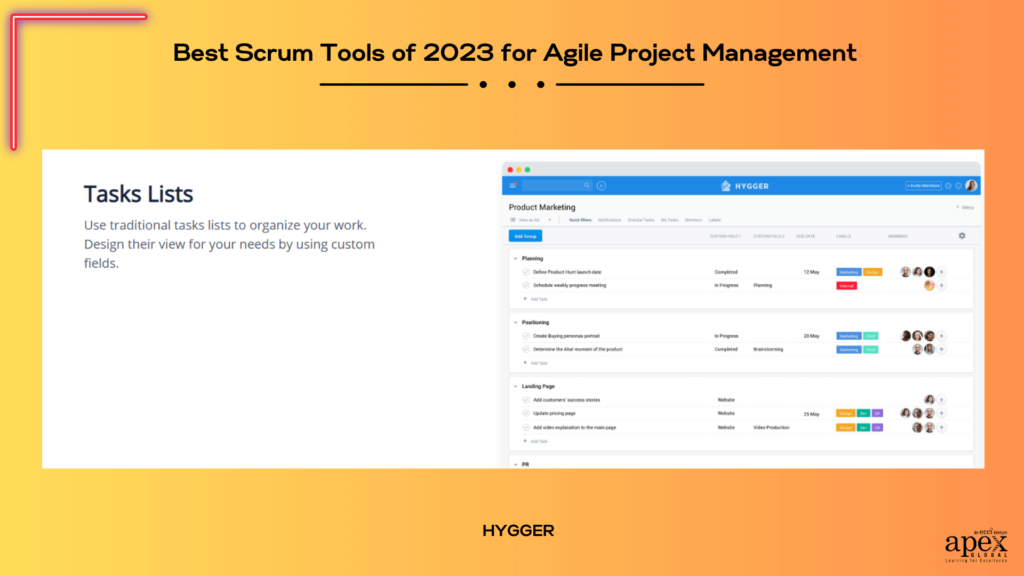 With Hygger, you'll be sprinting to success faster than Usain Bolt on a Red Bull bender. It's cutting-edge features and intuitive interface make it a breeze to manage your sprints, backlog, and everything in between.
First off, Hygger's user interface is so intuitive, it's a breeze to navigate. And the ability to prioritize tasks with their weighted scoring system? Genius. But what really sets it apart is the ability to easily collaborate with your team in real time. No more back-and-forth emails or lost messages. With Hygger, you can work together seamlessly to reach your sprint goals.
Top feature alert
What is its most useful feature? The backlog board! It allows you to prioritize tasks, keep track of progress, and assign responsibilities all in one place. It's the perfect tool for staying organized and on track.
15) Miro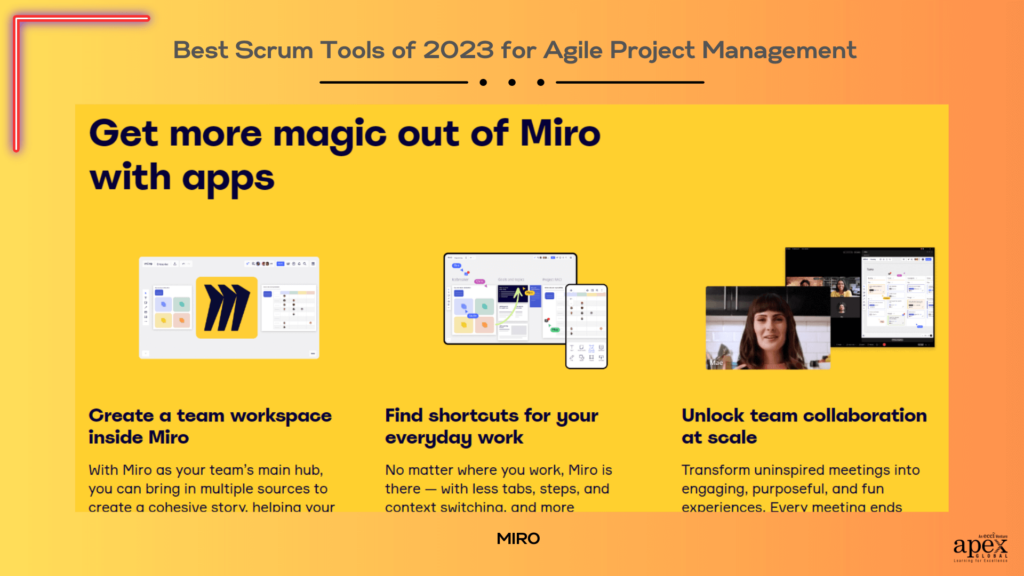 For scrum management, the Miro impact has been epic! It's like adding a power-up to your scrum meetings. You'll be moving post-it notes around faster than Sonic the Hedgehog! Plus, the endless canvas means no more running out of space on your physical board.
Here are some of its best features:
A Kanban board to track your team's progress and easily move tasks between stages
Collaborative whiteboarding to brainstorm and map out ideas together
Pre-built templates to save time and jumpstart your workflow
Integration with popular tools like Jira and Slack for seamless communication and task management
Top feature alert
Want to make the most out of Miro? Look no further than its handy voting feature! It's a great way to gather feedback from your team and prioritize tasks. All you have to do is create a board, add sticky notes with tasks or ideas, and then turn on voting. This feature allows your team members to vote on what they think should be prioritized, making decision-making much more efficient.
Professional training to increase the efficacy of scrum tools
If you're looking to up your scrum game, don't just rely on the tools – invest in some professional training too! Here's why: While Scrum tools can certainly help with the logistics of managing a project, professional training provides invaluable insights into effective leadership and communication techniques. These are essential to truly thriving as a Scrum master. With so many resources out there, it can be tough to know where to start, but investing in learning now will pay off big-time in the long run.
You might want to check out APEX Global Learning's Agile Scrum Practitioner + course. This program is designed to equip you with the latest methodologies, scrum tools and techniques of agile scrum. Plus, the course is flexible and accessible so you can take it online, anytime, anywhere. Ready to take the leap into agile learning? Register now and let's get started!
Final thoughts
Agile project management is serious business, but that doesn't mean you can't have a little fun with your scrum tools. After testing out several options, we've narrowed down our top picks for the best tools to manage your agile projects. And now, for our final thoughts: If you want a tool that's as sleek and agile as a cheetah, go for Jira. But if you're more of a slow-and-steady-wins-the-race type, give ZenHub a try. And if you really want to get fancy, Asana has got you covered with all sorts of bells and whistles. But hey, no matter what tool you choose, as long as you're using agile methodology and working collaboratively, you're already ahead of the game.