In the IT industry, it is important that IT service is properly managed and monitored. There are specific processes and activities in IT design, delivery, development, and support. However, there needs to be a framework for these processes.
Such framework is provided by the Information Technology Infrastructure Library (ITIL), which allows companies and customers to use and enjoy IT services such as emailing, website building, and setting up servers in the office.
Since the job entails complex processes and technical knowledge, ITIL certification is a must for professionals. The ITIL framework allows companies to enjoy services brought about by consistent and well-defined processes, which make IT services prompt, fast, and reliable for users.
With ITIL, your company will have reduced costs and a generally satisfying customer experience. There will be a significant increase in the productivity of your staff, and tasks will become more manageable and well-executed. ITIL gives companies a sense of reliability and predictability so you can plan your steps accordingly.
ITIL Defined
ITIL, which originated in Great Britain, was initially conceptualized as a set of standardized practices for government data centers. Since then, the demands of IT have increased and evolved together with the change in ITIL framework.
The framework was revised and expanded to suit the conventions and needs of IT service deliveries in companies. The ITIL service lifecycle consists of five phases: service strategy, which focuses on strategies that improve business processes; service design, which includes designing and developing IT service; service transition, which spans production operations and quality control; service operation, which tackles event and access management; and continuous service improvement.
ITIL Certifications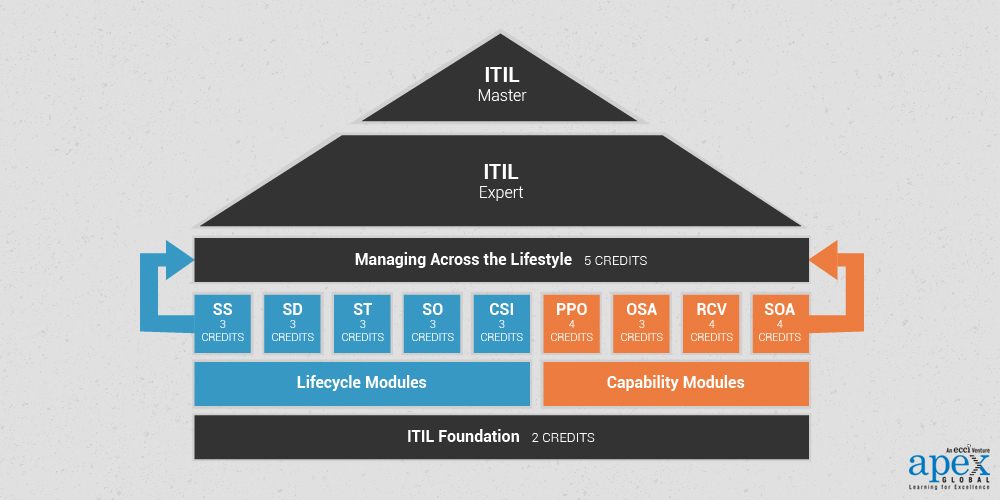 Just like any program, ITIL has a hierarchy of certifications designed for every practitioner. An ITIL qualification depends on the level of ITIL career your personnel is working hard to achieve.
There is a general foundation or entry level, which requires the aspirant to be well-versed in terminology and concepts related to the industry. An employee who has a basic understanding of the ITIL framework, and needs to enhance his knowledge and skills in IT service management is qualified to take the Foundation level. This level is open to anyone who is interested to work in the industry, but they need to take, at least, a short course to prepare for the next level or any applications of ITIL practices.
At the practitioner level, the aspirant is expected to have the necessary skills in managing ITIL. The level covers communication, organizational change management, and measurement and metrics.
The aspirant is being readied for a more complicated job qualification. Thus, he must abide by these principles: 1) design for experience; 2) focus on value; 3) collaboration; 4) holistic performance; 5) progress; 6) keen observation; and 7) transparency.
Before taking the exam for this level, the aspirant must have an ITIL Foundation Certification. Taking the exam for this level already grants three credits to the aspirant should he want to qualify for the ITIL Expert level.
The next stage is the Intermediate level. This level has a modular structure so the aspirant could see the different foci of IT Service Management. These modules are more accurate and require a special cognitive skill to understand the intricate details of IT service. Furthermore, the modules are categorized into two: Service Capability and Service Lifestyle.
The aspirant may choose to focus on just one module, but he may also take both to have a working knowledge on IT technicalities and management principles. It is suggested that the aspirant has two years' worth of professional experience in IT, and must know basic concepts before plunging headlong into the examination.
Should a practitioner wish to add to his qualifications, he may take the ITIL Expert level, which spans extensive and profound knowledge of the ITIL scheme. Candidates must have a number of qualifications and extensive experience in the field. This is advantageous as it supports both personal and professional development. Whoever passes the expert level has a great chance in advancing the professional ladder.
The highest and final level in ITIL is the Master level qualification. Not only does this require an extensive and comprehensive range of principles, knowledge, skills, and methods in ITIL, but also a justification from the candidate as to why he needs it and why he should qualify for the level.
Extensive professional experience in the field is expected of the candidate as well. Passing the ITIL Master qualification, thus, validates the candidate's ability to apply ITIL techniques, methods, and principles in your company.
Unlike the other levels, the candidate for the ITIL Master level will not use any syllabus or module for the examination, nor will he be enrolled in a training course. The content of the examination, however, depends on the candidate's wellspring of professional and personal experiences, from which he would choose to answer the questions.
To be an eligible candidate, the professional must have reached the ITIL Expert level and have worked in the field, preferably IT Service Management for at least five years, not excluding managerial and supervisorial jobs, hands-on ITIL experience, and active involvement in the industry.
ITIL Careers
Whatever ITIL level you take, there will be the right and appropriate career for each level. You could be mentors to companies and IT professionals, or IT project managers who supervise tasks and monitor IT operations.
Large companies have no qualms over hiring ITIL-certified employees. Companies such as Walmart, Toyota, Boeing, Sony, Citibank, Fujitsu, and IBM put premium in employees who have achieved a certain level in ITIL. This is an advantage for companies, as the ITIL certification makes service delivery more convenient and streamlined.
At the entry level, an IT practitioner can be a change coordinator, incident coordinator, and configuration analyst. Young ITIL-certified employees can apply as desk engineer, IT service delivery analyst, support engineer, and technical support
Those who have more years in the industry may move up to positions such as problem manager, release manager, and service desk manager. A successful candidate may also become an independent IT consultant in a firm.
An ITIL certification may seem intimidating, but it brings a lot of advantages to a professional and a company. Taking the qualification examinations is one step ahead towards success in the IT industry.