HR Business Partner (HRBP) is a critical role within the field of HR. In this blog post, we will look at what an HR business partner is, their responsibilities, & the skills they need to have, explain the difference between an HRBP & HR manager, discuss whether HRBP is a good role, and also look at the typical career path of an HRBP professional.
In the ever-changing landscape of today's business world, the role of Human Resources (HR) has transformed significantly. Traditional HR functions have evolved to become strategic partners that drive organizational success. One such important role within the HR field is the HR Business Partner (HRBP).
So what is an HR Business Partner, and what do they do?
You can learn all about this in this article. Whether you're an aspiring HR professional seeking to become an HRBP or a business leader looking to learn about HRBPs, this blog is your ultimate resource.
Ready to dive in? Let's go!
What is an HR Business Partner?
So, first of all, what is an HR Business Partner?
An HR Business Partner is an experienced HR professional who collaborates closely with business leaders to develop and implement human resources strategies aligned with the organization's objectives. With their finger on the pulse of both HR expertise and business acumen, HRBPs bridge the gap between traditional HR functions and strategic decision-making.
Six key responsibilities of an HR Business Partner
Okay, now we know what an HR Business partner is. But what do they actually do?
Here are some of the key responsibilities of an HR Business Partner:
A. Strategic alignment
One of the key responsibilities of an HRBP is to align human resources initiatives with the organization's strategic goals. This involves understanding the business's objectives, identifying talent needs, and developing strategies to attract, retain, and develop employees. HRBPs work closely with business leaders to create workforce plans and talent management strategies to support the organization's long-term growth.
B. Employee relations management
Maintaining positive employee relations and high levels of engagement is crucial for an organization's success. HRBPs play a pivotal role in fostering a positive work culture by ensuring the fair and consistent application of policies, addressing employee concerns, and promoting effective communication channels. They work with managers to resolve conflicts, improve employee morale, and implement initiatives to improve employee engagement and satisfaction.
C. Performance management & talent development
HRBPs are responsible for designing and implementing performance management systems that align individual & team goals with organizational objectives. They collaborate with managers to establish performance metrics, conduct performance evaluations, and provide feedback to help employees improve their performance. HRBPs also identify skill gaps and design training programs to enhance the capabilities of employees, thereby contributing to their professional growth & retention.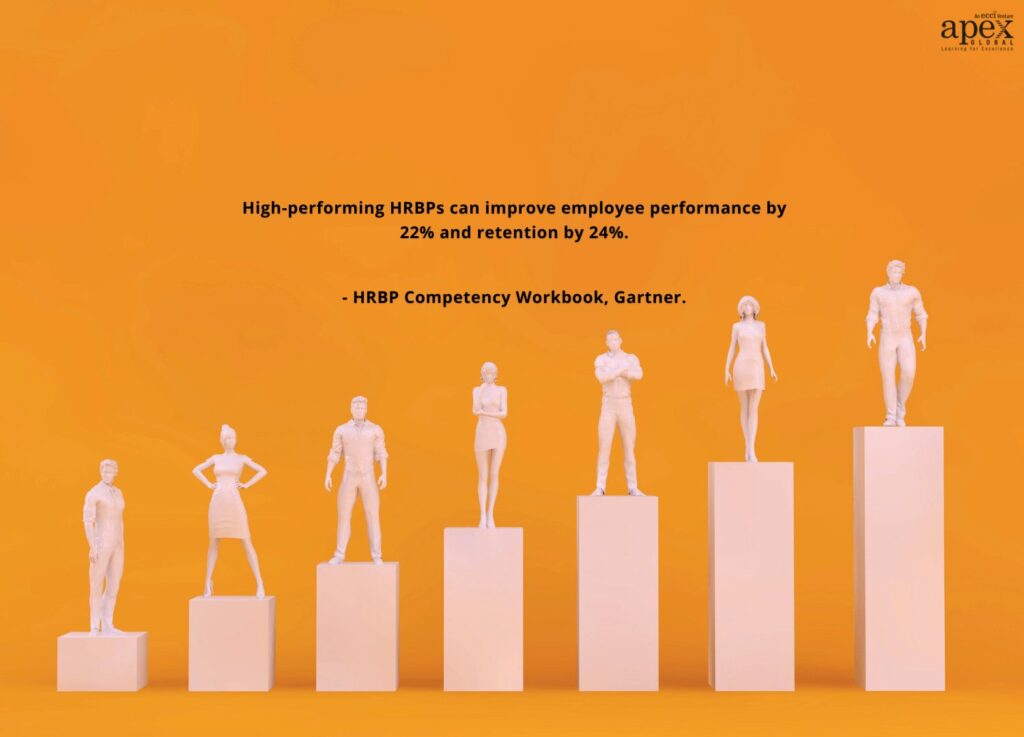 D. Change management
HRBPs play a crucial role in change management initiatives by assisting in planning, communicating, and implementing organizational changes. They work closely with leadership to ensure that change efforts are well-executed and employees are prepared and supported throughout the transition.
E. HR data analytics & metrics
HRBPs collaborate with the HR department to analyze HR analytics & metrics to gain insights into workforce trends, employee engagement, turnover rates, and other key HR indicators. By analyzing data, HRBPs can identify patterns, diagnose potential issues, and create policies & solutions to drive positive change within the organization.
F. Risk management
Risk management is another crucial responsibility of HR Business Partners. They identify and address potential HR-related risks such as compliance with labor laws, employee relations issues, and workplace safety. By implementing preventive measures and proactive strategies, HRBPs minimize risks and contribute to a safe and legally compliant work environment.
HR Business Partner vs. HR Manager
While both HR Business Partners and HR Managers work in the same field of human resources, they have different roles and responsibilities within an organization. And it's important to know and understand the difference between the two roles.
So, an HR Manager is typically responsible for overseeing the day-to-day operations of the HR department. They handle tasks such as recruitment, employee onboarding, payroll, benefits administration, and ensuring compliance with labor laws.
Their focus is on managing HR processes efficiently and effectively, ensuring that policies and procedures are followed, and providing guidance to line managers and employees.
On the other hand, an HR Business Partner operates at a more strategic level. They collaborate closely with business leaders and play a crucial role in aligning HR initiatives with the organization's overall goals.
HRBPs focus on understanding the business's needs, developing talent management strategies, implementing organizational change, and driving employee engagement. They act as strategic advisors, providing insights and guidance to senior management on HR matters.
Eight essential HR Business Partner skills 
Now that you've learned what an HRBP is and their responsibilities, you might be wondering what skills they need to have. The role of an HR Business Partner requires a diverse skill set that covers both HR expertise & business acumen.
While specific skill requirements vary depending on the organization and roles, there are some essential skills that all HR Business Partners should possess. They are:
a. Strategic thinking
HR Business Partners must have the ability to think strategically and align HR initiatives with the organization's overall goals. They should understand the business's objectives, anticipate talent needs, and develop long-term HR strategies to drive organizational success.
b. Business acumen
Having a strong understanding of business operations, industry trends, and the competitive landscape is crucial for HR Business Partners. This knowledge enables them to provide informed HR insights and contribute to effective decision-making that aligns with the organization's objectives.
c. Communication
HR Business Partners need excellent communication skills to effectively collaborate with business leaders, employees, and other stakeholders. They should be able to articulate HR strategies, provide guidance, and influence stakeholders to drive positive change within the organization.
d. Relationship building
Building strong relationships and trust is essential for HR Business Partners. They work closely with business leaders, managers, and employees at all levels of the organization. Developing effective working relationships fosters collaboration, improves credibility, and facilitates the successful implementation of HR initiatives.
e. Analytical and problem-solving
HR Business Partners should possess strong analytical skills to interpret data, identify trends, and make data-driven decisions. They must be able to analyze complex HR issues, identify root causes, and propose practical solutions to address challenges and improve organizational performance.
f. Employee relations
Strong employee relations skills are essential for HR Business Partners. They should be able to handle employee concerns, mediate conflicts, and promote a positive work culture. Building employee trust and maintaining positive employee relations contribute to employee engagement and retention.
g. Leadership
HR Business Partners often act as trusted advisors and influencers to senior management and business leaders. So, they must possess leadership qualities and the ability to influence stakeholders in driving HR strategies and initiatives that support the organization's goals.
h. Continuous learning
The HR field is constantly evolving, so HR Business Partners should have a commitment to continuous learning. They need to stay updated on HR best practices, emerging trends, and changes in employment laws to ensure that they provide effective HR solutions for the success of their organizations.
Is HR Business Partner a good role?
The question almost all HR pros ask or at least wonder at one point: Is becoming an HR Business partner a good career move? The answer is yes. The role of HR Business Partner is an excellent choice for seasoned HR managers looking to take their careers to the next level. Let us you why.
HR Business Partners hold the key to unlocking the full potential of organizations. They are the strategic architects behind the scenes and acts as a trusted advisor to senior leaders, influencing decisions that shape the future of the entire organization.
One of the most rewarding aspects of being an HR Business Partner is the power to empower individuals. They become the catalysts for growth, supporting employees in their professional development and creating a culture where people can flourish. From coaching to implementing impactful HR initiatives, HRBPs become the driving force behind employee engagement and success.
What's more, the role of an HR Business Partner is a gateway to personal and professional growth. The ever-evolving nature of the role ensures that HRBPs are constantly challenged and exposed to new ideas. They acquire a diverse skill set, ranging from strategic thinking and data-driven decision-making to change management and leadership development.
Thus, it can be a highly rewarding career path for those who are passionate about Human Resources and want to make a significant impact on the success of their organization.
HR Business Partner career path
Several qualifications need to be met for this role in terms of education and experience.
When hiring an HR business partner, most companies prefer candidates with a bachelor's degree in Human Resources or a related field. Possessing an MBA or a relevant master's degree is also highly desirable.
The right experience is also important. Employers typically seek HR business partners with a minimum of 4 years of practical experience in HR management or a supervisory/management role.
Getting trained & obtaining a certification is also an excellent opportunity to learn all the necessary skills and prepare for the role and also stand out while applying for the role in this competitive industry.
After successfully obtaining a position, the common career path is HR Business Partner, Senior HR Business Partner, Head HR Business Partner, HR Director, and finally, Chief Human Resources Officer. Learn more about the basics of an HR Business Partner success here.
Conclusion
In today's fast-paced digital age, the role of HR Business Partners is rapidly evolving to meet the ever-changing needs of organizations.
To fulfill their strategic role effectively, HR Business Partners must be committed to continuous learning and staying up-to-date with the latest developments in HR practices and the business sector. This will enable HRBPs to bring fresh insights, innovative solutions, and best practices to their organizations.
By embracing the evolving landscape of HR and proactively applying their people-savvy and business-savvy approach, HRBPs have the potential to make a profound and positive impact on their businesses. Learn more about spotting a true commercial HR Business Partner here.
If you are looking to advance your HR career and become an HR Business Partner, APEX Global's HR Business Partner course is a great place to start. This course will help you acquire all the skills necessary to become an effective HR Business Partner capable of full participation in business strategic outcomes in just two days. Enroll today to get started!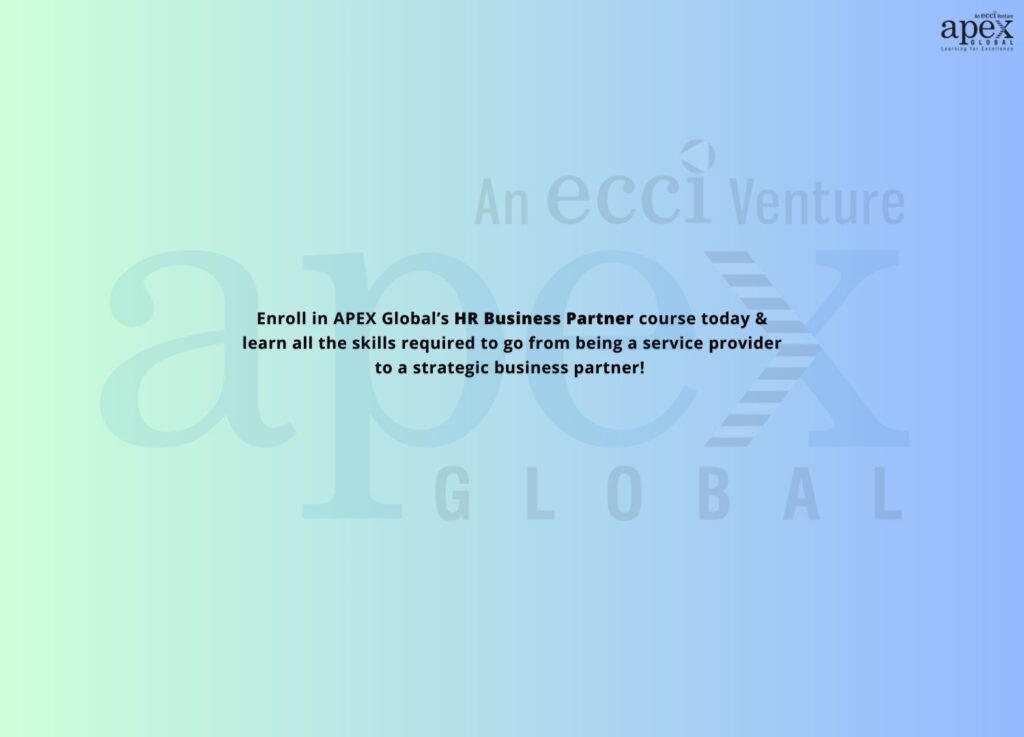 Have any questions? Please reach out to us today at [email protected]. We'd love to hear from you!