There are many online resources available to small and medium-sized business owners in the Philippines. What's good about these online resources is that these are not limited to white papers or researches, but also include blogs from business owners, finance experts, and marketing professionals.
Fellow business owners and professionals can get a sneak peek into these bloggers' entrepreneurial journey, from which readers can pick up valuable lessons that only real-life experiences can provide.
These topics can range from stories about financial blunders, guides on how to apply for a business license, to a feature on the top 10 best franchises in the Philippines. Collectively, these blogs provide not only a quick, online resource but also an inspiration to people who want to take the road less traveled (at least by the majority) and become entrepreneurs.
We've compiled some of the top business blogs in the Philippines that you can check out. You can learn a thing or two from these business owners or acquire new tips from marketing professionals to improve your campaigns and initiatives.
What you'll find in this article
General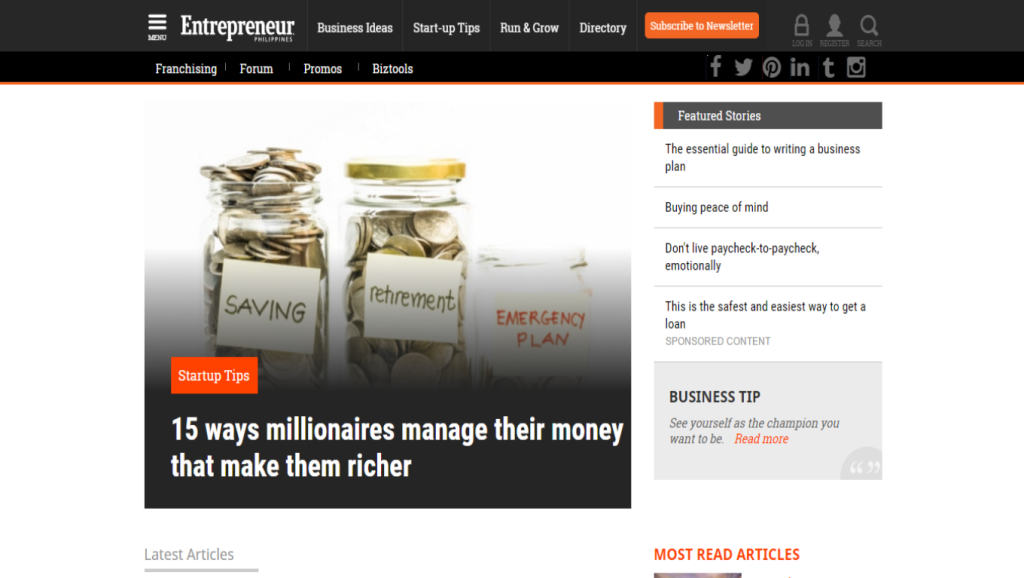 This is the online home of the same named Entrepreneur Magazine in the Philippines. The web magazine publishes a series of topics aimed for Filipino entrepreneurs. Since the startup scheme is becoming increasingly popular in the Philippines, Entrepreneur.ph has a dedicated tab for Start-up Tips and Business Ideas.
The How-To series is also an interesting silo in the web magazine. One interesting article is "Do you have what it takes to own a foreign franchise?" that talks about the basic things you need to know and need to have if you want to open an international franchise in Manila or anywhere in the Philippines.
Apart from business topics, Entreprenuer.ph also publishes articles on business tools such as the metrics you can use to measure your company growth and campaign success.
Not to be confused with "Pinoy Biznis," Pinoy Bisnes is for the aspiring Filipino entrepreneur who want to start a small venture in the country. The blog provides insights on some of the pre-entrepreneurship questions you might have.
For instance, in one article, they talk about the pros and cons of starting a whole new business or buying a franchise. The blog also provides tips on the steps you need to take to open your own business and the SME tools necessary to succeed.
This blog publishes topics about building a better business, hence the name. The Better Business is the blog of New Leaf Ventures Inc., a private investment firm focused on technology and technology-driven investments in Southeast Asian companies.
If your business is in the technology industry, this is an excellent online resource for latest news and industry tips. For instance, in one article, they talked about how a Cebu-based pizza company moved their HR activities to the Cloud.
This web magazine is the online home of the MoneySense Magazine. Like Entrepreneur.ph, this web magazine publishes articles about businesses in the Philippines, but with a greater focus on money-related issues such as investments and savings.
Business Diary talks about fresh yet tried-and-tested business ideas like making candles and fish burgers that you can sell and build a business from. If you are looking for business ideas you can try, Business Diary is a useful online resource with its how-to articles.
Mommy Ginger is the blog of serial entrepreneur Ginger Arboleda. If you're a young Filipina entrepreneur, this blog is a good resource for inspiration.
Our favorite picks include "Having that Millionaire Mindset" and "Start a Business from Home this 2016 (This time for Real…)" Her other self-titled blog GingerArboleda.com, on the other hand, talks about the entrepreneurial journey where she offers business workshops.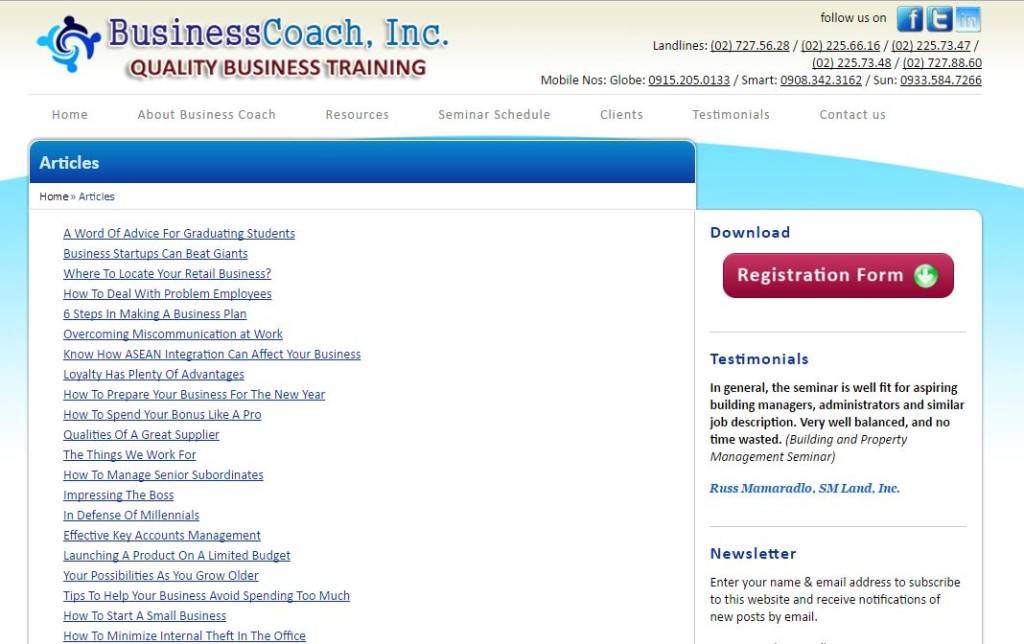 The company provides business seminars to help entrepreneurs reach their full potential. The site also publishes several articles that cover a wide range of business topics that appeal to Filipino business owners.
Top interesting reads include "In Defense Of Millennials" and "How To Manage Senior Subordinates."
The blog publishes articles covering topics that appeal to budding Filipino business owners. The collection includes articles on startups, as well as inspirations, strategies, and tips to become a Filipino tycoon.
One of the top articles of Tycoon.ph is the "34 Best Business Franchise Opportunities in the Philippines for 2016." In the aforementioned blog entry, the author suggested that franchising seems to be the first step for most SMEs with small capitals.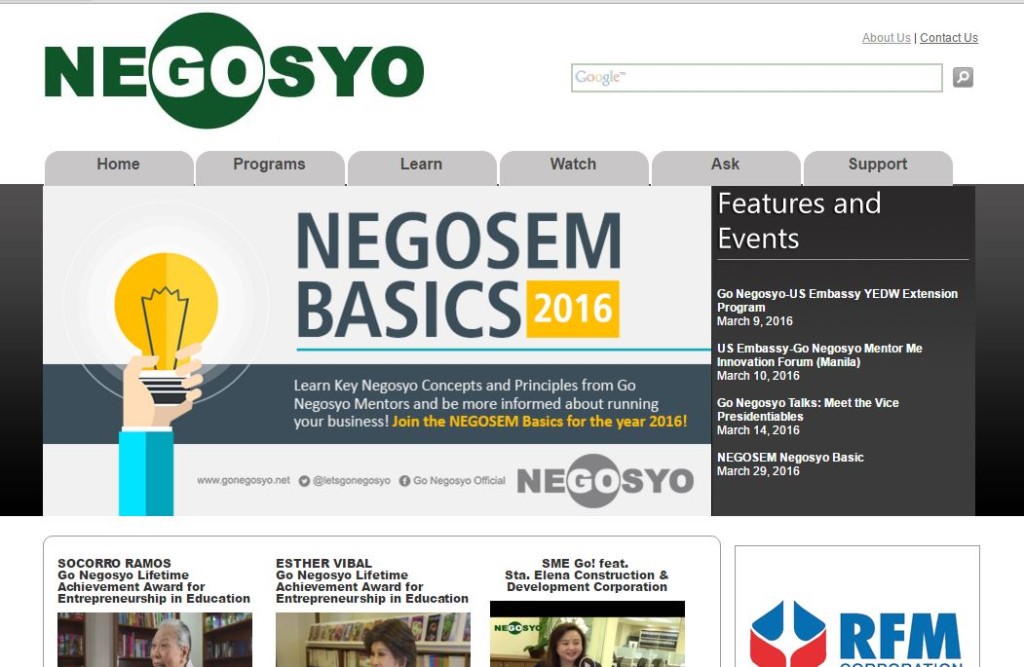 GoNegosyo is the Philippine Center for Entrepreneurship's advocacy. The website is a collection of programs, initiatives (caravans, summits, and TV program), and seminars (NEGOSEM by GoNegosyo) that aim to help small and medium business owners in the Philippines.
The website also offers materials and information about opening and operating a business in the country. They also feature inspiring new business owners whose success stories can enthuse aspiring entrepreneurs.
Founded in 2004 by James Ryan Jonas, PinoyMoney Talk evolved from a simple blog to an interactive site with an online forum about investments, businesses, and finance-related topics. The blog publishes articles on new business ideas that are useful for people who want to start a business, along with franchising and taxations topics.
Pinoy Bisniz blog is all about business management. The writers feature business-related events and programs, business tips, and training modules aimed at helping Filipino entrepreneurs.
SMEs
Former IT consultant turned entrepreneur Allan Inocente shares tips, inspirations and stories about entrepreneurship. In one article, he talks about the importance of having a mentor even if you're not in the corporate arena. In another article, he wrote about the ten reasons you should never get a 9-to-5 job.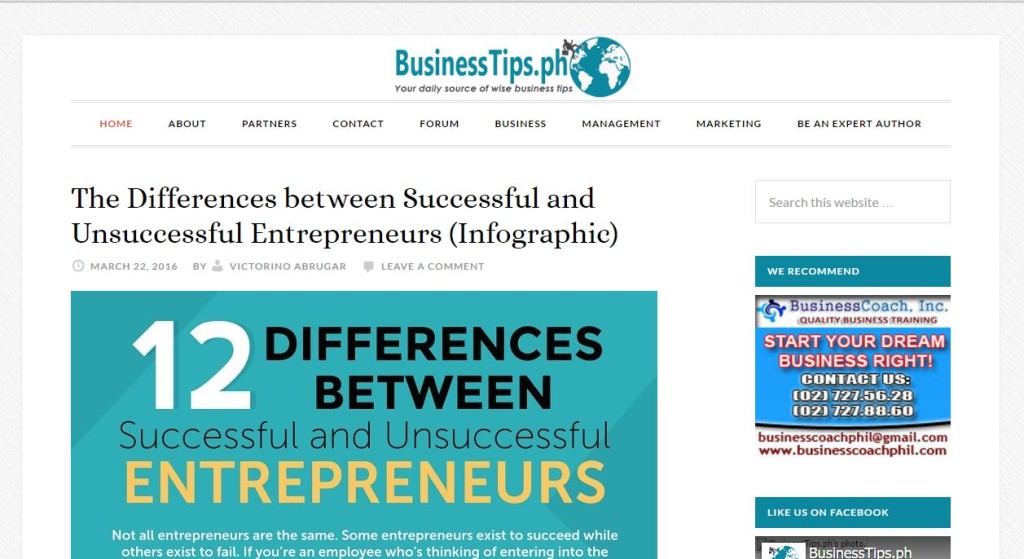 Since its maiden post in January 2011, Business Tips Philippines has been publishing business-related articles with topics covering marketing, management, business leadership, and taxation.
The goal is to provide not just tips, but solutions that can help Filipino SME owners become better entrepreneurs as well. The blog is managed by a digital marketing company, Optixor Inc., which provides online marketing services to SMEs inside and outside the Philippines.
Created in 2007 by M.Montala, the blog is meant for people who are interested in taking the entrepreneurial route. The blogger talks about franchising, the agricultural business, home-based work, and even microfinancing.
It offers a wide range of topics and options which interested business owners can take on to improve their current ventures.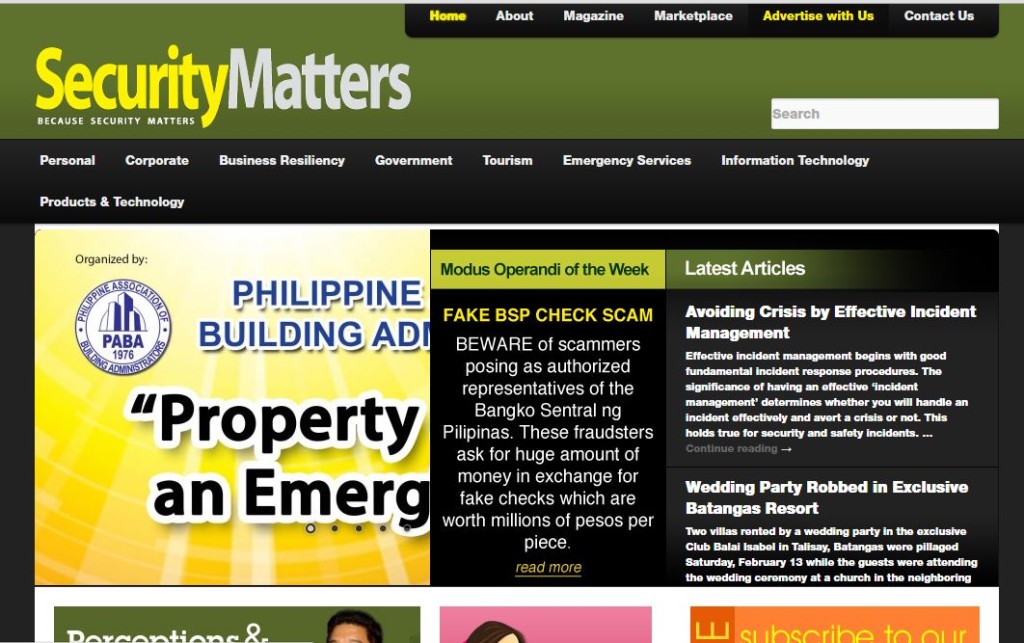 The first of its kind, Security Matters is a blog that talks about the importance of physical and IT security in the business. The articles can help CEOs, general managers, and even SME business owners to gauge what type of IT and physical security measures they can employ to protect their data, as well as the safety of their employees and customers.
Entrepreneur, Marco Victoria, has a goal to help fellow business owners become successful in their own ventures. In his blog "Business Daddy," he features success stories of fellow entrepreneurs in the Philippines to encourage others to take the big entrepreneurial leap.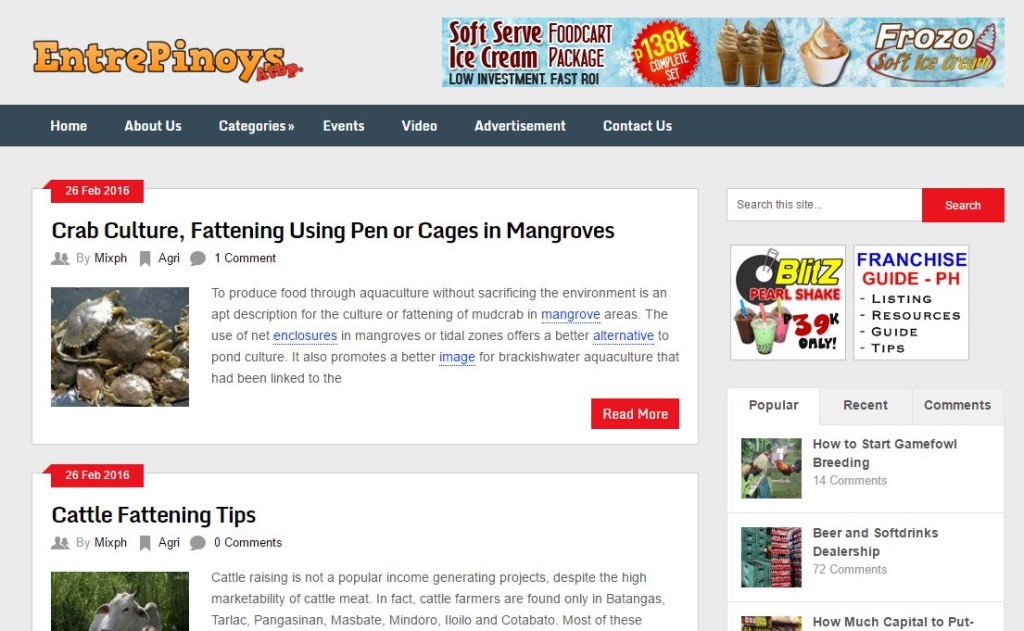 This blog features small and medium-sized enterprises in the Philippines that can serve as inspirations to other 'entrePinoys.' The bloggers offer advice and tips for new entrepreneurs, as well as business ideas and useful information to anyone who wants to open a business.

Micro-enterprise
Managed by Louren Jovito, Power Pinoys publishes articles to improve several aspects of the Filipino life. The article titled "Worst Spending Habits Filipinos Need To Break" is an eye-opening read.
The blog also features several articles that can help the Filipino entrepreneur. For instance, in one article, the blog talks about how businesses need a functional and well-designed website. In another article, the blog features business ideas for introverts.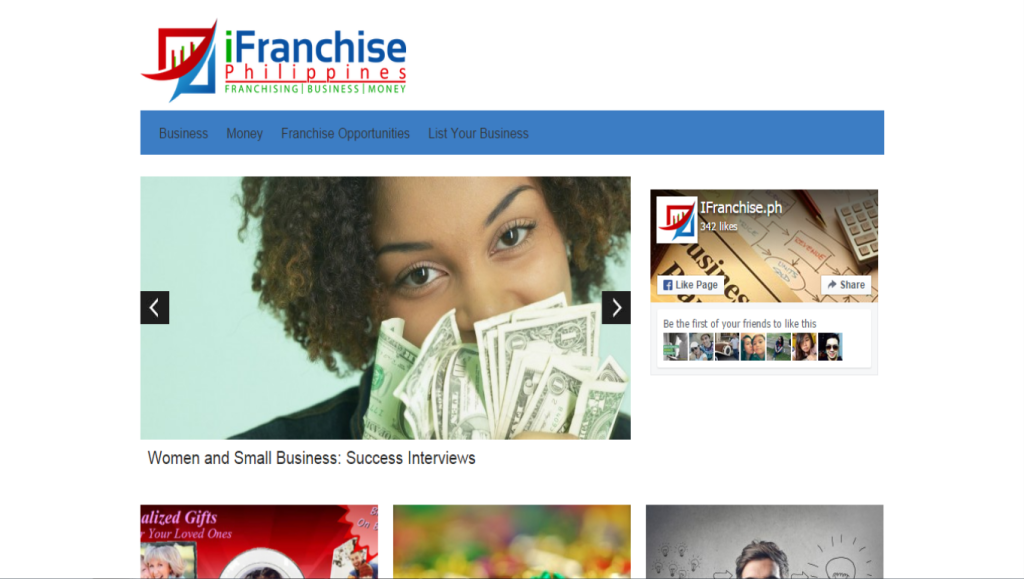 The blog's How To Franchise series features franchising tips and success stories in the Philippines. In one article, the iFranchise featured top outrageous business ideas that worked. This is a good read for startup and serial entrepreneurs who might think their business idea is too niche for the Filipino market.
This is the blog of internet marketer, Denden Mangubat, who publishes his blog posts in a mix of Tagalog and English (TagLish) languages. Apart from business tips, he blogs about networking, pyramiding, and social media tips for micro-business owners in the Philippines.
Self-proclaimed 'mobilepreneur' (mobile entrepreneur) and Internet marketer, Eugine Logro Almano, writes about small and micro business ideas and opportunities open to Filipinos who want to try owning and operating a business.
Like Denden Mangubat of Negosyo Republic, he also writes in a mix of Tagalog and English.
This blog is all about the electronic load business in the Philippines—from new products, how to's, and guides that can help a newly minted e-load entrepreneur reach his ROI. The blog also offers retailer guidelines and DIY solutions for any technical difficulties with Load Central, a distribution solution that manages the distribution of airtime mobile credits through a web-based interface or SMS.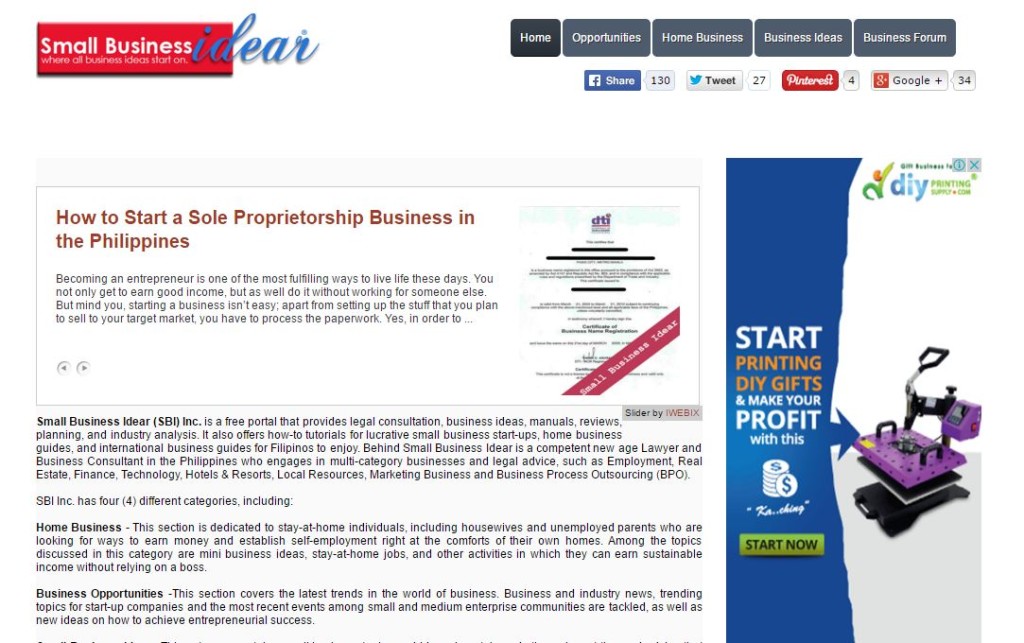 Small Business Idear, Inc. is a Philippine-based business consulting firm, and its blog is run by three Filipinas with finance and business backgrounds. The bloggers talk about small business opportunities that can be done at home.
Finance
The blog is a good online resource for tax and accounting updates that affect SMEs in the Philippines. Tax & Accounting Center, Inc. also features success stories of several SMEs.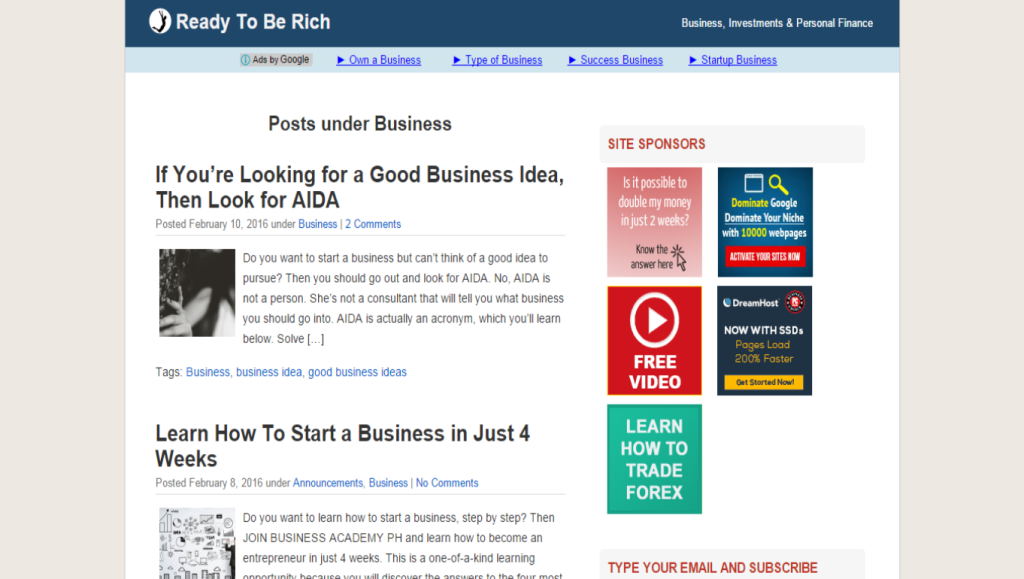 This is the blog of registered financial planner, investor and Filipino entrepreneur, Fitz Villafuerte. In one blog post, Fitz writes about how to start a business in just one month.
This blog features tips to manage your personal finance. If you're a startup entrepreneur, this blog is a good place to read up on articles about how to shift from personal to business finance, and even on business investments.
If you're a newly minted entrepreneur, bookmark this blog for tips, updates, and announcements on Philippine taxes. The blog also features rules and business applications.
This blog publishes a lot of topics that can improve the life of an average Filipino. The articles cover several topics, but there are many interesting articles targeted towards the Filipino entrepreneur—most of them are inspirational ones.
Laurent Dionisio is a CPA and a registered financial planner by profession with a mission to spread and teach financial literacy to Filipinos, and help them improve their personal finance.
Apart from personal finance topics, he also shares information about personal finance seminars. Laurent has an Internet Marketing 101 tutorial on his website and a huge following online.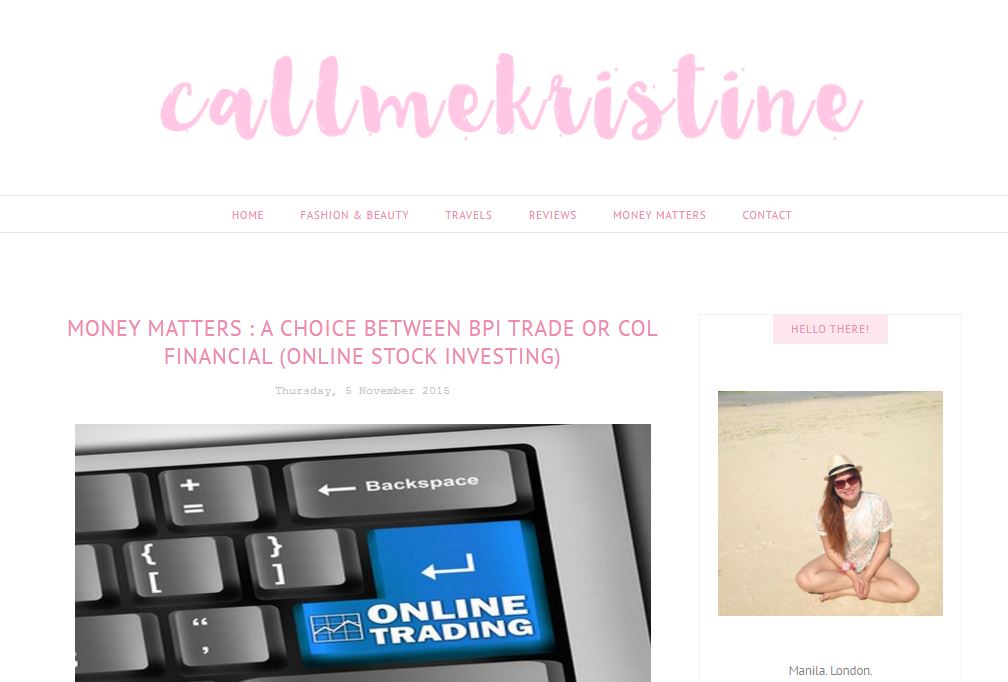 This blog is a good reference for young Filipina business owners. Kristine Licuanan, the owner of the blog, is a CPA, a teacher by profession, and an avid traveler.
Her blog posts vary from Philippine Stock Market topics all the way to personal finances. Her lifestyle and travel posts are good breathers too. The look and vibe of her blog is very Cosmopolitan.
The anonymous Filipino male writer calls himself "Geri." Geri is a stocks trader and an entrepreneur who blogs about financial know-hows, especially wise investments towards financial freedom. Apart from regular blog posts, Geri has an investments beginner's guide that you can join in.
A newcomer to the blogging scene, Wise Spending offers informative posts about personal finances such as how to open a savings account in leading commercial banks.
Now, while the details are pretty much available on the banks' websites, Wise Spending's complete guide to opening a bank account at a particular bank makes the process much less intimidating and do-able for any Juan!
Jeff is a programmer, but blogging about personal finance is his advocacy. Apart from investments and tax-related posts, Jeff writes about business registration in the Philippines in easy-to-read nuggets of wisdom that helps readers get down to the basics. Jeff also has guest bloggers in Piso And Beyond.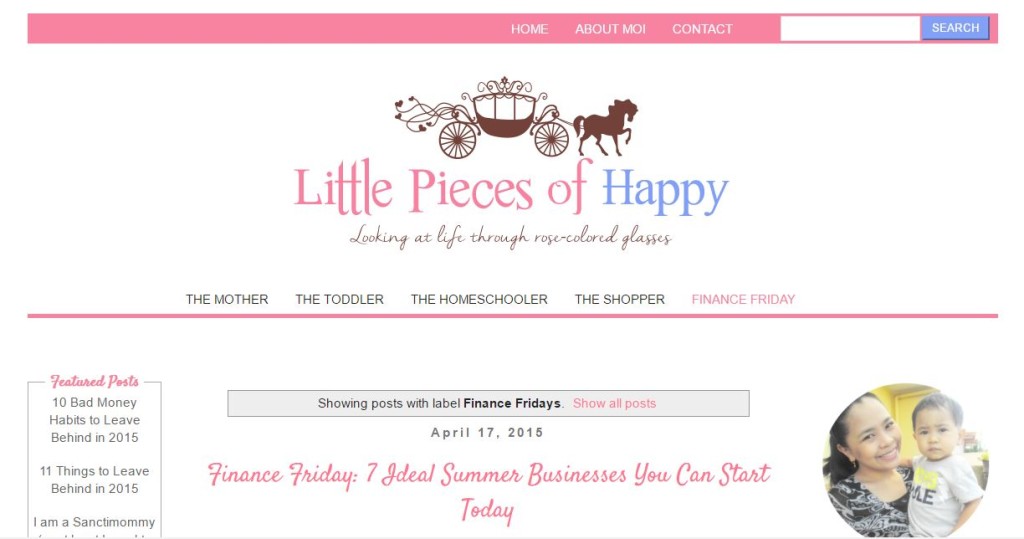 Maan Laxa is a 20-something mommy-entrepreneur. While her blog is a mix of mommy-related issues, she also writes about personal finance tips and business ideas for the young Filipina entrepreneurs like herself.
Marketing
If you're a startup entrepreneur, you should certainly bookmark this blog. It offers great insights on the startup landscape in the Philippines, as well as several resources that can help you become successful in the startup scene.
They also conducr several workshops that can help Filipino entrepreneurs and professionals such as the Content Marketing Masterclass.
If you're in the tech industry, bookmark this blog for inspirational stories, tips, and updates in the field of cyber-entrepreneurship. As social media has become a powerful business tool in recent years, there's one article that talked about social marketing tips for F&B companies in the Philippines.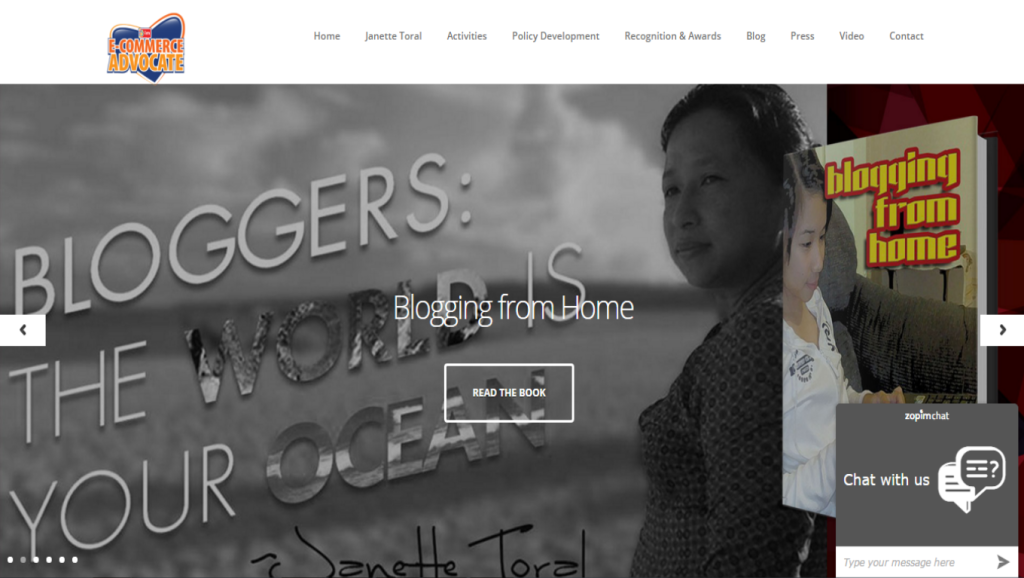 This self-named blog talks about e-commerce in the Philippines. Janette Toral is a Certified Scrum Master and Certified Scrum Product Owner. Janette writes about topics and stories concerning the e-commerce industry in the Philippines. She also offers seminars to various companies here and abroad.
Paul Agabin is a digital marketing consultant and an online entrepreneur. In his self-entitled blog, Paul talks about online marketing news and updates in the Philippines. This is a useful resource not just for Filipino business owners, but for digital marketing professionals too.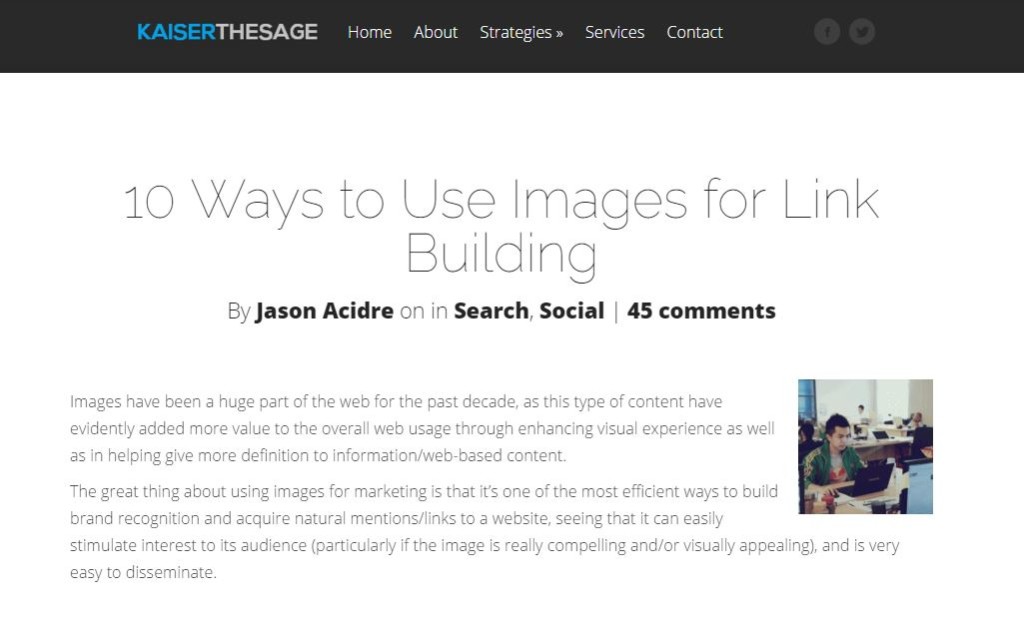 This is the blog of Manila-based SEO strategist, Jason Acidre. He had worked as a search marketing consultant for the New Zealand-based company, Doubledot Media Ltd., and contributed to Technorati, Bloomberg Businessweek, and AdAge.
His blog is a great online resource for marketing professionals not just in the Philippines, but also abroad. He blogs about SEO, social media, and link building strategies.
This self-named blog is the online platform of entrepreneur-marketer, Roel Manarang. He started his website coding and graphic design career at the age of 12. Roel writes about lead generation and online marketing topics.
Become an Expert
While these blog resources can provide valuable, user-generated information, there are many online courses in the Philippines that can help you become your own expert in a chosen field.
Soon enough, you can start your own blog and share your personal experiences to inspire and help guide fellow professionals and business owners.