As a project manager, you have so many project management tools to choose from, for planning and managing all the details of your projects.
But what if you're on a tight budget? Or what if you have no budget at all?
Fortunately, there are plenty of free project management tools out there to keep your team on track without costing you an arm and a leg.
But which tool is the right one for you?
To help you decide, we did the research to bring you the top 10 free project management tools you can use to improve your workflow.
Want to know which tools we've picked? Then what are you waiting for? Let's go!
What Is a Project Management Tool?
A project management tool is a software application that helps you plan, execute, and control your projects across the five phases of the project lifecycle. It covers a wide range of functionality and is intended to help you organize your tasks and collaborate with your team & project stakeholders. Check out our list of best project management tools that can help you improve your team's efficiency and productivity here.
Top 10 Free Project Management Tools
Although paid project management tools offer more storage, more projects, and more seats for the team, a free project management tool is still a great choice if you're just getting started.
The PM tools we have highlighted below all have a free version, so you can use them if you don't have enough resources yet for purchasing a tool.
Here are the top 10 free project management tools to help you start managing projects right away.
1. ClickUp – All These Features…for Free?!
ClickUp is a feature-rich free project management software. It lets you plan projects, schedule & manage tasks, and collaborate with your team members. Check out our tips to draft an effective project plan here.
You can manage work with 15 views and can even create your workflow with its customizable views.
Though ClickUp's free plan is understandably more limited in functionality than its paid pricing plans, it still offers an astounding number of features for small teams and helps you to optimize your work processes.
You can enjoy unlimited users, tasks, and multiple product features in the free forever plan. Other perks include 100MB of storage, real-time chat, and collaborative docs.
2. Monday.com – Perfect for Brainstorming!
Looking for a project management solution that is an absolute delight to use? Then, look no further than monday.com! Without a doubt, monday.com is one of the cleanest, most user-friendly project management software on the planet.
Those who are just starting out will like monday.com for its simplicity. It has an online whiteboard for brainstorming ideas, which comes in handy if you're in the early stages of planning a project.
This tool offers a free plan which is perfect for individuals looking to track tasks and projects beyond pencil & paper or messy excel spreadsheets.
Stay on track and achieve your project goals easily with monday.com!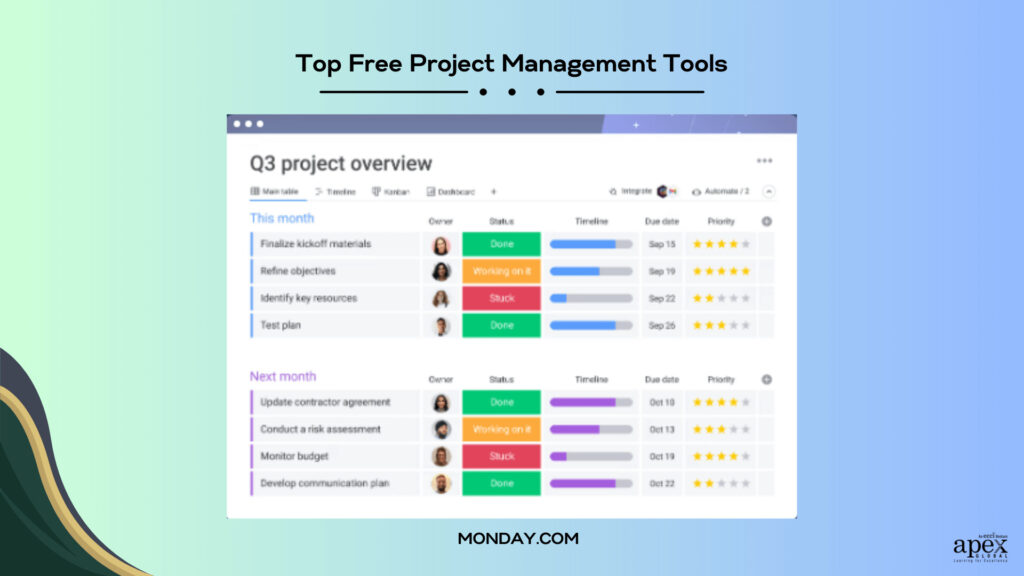 3. Notion – A Second Brain You Didn't Know You Needed!
Notion is an amazing tool for small teams and personal projects.
Whether you are an entrepreneur or have a small team collaborating on multiple projects, it has a forever-free plan with enough features to get you started. The features include:
Unlimited pages and blocks
Share projects and sprints with up to five guests
Sync across unlimited devices
Advanced application programming interface
Real-time collaboration
The best part about its free trial is that it doesn't have a time limit. So, if you need a straightforward tool for managing small projects, then Notion is perfect for you.
4. Nifty – One Tool to Rule 'Em All!
Nifty is a great free project management solution for startups, new teams, and small businesses just getting started.
With chat, docs, tasks, goals, and files all in one place, Nifty allows you to focus on your work instead of juggling tools.
Nifty is one of the best tools available because of its customizability and user-friendliness. You can also visualize your project in Nifty as Milestones, or choose from its other 3 views including Timeline, its board-like Swimlane view, or from a birds-eye with Master overview.
The free Starter plan includes up to 10 team members, 3 active projects, and 1 GB of storage space. It includes 6 core features such as Discussions, Milestones, Files, Team Chat, etc., with self-serve help.
5. Airtable – Spreadsheets on Steroids
If MS Excel is the boring nerd with braces, thick glasses, and an old watch, then Airtable is the quirky, free-spirited best friend with an abstract art collection. By that we mean Airtable is colorful and visually driven like no other project management tool you've used before.
Many project managers flock to Airtable for its powerful tools and slick user interface. But the real power of Airtable lies in its customization ability.
It will take some effort to tailor Airtable to be exactly what you need. But if you're willing to spend the time, you can customize everything from the methodology and view type to column headers, field types, data validation, and more.
Overall, Airtable is a great customizable visual project management software that is perfect for small businesses and startups that need to stay organized and on top of their work schedules.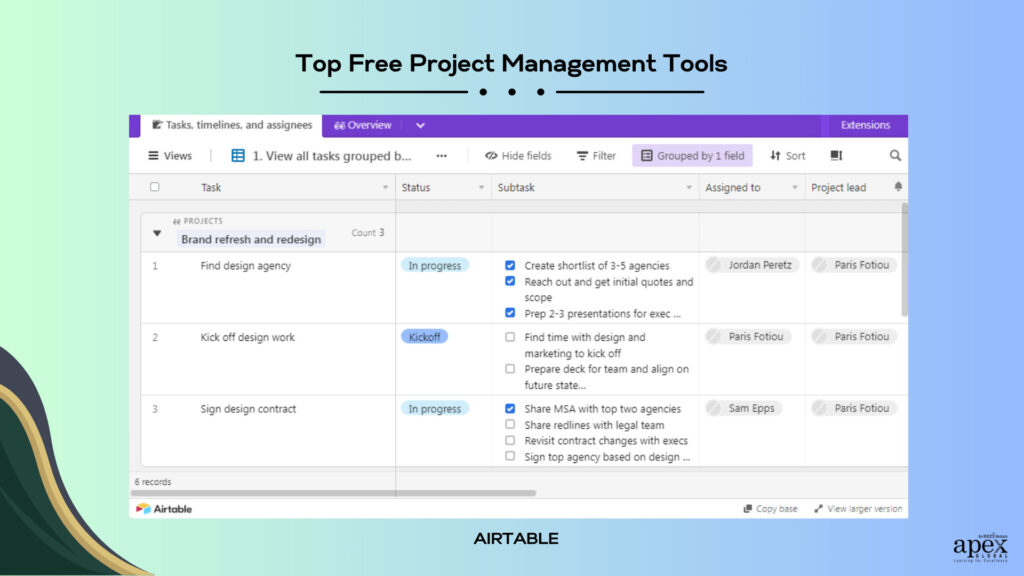 6. Paymo – Execute Your Projects Like a Pro With This 3-in-1 Tool!
If you need to manage projects you can get a collaboration app, a time-tracking tool, and an invoicing app to manage collections – the three essentials for executing a project from start to finish. Or, you can use Paymo, a simple yet powerful app that offers all these elements for free.
It supports remote work and offers project planning, team collaboration, resource scheduling, file proofing, project accounting, and time tracking, all within a single suite.
Along with tracking finances, Paymo also allows you to schedule project timelines, create to-do lists, and manage budgets for multiple projects at once.
While Paymo is ideal for small businesses as well, its impact is more pronounced on small business owners, freelancers, and consultants, who use Paymo to streamline their multiple tasks, from managing projects to payment collection.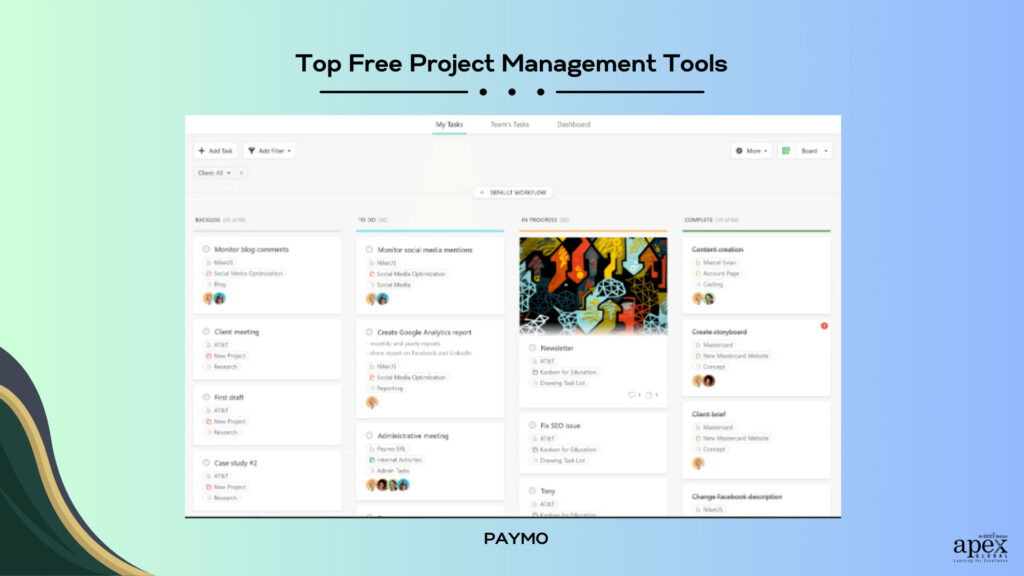 7. Avaza – Unlimited Everything…for Free!
Avaza is a cloud-based software tool that offers project management & collaboration, timesheets, expense management, quoting, and invoicing – all in one place.
Except for recurring tasks, all of its features are included in the free plan, including unlimited projects, unlimited users & unlimited tasks.
You can perform time and expense tracking, as well as online payments directly from invoices. You can generate reports on metrics such as estimates by status, financial transactions, expenses by customer, and more, in order to provide business insight.
It is also accessible online without download or installation on any device and is 100% optimized for smartphones and tablets, with native mobile apps for Android and iOS.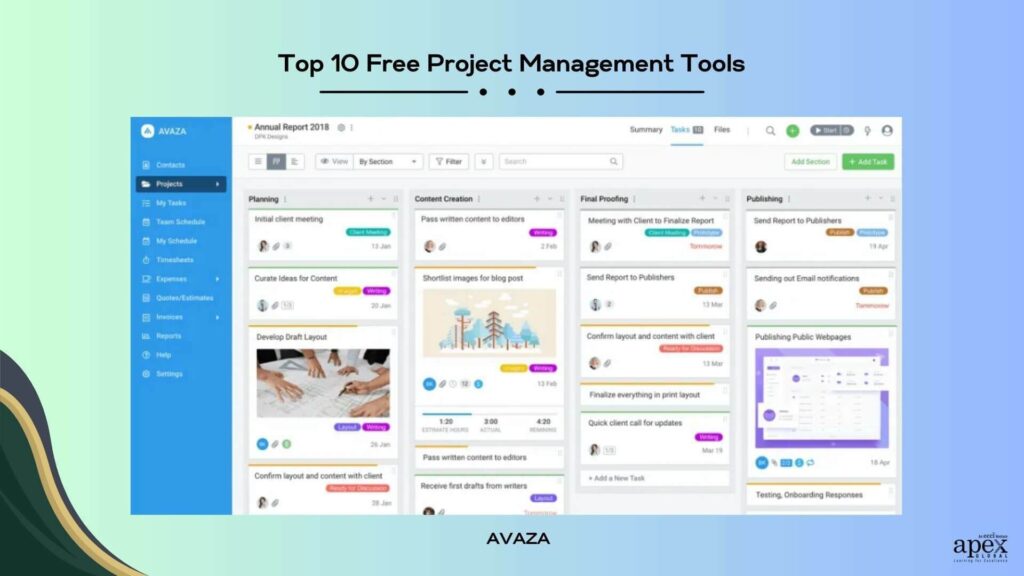 8. Project.co – Manage Your Client Work Like a Boss!
Project.co is a client-facing project management tool that connects your team with your clients' teams in one place. When you invite clients to work with you, you'll have a single resource for all conversations, files, and links to other tools.
It simplifies project management but still manages to cram in a bunch of features that you might not expect from a free product.
Create projects, organize your tasks, invite unlimited collaborators, make notes, take payments, and get work done! With the free plan, you get access to everything except its white-label features.
Thus, Project.co is a really attractive proposition at zero cost and provides a great entry point for small companies looking to manage ongoing tasks.
9. Flowlu – For Smooth Workflow
Flowlu is an all-in-one collaboration tool that gives you a clear overview of everything happening daily in your company.
With Flowlu, you can manage projects and tasks, automate sales processes, keep track of cash flow, create invoices & estimates, share knowledge, collaborate, and gain reports.
Flowlu lets you track tasks to be done, log meeting notes, and log phone call notes. You can delegate tasks to other team members as well.
This tool also enables teams to manage processes from lead generation to sales. Organize your entire workflow and grow your business in ways that it couldn't before with this awesome tool!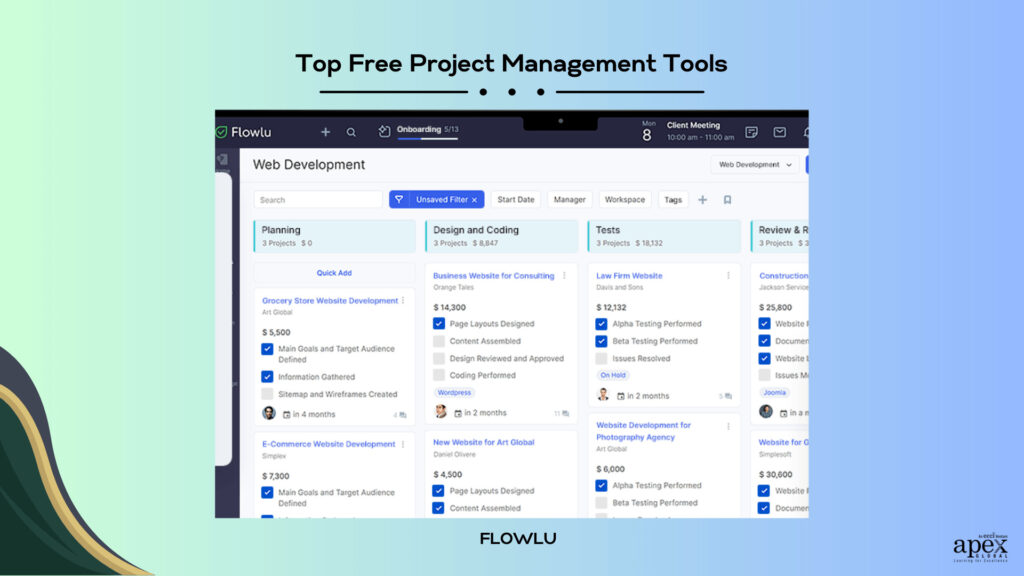 10. Teamwork – Just the Right Mix of Features!
Teamwork.com is a project management tool designed specifically for client work. It helps users deliver work on time and within budget, prevent client chaos, and understand profitability.
The free forever plan includes basic task management and project management tools. Among these tools are the milestones planner and the messages app which is great for individual entrepreneurs or small business owners.
You can also track and manage your projects with a suite of integrated solutions such as helpdesk, collaboration, knowledge sharing, and customer relationship management add-ons, making Teamwork.com the one-stop-shop solution for business owners.
How to Choose the Perfect Free Project Management Tool for You?
All of these tools are great choices for your team. But ultimately, you need to choose the best tool for your team based on your specific needs. By taking the time to consider your team's size, opinions, and user experience, you can find the perfect project management tool for your business. Read more tips for Project Managers and a list of best practices here.
Ask for input from your team
Ask your team for their input so that you can get opinions on what will work and what won't work. Asking your team before choosing the tool can get them involved and could also help with a smooth onboarding when you are ready.
Evaluate the size of your team
This is a factor you must not ignore when it comes to free tools. Count your team members and make sure that the tool you choose has a free version that can give access to everyone.
For example, a free project management tool like Teamwork is more suited for client management but is only available for up to 5 users. On the other hand, ClickUp is not specifically designed for client work but offers unlimited members for free. So you need to consider various factors and pick the most suitable tool for your team to maximize productivity. Check out motivating quotes about productivity for project managers here.
Now it's time to determine exactly what features you need the free project management tool to have.
Consider the main tasks that your team performs and what functions you would want your project management platform to achieve.
Suppose your team needs a specific feature like Gantt charts or resource scheduling, make sure that the platform you choose has this feature. Otherwise, your team will only have a basic platform that doesn't allow them to perform their tasks to their best abilities. Read and learn about important project management terms here.
And don't forget to consider the user experience!
This is very important. If you've ever used a software application that was difficult to navigate, you know how frustrating it can be. So, don't forget to consider the user experience when choosing the right project management tool, for both you and your team. Otherwise, you'll be spending all your time trying to figure out how to use the platform when there's a project due in a few days.
However, you don't need to stress too much about determining the features you want the platform to have. The good news is that free project management tools are…free. So you can test a few tools, see what suits your needs better, and then decide.
Take Your Time and Choose the Right Tool
There are so many project management tools on the market that it can be tempting to just choose one and get started. But, taking your time to find the right project management tool for your team is worth it and will bring you many benefits in the long run.
Our list above can help you narrow down your choices and find a great free project management tool to help your team succeed – without breaking the bank.
Whether you are a project manager newbie or an experienced manager, you might want to consider taking a project management course to upgrade your skills and take your career to the next level. Learn about essential skills required for project management here.
APEX Global's Project Management Professional Course will equip you will all the knowledge and skills required to initiate, plan, execute, monitor, control, and close complex projects effectively and efficiently. It will also ensure that you pass the PMP ® exam on your first attempt and help your organization achieve strategic initiatives. Enroll in our course today to get started!
Also check out this list of books that will help you become a better project manager.
Have any questions? Reach out to us today at [email protected]. We'd love to hear from you!