Whether you're a bustling startup or a well-established enterprise, let's face it, every organization has training requirements. Your employees need ongoing training and development in order to thrive and keep your company ahead of the game. After all, it's a simple equation: if your people don't grow, neither does your business.
But providing training and development can be daunting, especially if you have diverse training needs. You would require a dedicated training department, and you need to spend a lot of precious time and resources of the company to set up the department, develop the training materials, etc., and not to mention this would all distract the company from its core business activities.
This is where outsourcing to a third-party training provider comes into play. But what does outsourcing your employee training actually entail?
In this blog, we explore what outsourcing training means, its benefits, and how to choose the right training provider for your business. So grab a cup of coffee, sit back, and let's unravel the world of outsourcing employee training. Trust us, this journey is going to be worth every word.
Why does an organization invest in training employees?
First of all, why do organizations invest in training their employees?
Investing in upskilling and reskilling your workforce is crucial for closing the skills gap and empowering your organization to tackle new challenges with confidence. By providing comprehensive training, you enable your employees to acquire cutting-edge skills, stay relevant in the ever-evolving market, and contribute to your company's growth and success.
Lack of proper training has been shown to significantly impact the company's productivity, employee engagement, and retention rates. This is why more and more organizations are investing in training their employees.
What does it mean to outsource your employee training?
Before discussing whether you should outsource your employee training, let's first take a brief look at what outsourcing actually means.
Outsourcing your employee training means entrusting your organization's training needs to a specialized training provider. It involves leveraging the expertise of external professionals to design, deliver, and manage training programs, enabling your business to focus on its core operations while ensuring effective skill development and knowledge enhancement for your employees.
In contrast to a few years ago, when most companies relied on in-house activities to meet their training needs, there is now a growing trend of outsourcing these activities to credible and skilled professionals. By outsourcing their training requirements, organizations can tap into the expertise of external providers while keeping costs down. This strategic move allows businesses to prioritize employee development while optimizing their financial resources.
We'll take a detailed look at the benefits of outsourcing training and development in the upcoming sections.
When should you outsource your employee training?
Now that you've learned what outsourcing training means, let's dive into the when and the why part of it.
So first, when should you consider outsourcing your employee training? When your organization has one or all of the following factors:
I. Diverse training needs
If your organization has diverse departments with varying training requirements or a multi-location setup, then outsourcing is a great option. Outsourcing allows you to scale your training efforts up or down based on your organization's needs. Your training partner can accommodate your needs, offering customized programs to address the diverse training needs across your organization.
II. Lack of specialized expertise
If your organization requires specific expertise or industry knowledge that is not readily available internally, then outsourcing is your best option. Training providers often specialize in various fields and can offer tailored programs aligned with your industry's best practices, regulations, and emerging trends.
III. Short-term training needs
If you have short-term or temporary training requirements, then outsourcing can be an effective solution. Instead of investing in building an internal training team for a limited duration, outsourcing allows you to tap into the expertise of external providers who can quickly design & deliver targeted training programs to meet your immediate requirements and also allow you to exit once the period of requirement gets over.
IV. Limited resources
If your organization lacks the necessary resources or capacity to develop and deliver training programs, outsourcing can provide a viable solution. Training providers have dedicated teams with specialized knowledge, experience, and infrastructure to handle your training needs efficiently.
V. Time constraints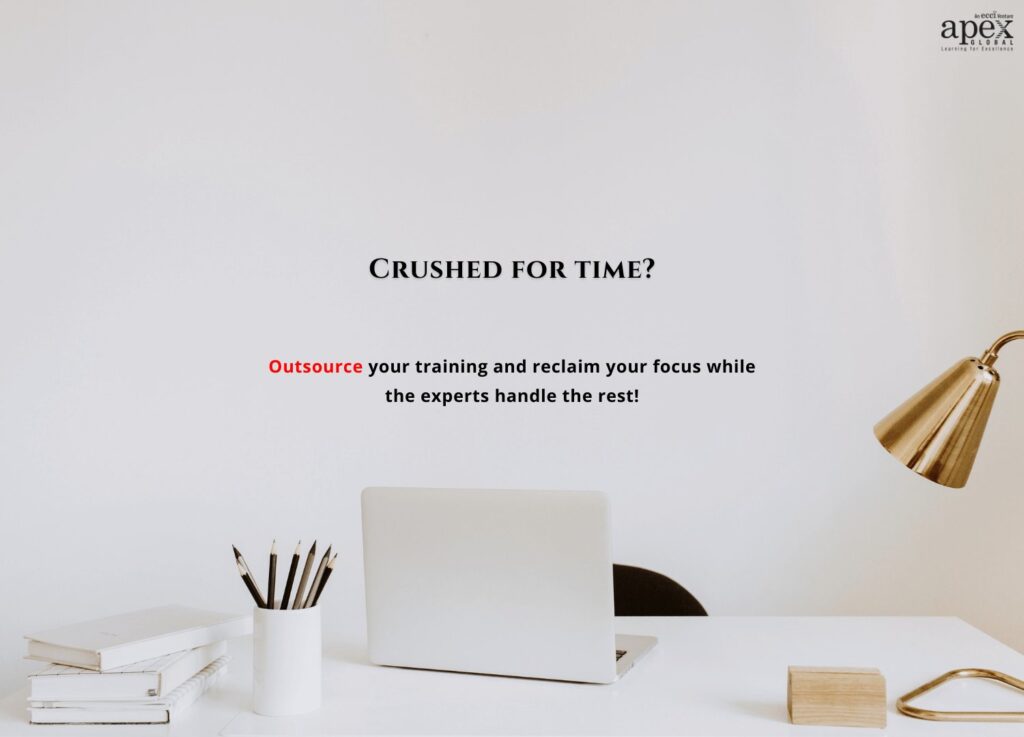 If you are struggling with time constraints, outsourcing training can help you save valuable time and allow your organization to focus on core business activities. External training providers are equipped to handle the entire training process, including program design, content development, scheduling, and delivery, ensuring a streamlined and efficient training experience.
Why should you outsource your employee training?
Nowadays, more and more businesses are outsourcing their employee training requirements. This is because, when done right, outsourcing training produces numerous benefits for organizations. Some important benefits include:
A. Focus on core business activities
Outsourcing your training needs allows you to align your internal resources and efforts with the core competencies and strategic priorities of your organization. By delegating the responsibility of training to external experts, you can allocate more time, energy, and resources toward activities that directly contribute to your business's growth and success.
B. Access to training experts
Training providers can offer you a dedicated team of training strategy & development experts. These subject matter professionals possess extensive experience in learning & development (L&D) and stay updated with the latest trends in the field. By leveraging their expertise, you can improve employee performance through high-quality training initiatives.
C. Access to the latest tools
By outsourcing, you can get access to the latest learning technology and tools without having to worry about expensive licensing fees. Additionally, the team using the advanced tools will already know how to use them. So, this is often more cost-effective than purchasing the tools and training your employees in-house.
D. Reduced training costs
Developing and delivering training programs in-house can be really expensive. Outsourcing eliminates the need for investing in training infrastructure, technology, and dedicated professionals. Training providers often offer flexible pricing models, allowing you to choose the most cost-effective option based on your training needs. Outsourcing also saves you the cost of maintaining and updating training materials & resources.
E. Freed up resources
Developing training programs from scratch can be a time-consuming process. Outsourcing your employee training allows you to leverage the expertise of training providers who have established processes and resources in place. They can efficiently handle the end-to-end training cycle, including needs assessment, content creation, delivery, and evaluation. This frees up your internal resources so that you can focus on other business priorities.
F. Enhanced learning experience
Training providers have a deep understanding of effective instructional design and learning principles. They employ interactive and engaging training techniques, such as case studies & hands-on activities, to enhance the learning experience for your employees. This will lead to increased knowledge retention and skill development.
G. Compliance & regulatory requirements
Training often involves compliance with industry-specific regulations and standards. Outsourcing training to specialized providers ensures that your employees receive training that meets the required compliance standards. Training providers are well-versed in the regulatory landscape and can develop customized programs that address specific compliance needs, reducing the risk of non-compliance and associated penalties.
H. Keeping up with changing training needs
As your organization grows or experiences fluctuations in staffing, outsourced training can easily scale to meet your evolving needs. Training providers can accommodate varying group sizes and locations, ensuring consistent and tailored training experiences across the organization. They also offer flexibility in terms of training delivery methods, such as in-person sessions, virtual classrooms, or e-learning modules, providing convenience and accessibility for your employees.
I. Short-term commitment
One of the key advantages of outsourcing training is the flexibility it offers in terms of commitment. Your organization can opt for short-term training programs and train your employees efficiently without having to deal with long-term contractual obligations.
Disadvantages of outsourcing employee training
While there are numerous benefits to outsourcing your employee training, there are some concerns and disadvantages that you should be aware of. They are:
a. Loss of control
One important concern when outsourcing training is the fear of losing control over the training process and content. To address this, establish clear communication channels with the training provider. Maintain an ongoing partnership and regular feedback loop to ensure that the training aligns with your organization's objectives and meets your expectations.
b. Lack of customization
A generic training strategy cannot effectively meet your organization's specific needs. To address this, choose a training provider that offers customization options. Then collaborate closely with them and make sure that their training solution is tailored to your specific requirements and aligns with your organizational goals.
c. Quality of training
Another important concern is the quality of the training your employees will receive. Define clear quality criteria and performance indicators to evaluate the effectiveness of the training. Regularly review the training materials, observe training sessions, and gather feedback from employees to ensure quality is maintained throughout the training.
d. Data security & confidentiality risks
Outsourcing training means you may have to share sensitive organizational information with the service provider, which is risky. To safeguard your data, make sure that the training provider has robust data security measures in place. Sign confidentiality agreements or non-disclosure agreements to protect your intellectual property. Also, regularly review and update your data protection protocols to align with industry standards and evolving regulatory requirements.
e. Employee traveling
Outsourcing training means sending your employees to the training location, which can pose some challenges like increased costs, time away from work, logistical complexities, etc. To overcome these challenges, you can consider alternative training methods such as virtual or online training modules. If in-person training is still required, do careful planning and coordination, including arranging cost-effective travel options and minimizing disruptions to work schedules, to help mitigate the challenges.
How should you choose your training provider?
So, you have decided to outsource your employee training. Great! But, with so many training providers in the market today, how should you choose the right training provider for your organization? No worries! We've compiled a list of 11 things for you to consider to help you choose the right provider.
i) Check out the following information about the training provider:
Years in business,
Company size,
Reputation,
Industry experience, and
Projects they have worked on.
ii) Check their technical expertise & specialization.
Check their proficiency in the specific training areas you require. Evaluate the experience and qualifications of their trainers and facilitators to ensure they can deliver high-quality and effective training.
iii) Check if they have infrastructure and safeguards in place.
Ensure that the provider has the necessary technological infrastructure to deliver seamless and interactive training experiences. Inquire about their security protocols, encryption methods, and compliance with relevant data privacy regulations. Request information on how they handle sensitive employee information and ensure its confidentiality.
iv) Can they customize their content?
Each organization has unique training needs, so it's essential to find a provider that can tailor their programs to align with your organization's culture, goals, and desired outcomes. Look for providers who are open to collaboration, listen to your specific requirements, and can adapt their content and delivery methods accordingly.
v) What accreditation do they offer?
There are three major kinds of accreditation given for training courses:
External accreditation – from an awarding organization that is recognized by your local authorities
Approval from a trade body
In-house certification from the training provider itself
External accreditation and approval from a trade body are great indicators. But keep in mind that although accreditation is important, the quality assurance systems the provider has in place are what truly matters.
vi) Review their client testimonials and case studies.
Check out the provider's client testimonials and case studies to gain insights into their past successes and the impact of their training programs on organizations similar to yours.
vii) Do they specialize in a specific region, or do they offer training worldwide?
Although an international provider will offer a diverse range of courses and trainers, regional providers will have valuable experience in dealing with professionals from your specific region and applying training tools & techniques that will meet your employees' learning styles.
viii) Do they offer innovative learning methodologies?
How does the provider approach the learning experience for the employees? Is the provider constantly seeking new ideas and solutions to help them achieve their learning objectives?
ix) Is the training interactive?
Will the training be mainly a lecture, or will the employees learn practically? Check if it will be hands-on training and include real-life case studies. Also, will the trainer engage with the participants through different media such as videos/audio/site visits/simulations?
x) Do they measure the progress of the learners?
Choose a training provider that can assess the learning outcomes through questionnaires or presentations. This ensures that the training is not only delivered but also effectively absorbed and retained by your employees.
xi) Check for the level of post-training support and assistance.
Ensure that the training provider offers ongoing support, follow-up sessions, and resources beyond the initial training delivery.
Nine bonus tips for successful outsourcing
Conduct a thorough needs assessment before outsourcing.
Decide on what exactly you're going to outsource.
Request & review sample training materials from potential providers.
Clearly define your training objectives.
Define success metrics and calculate the ROI of your training.
Regularly monitor & evaluate the training process.
Ensure that all your involved employees are engaged in the process from beginning to end.
Maintain clear communication with the provider and address any concerns immediately.
Stay updated on the latest trends to make informed decisions.
Wrapping up
And that's a wrap! Hope you have learned everything you wanted to know about outsourcing your training requirements in this blog post.
Finding the right training provider is not that easy, so make sure to take your time. Contact multiple companies to evaluate their quotes, capabilities, and service offerings. Remember, finding the ideal partner can be a game-changer, propelling your training initiatives to new heights of accomplishment. So invest the effort in selecting the right partner and watch your training endeavors flourish under their expert guidance.
We at APEX Global Learning have more than 20 years of experience providing innovative training solutions to leading companies in the Philippines. We collaborate closely with our clients, delving into their unique training requirements to design customized solutions that seamlessly align with their business strategies.
Interested in partnering with us? Fill in this form or reach out to us at [email protected].
We also provide public training programs for various course categories. Check out our upcoming public trainings here and enroll in the course you're interested in.
If you have any questions, get in touch with us today. We'd love to hear from you!