Project cost management is the process of planning and controlling the budget of a particular team working on a specific task. Teams in an organization perform planning, estimating, budgeting, and controlling cost activities to help them complete a project within the approved budget. Without proper cost management, there's a serious possibility that operational costs will go beyond than what is necessary.
Project cost management also ensures that a project goes through proper stages—from initial planning to actual cost assessment to project completion.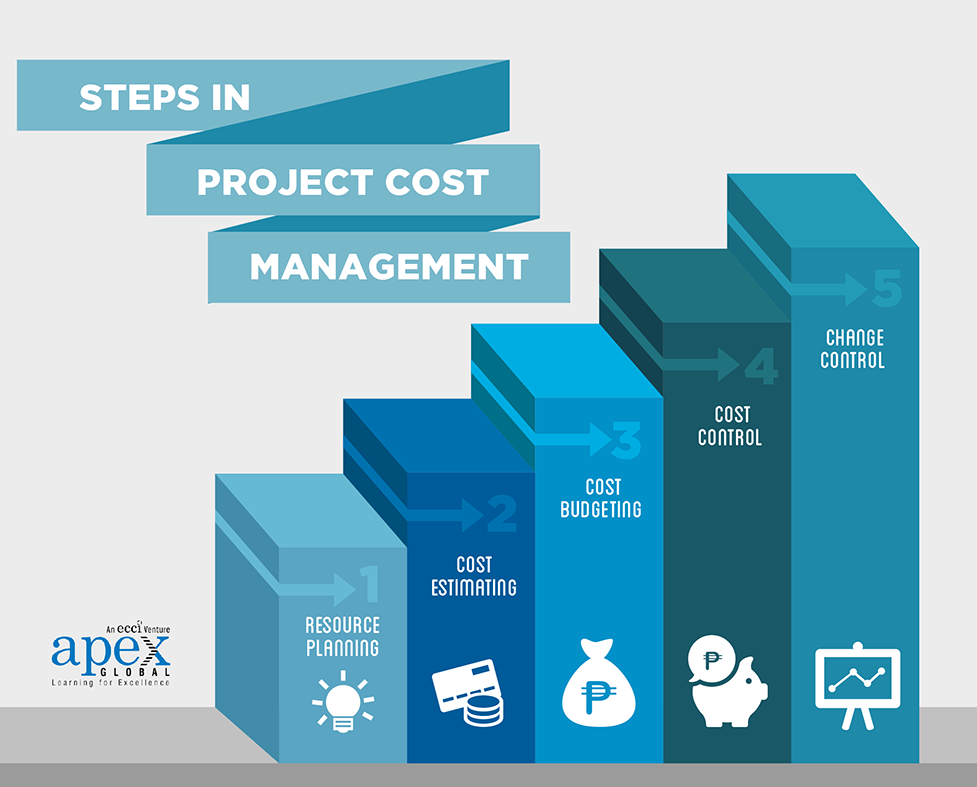 Steps in Project Cost Management
There are five steps involved in the project cost management namely resource planning, cost estimating, cost budgeting, cost control, and change control.
1. Resource planning
This identifies what resources and how much of them are needed to complete the project, including physical resources, time, material or equipment, office space, and the like so that associated costs can be determined.
Additionally, there may be costing needed for comprehensive design reviews, extensive testing, external audit, and other contingency measures—all of which need to be included in this scope.
2. Cost estimating
This predicts how much it will cost the team to perform each project-related activity based on various techniques such as analogous method (using the actual cost of similar projects in the past as basis) or using parametric models (where project characteristics are represented in mathematical terms).
3. Cost budgeting
This allocates the budget to each work phase, taking into consideration the period when the cost will be incurred. Then, a cost baseline, a time-phased budget is approved and used as a starting point for measuring the plan's actual performance progress.
4. Cost control
With the cost baseline established, cost control now involves collecting actual costs to date, preparing expenditure reports, examining cost trends, forecasting the total project cost, comparing estimated total costs with the approved budget, and comparing variances from previous reports to present.
5. Change control
Making changes to the cost baseline should be recorded in this phase, along with explanations on what's causing the variance. Then, making the necessary adjustments is done to help minimize costs before the approval of the change control board.
Tips on Project Cost Management for IT
Project management professionals should observe the following good practices in developing project planning and costing:
1. Make reasonable estimates.
By reasonable standards, it means you neither underestimate nor overestimate costs, and that requires you gathering enough information about the project to help you determine costs correctly.

One of the perfect examples for this is adding acceptable extra project hours into your proposed plan, especially since you have to consider the area and level of expertise of each of your members. In the same vein, being too liberal might result in your estimates being shot down by your budget officer.
In addition, making room for additional hours can be a contingency measure in case something goes amiss along the way.
2. Track your progress using Earned Value Analysis.
For big projects, especially, tracking if the project is on target with your schedule and budget can be more difficult. The method of Earned Value Analysis (EVA) measures project progress through the cost performance index (CPI) and schedule performance index (SPI). Whereas, the former calculates how the project is going based on the allotted budget, while the latter calculates based on the allotted timeline.
3. Utilize a hybrid approach in estimating costs.
Your team can benefit from combining several cost estimating methods such as analogous estimating, factor estimating, bottom-up or detailed estimating, and parametric models to help you come up with the best cost estimates.
Your choice estimation method will usually depend on the level of information available to you. You can also request other project members or stakeholders to review your costing for additional input or insights.
5. Communicate project estimates to senior management.
By having knowledge in cost estimation and finance, you can present, discuss, defend, and explain all those number estimates to management. As much as possible, be ready to translate technical terms into a financial perspective that senior executives can understand better.
6. Explore the possibility of using project and portfolio management.
Project and portfolio management (PPM) is a technique that organizations use to evaluate the risks and rewards of a project, determine the source of funds, and choose which projects to execute. IT project managers can take advantage of this approach to understanding how their projects affect different groups within the organization.

To sum up, cost management helps project management professionals maximize resources, track the budget plan, stick to the approved budget, and avoid any unfortunate development that might stall the timely and efficient completion of the project.
To help you gain proper knowledge and skills in these areas, APEX has lined up a comprehensive course for you as a Project Management Professional. It's your right program of choice if you're looking to create your next project cost management plans like real experts do.