The most dreaded moment in the recruitment process is the face-to-face interview, at least for the candidate. But you, as a certified recruitment analyst, will find a goldmine out of this activity as you get to assess the applicant's overall qualifications and fit for the post.
The significance of the face-to-face interview is so great that there should be no place for haphazardness when incorporating this step in your hiring procedure. From the various interview types to sample questions to assessment scales—all of these need to be determined before meeting your candidate.
Below is an extensive guide for recruitment officers on doing face-to-face interviews:
What you'll find in this article
Types of Face-to-Face Interview
Most face-to-face interviews are behavioral, meaning recruiters try to predict the candidate's future performance in a particular area by his/her behavior as shown in the past.
Behavioral, face-to-face interviews may include two types: structured and unstructured. Some industry experts also give credence to the semi-structured type of interview, but the first two are more distinct in terms of their development, administration, evaluation, and training methods as outlined below.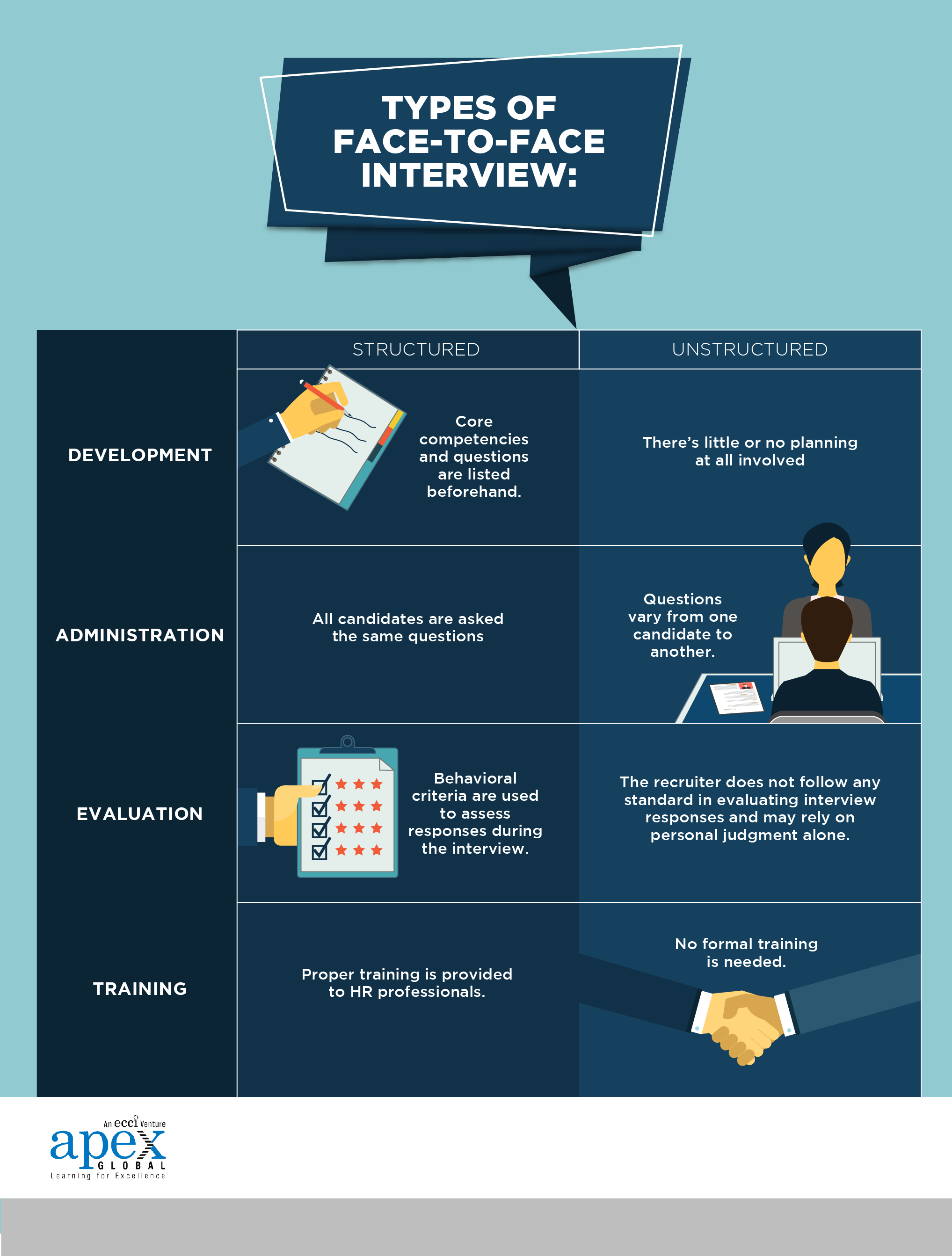 Sample Questions
Recruiters need to determine how a candidate may view and act on the roles and responsibilities required for the position. To achieve this goal, you'll need to come up with a set of questions that brings to one's skills in reflecting critical thinking, making judgment calls, resolving potential conflicts, demonstrating knowledge of the job, and showing leadership or team initiatives, among others.
The nature of questions you should ask may be behavioral, situational, technical, or strength-based.
As soon as you sense that the candidate has had enough time to feel at ease for the interview, then you can start firing your questions away.
1. Behavioral interview questions require candidates to describe how they handled or reacted about a particularly challenging experience in the past while carrying out the duties of their job. You'd want to focus on the following information provided by your candidate: background details about the situation, action/s taken, and result or impact of the action.
Sample questions:
What was the most differing opinion you had to resolve with a co-worker?

How did you overcome a major obstacle that posed a great risk to your objective?
2. Situational interview questions present candidates a typical scenario that they might come across in the work setting. This question type infers that the applicant's response is reflective of his/her intentions, which in turn, may predict the quality of job performance.
Sample questions:
How will you decide to relegate an urgent task to a team member who works fast but tends to oversee project details?

What would you do if your website advertised a promotion by mistake and customers were demanding for credit?
3. Technical interview questions test your candidate's knowledge of the job in very specific terms. These are very reliable interview tools especially in such industries as computer programming, accounting, corporate laws, engineering, financial management, and the like, where technical know-how is a primary requirement.
Sample questions:
What's the difference between short-term and long-term capital gains?

Describe the workaround for resizing an image without following the prescribed aspect ratio.
4. Strength-based interview questions help recruiters determine the real persona of the candidates being interviewed by allowing them to discuss the things they care about the most. This approach is suitable for candidates with limited work experience to date, as well as those trekking on a new career path of their choice.
Sample questions:
What's the best career advice you have received and what is its significance to you?

What do you look forward to working with this organization?
Making Assessment Scales
Responses to interview questions should be evaluated against a standardized scale that includes a set of ratings for each qualification.
A basic tabular rating scale may look something like this: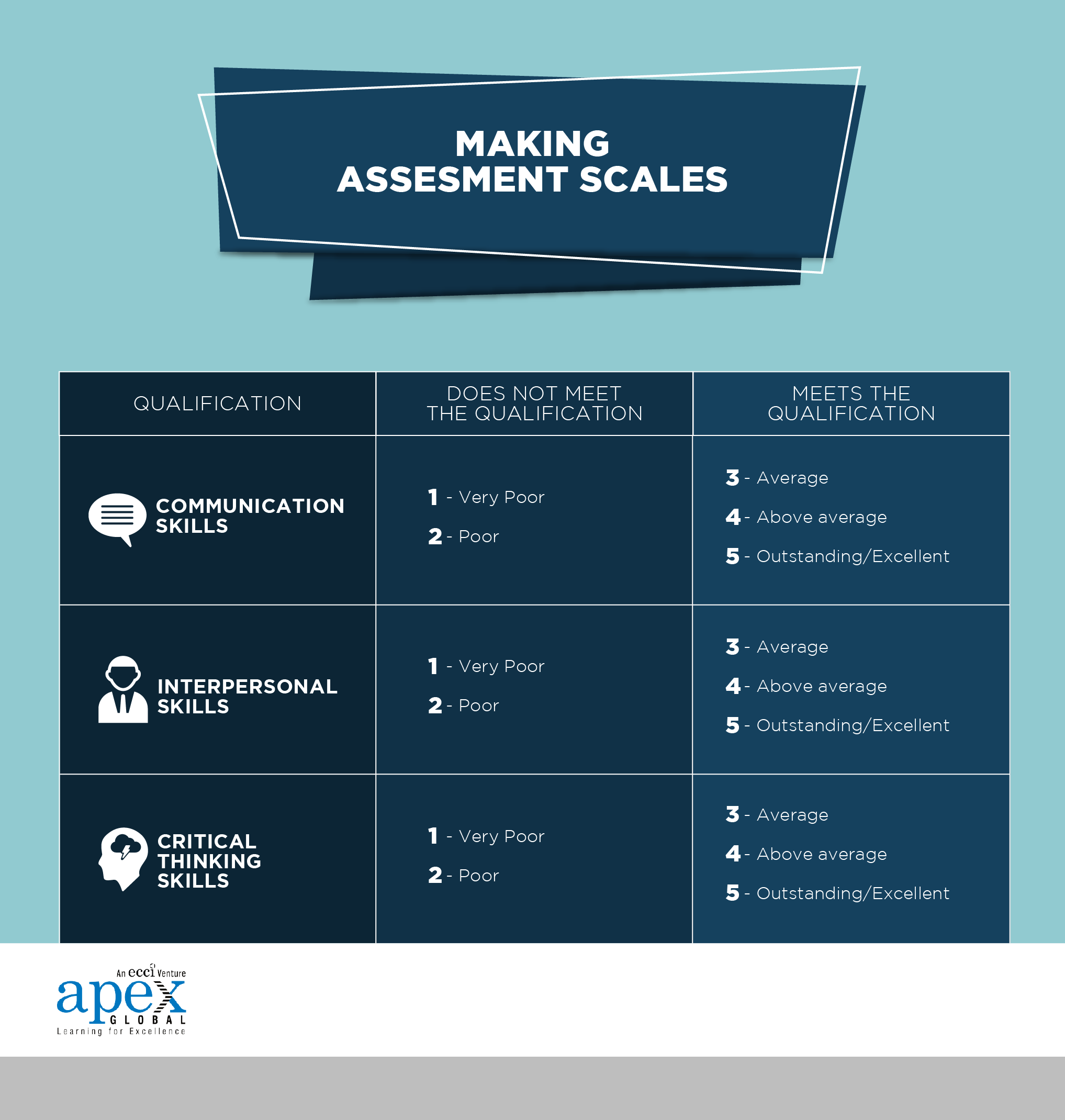 Alternatively, in a more in-depth assessment scale, you may draw up a list of required competencies and a description of how a candidate's response to each question will hold up.
Required competency:
Ability to respond to customers' complaints in a positive way
Situational question:
How would you handle it if a customer remarked that giving table numbers is a convenient way for restaurants to impersonalize the service being given in your restaurant?
Poor response:
"It's the way we do things around the restaurant."
Rationale for the rating given:

The customer will probably think that the staff in the restaurant does not care about what diners have to say regarding how the establishment could improve its relationship with its customers.
Good response:
"It's not the intention of the management to make you feel that way, but on the contrary, it's a system we have put in place to help avoid confusion when serving the food that's been ordered."
Rationale for the rating given:
The response explains the restaurant's objective of how to deliver food to customer tables in a systematic manner, representative of its goal to provide a positive dining experience to customers.
In essence, even a few minutes of face-to-face interviews is not in any way easy if you're clueless on how to go about it. As with any other worthwhile activities, preparation is always key. Conducting interviews should never take a toll on you, so you could focus on the next important thing: deciding whom to hire.